Russia: Weekly Protest Against Persecution in China Held Outside the Chinese Consulate in Irkutsk for Over Five Years
February 28, 2016 | By a Falun Gong Practitioner in Russia
(Minghui.org) Falun Gong practitioners in Irkutsk, Russia have been introducing Falun Gong and calling for an end to the persecution in China every Wednesday for the last more than five years. They do so while gathering across the street from the local Chinese Consulate.
They expose the brutalities of the persecution of Falun Gong in China, and collect signatures to support lawsuits against Jiang Zemin, the former head of the CCP who launched the persecution in 1999.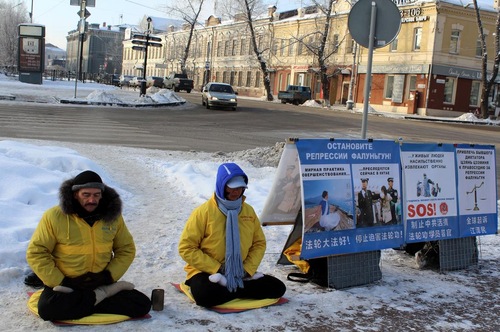 Falun Gong practitioners brave the winter cold outside the Chinese Consulate in Irkutsk, Russia to protest the persecution of Falun Gong in China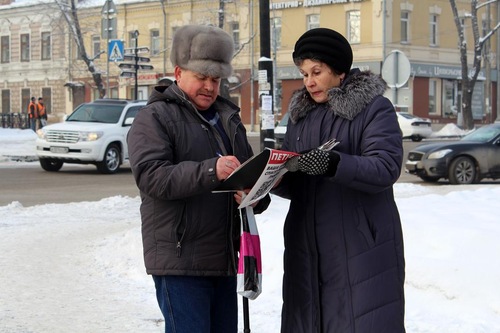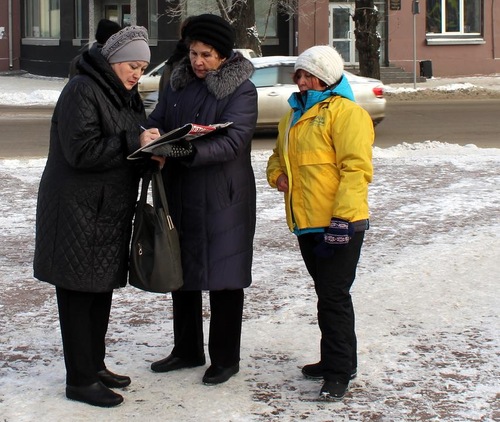 Local people sign a petition calling for an end to the persecution of Falun Gong in China
Consular officials have interfered with Falun Gong activities multiple times. They have called in the police, and asked Russian law enforcement to take action against local Falun Gong practitioners. Police arrived outside the Consulate brandishing submachine guns on at least one occasion.
As Falun Gong practitioners persist in clarifying the facts about the peaceful practice and the persecution it faces in China, police officers have learned that practitioners are simply exercising their right to peacefully protest, a right afforded under Russian constitutional law. They have since stopped bothering the practitioners.
The local protest has been held, rain or shine, every Wednesday for the past more than five years. Winter days here in Siberia are short and icy cold, yet practitioners persist even in temperatures as low as -30 °C.
When passersby show concern for them, they might respond with words like, "Yes, we are cold. But we feel warm when we realize that our voice of protest will help stop the persecution in China."
One elderly gentleman remarked after hearing about the persecution, "It's no surprise. The goals of the Communist Party are to slander and to persecute." He signed his name to support lawsuits against Jiang without hesitation.
A couple commented on the persecution, "It's terrible! We will certainly support you!" Both the husband and the wife signed the petition and wished Falun Gong practitioners good luck.
Many passersby express well wishes and their appreciation of practitioners' persistent efforts for justice. Some said, "It's so great to have people like you!" A couple with 3 children said, "We have been buried in our own lives and didn't know what's going on! The persecution is terrible! Thank you for spreading the news!" The couple and their two sons signed the petition.