Torture and Forced Labor in Shenyang No. 1 Prison
February 02, 2016 | By a Minghui correspondent in Liaoning Province
(Minghui.org) Reports of prisoners being made to do forced labor and Falun Gong practitioners being severely tortured for refusing to renounce their faith are widespread among prisons in China, and Shenyang No. 1 Prison is no exception. Approximately 3,750 prisoners are currently held in this facility in Masanjia Town, Yuhong District, Shenyang City.
Maximizing Profit from Forced Labor
At this Shenyang prison, some inmates are forced to make shoes, while most produce garments, the majority of which are exported.
Many international brands, such as the Japanese Zhenyoumei and Baiye, are produced in this prison. International distributors contract with Chinese clothing companies, who withhold the fact that their products are produced through forced labor. These companies have built long-term relationships with the prison in order to maximize profit.
The prison's modern facilities can produce the most products in the quickest way. The assembly lines are equipped with computerized sewing machines, hole punchers, button attachers, and other machinery.
Because of its free labor force, the prison attracts many business partners. For example, the charge for sewing a cotton coat is only five yuan (approximately 77 cents USD at the time of writing).
Unhealthy Environment, Unbearable Pressure
To increase revenues, inmates are forced to work overtime constantly. The quota for the assembly line ranges, on the short side, of 600 cotton coats per day.
For failing to meet their quotas, inmates are punished with baton beatings, verbal threats and abuse, denial of phone calls and visitation with family, denial of everyday convenience items, special discipline classes, or being made to stand against a wall for many hours at a time.
Furthermore, inmates are routinely made to work with hazardous materials, including various dyes and toxins.
Torture and Murder of Falun Gong Practitioners
This prison is one of many facilities where the communist regime coerces Falun Gong practitioners to renounce their faith, often through torture.
Mr. Li Shangsi: Tortured to Death
Mr. Li Shangsi was tortured to death on November 26, 2013, after being taken to the Intensive Discipline Ward from Ward II, to be "transformed," or made to renounce Falun Gong. His wife and his daughter were also imprisoned in the Liaoning Women's Prison at the time.
Mr. Zhu Chengqian: Life at Risk
Guards took practitioner Mr. Zhu Chengqian from Dalian City to the Intensive Discipline Ward to "transform" him in October 2015. He went on a hunger strike for 37 days to protest the persecution. He is in critical condition at the time of writing.
Mr. Xu Bing: Subjected to "Tiger Bench" Torture
Mr. Xu Bing, 43, from Dalian City, majored in computer design in college. He was sentenced to six years in prison, and the guards in the Intensive Discipline Ward used all torture methods available to them to "transform" him. Mr. Xu still refused to give up Falun Gong and went on a hunger strike.
The prison then transferred him to Ward II, where the guards tied him to a "tiger bench," a torture instrument. When he went on another hunger strike, officers took him to the prison hospital for force-feeding. He was soon transferred back to the Intensive Discipline Ward, where guards no longer tortured him, to avoid liability in the event of his death.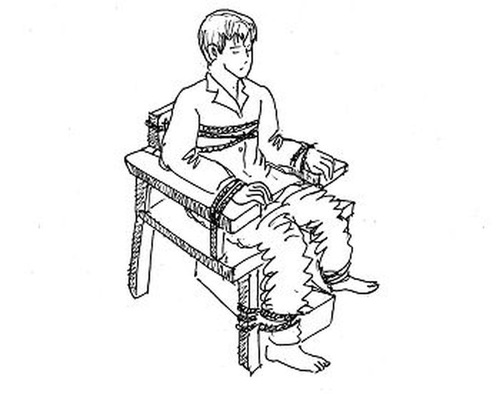 Torture Demonstration: Tiger Bench
Mr. An Xiangyu: Beaten and Bruised
Practitioner Mr. An Xiangyu was 28 years old when he was sentenced to five years in prison. Authorities tried to "transform" him and forced him to do forced labor. Inmate Yu Haizhu, a convicted murderer, beat him until he was bruised all over his body.