Taiwan: Keelung City Council Passes Resolution Supporting Lawsuits Against Jiang Zemin
December 07, 2016 | By a Falun Gong practitioner in Keelung, Taiwan
(Minghui.org) Keelung City Council unanimously passed a resolution on December 2, 2016 in support of the flood of criminal complaints in recent months filed by victims of the persecution of Falun Gong. The plaintiffs are seeking the prosecution of former communist head Jiang Zemin for his role in the devastating 17-year atrocity.
Keelung is the 15th city/county in Taiwan that has passed a resolution on this issue. The resolution also states that Taiwan aims to promote democracy, freedom, and the development of the rule of law in mainland China.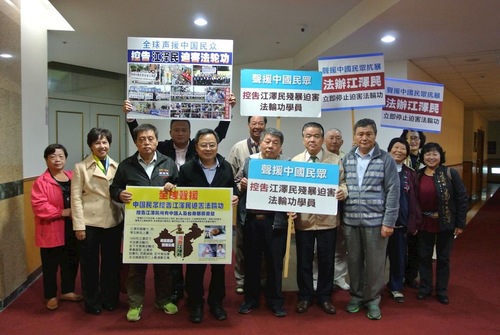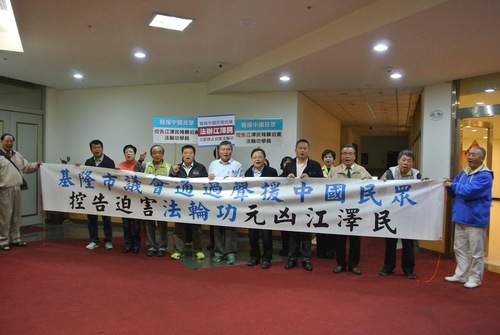 Keelung City Council members and Falun Gong practitioners announce the council resolution.
Council member Mr. Chen Chih-chen, one of the 14 sponsors of the bipartisan resolution, told the reporter, "The resolution calls for an immediate end to the Chinese Communist Party's persecution, especially organ harvesting from living Falun Gong practitioners. The City of Keelung supports justice, human rights, and religious freedom. It's imperative for the Keelung City Council to pass this resolution."
Council member Mr. Hung Seng-yong said, "Falun Gong is well-received all over the world. The Chinese Communist Party is the only regime that suppresses Falun Gong. It's significant that Keelung is addressing human rights with this resolution as we approach International Human Rights Day."
Mr. Xiao Song-shan, Director of Taiwan Association for International Care of Organ Transplants, said, "Organ harvesting from living Falun Gong practitioners is a monstrous crime that Jiang Zemin has committed using the state apparatus. I'm happy to see the Chinese people step forward to file lawsuits against him. The resolution is to support this noble effort."
More than 200,000 people have filed lawsuits against Jiang since May 2015. More than 1.8 million signatures have been collected in Asia in support of the movement.