Falun Dafa Experience Sharing Conference Held in Singapore
December 31, 2016 | By a Falun Gong practitioner in Singapore
(Minghui.org) The annual Falun Dafa Experience Sharing Conference in Singapore was held on December 26, 2016. Practitioners from Singapore, Malaysia, Indonesia, and Vietnam attended the conference.
Twenty of those in attendance shared their experiences of following the principles of Truthfulness-Compassion-Forbearance in their daily lives and of raising awareness of the persecution in China.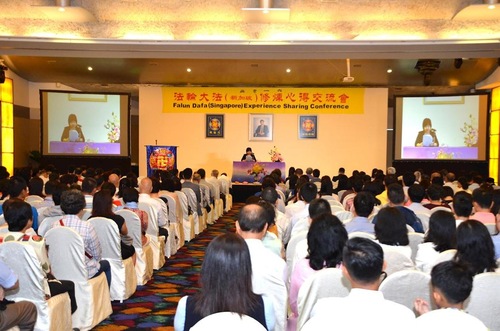 The annual Falun Dafa Experience Sharing Conference in Singapore on December 26, 2016.
The practitioners had a group photo taken after the conference and wished Master a Happy New Year.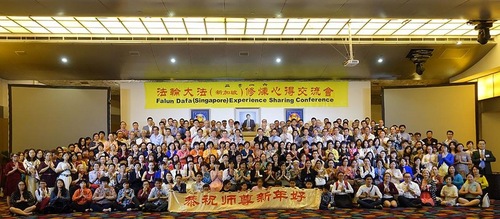 Practitioners attending Singapore Fa conference gather for a group photo and to offer New Years greetings to Master Li.
Fortunate to Learn Dafa
A young practitioner, Nannan, shared that she was fortunate to learn Dafa a little over a year ago.
She dreamt about touring the world when she was a child. She earned a scholarship and went abroad to pursue her studies when she was 13 years old. Her independent early life led her to think quickly and judge things for herself.
"Now that I have learned the wonders of Truthfulness-Compassion-Forbearance, I will never stop practicing Dafa." She continued, "I understand the meaning of life is to assimilate with the principles. I am determined to pursue the true meaning of life."
Nannan understands that her mission is to cultivate well and save sentient beings. She joined efforts to raise awareness of the persecution to the people in China by making phone calls and approaching tourists at scenic sites.
"The more I study the Fa the more I wish to cultivate well and reach a more wonderful realm."
Happy Family and Prosperous Career After Practicing Falun Gong
Mr. Hu had been misled by the propaganda about Falun Gong reported in the media, but he began to experience the grace of Dafa by seeing dramatic changes in his wife, who started practicing Falun Gong in 2010. He himself started practicing Falun Gong in May 2016.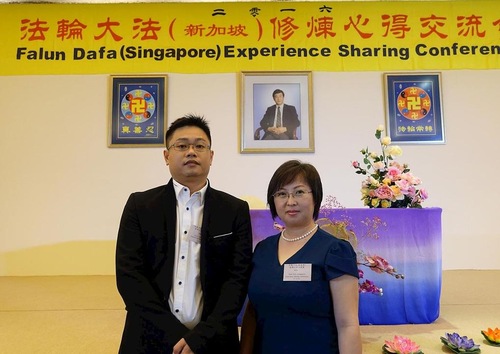 Mr. Hu and his wife.
"My wife became more gentle after practicing Falun Gong. Her hot temper and unreasonable arguments went away," said Mr. Hu. "She would apologize if she made a mistake. Her relationship with my mother became much better. They are now often thought of as mother and daughter."
"I noticed that she truly followed the principles of Truthfulness-Compassion-Forbearance. Falun Gong's teaching is completely different from that described in Chinese propaganda. This is a righteous cultivation school. I supported her to practice Dafa. I read the book Zhuan Falun with her once. I understood many principles about how to become a better person. But I had attachments to smoking, drinking, and gambling and unfortunately waited to start practicing until May of this year."
He said, "I truly want to assimilate to the principles of Truthfulness-Compassion-Forbearance. Let my life be reborn in Dafa by eliminating all bad thoughts, speech, and action."
A Young Practitioner: Do Not Miss Predestined People
A young practitioner Qinglian often raises awareness in tourist spots and busy locations in the downtown area.
She follows a tight schedule. "Too many people are not aware the CCP persecution." She talks about the persecution when she goes out for business or personal affairs.
"I know that I have been in the universe for a long time even though I am a young practitioner in this life. There is reincarnation. I cannot limit myself to the mindset of a young person and be less diligent in studying the Fa, doing the exercises, sending righteous thoughts, and raising awareness.
"There are too many attractions in this world. I need to control myself and merge myself into the Fa to change my human notions. That way, I can play a bigger role in raising awareness and fulfill my prehistoric vows."
Experience Sharing about Attending the Conference
Many practitioners shared their thoughts about attending the conference.
Mr. Hu and his wife Xiaohua shared their thoughts. "My husband has now started practicing Falun Gong. This helped me understand the importance of cultivating well at home. The first step is to clarify the truth to family members. At the same time, a practitioner needs to validate Dafa in any environment. The benefits from my practice of Falun Gong were witnessed by my family members. I don't need to say much… they know that Falun Gong is good simply by observing me."
Practitioner Dong said, "Practitioners' sharing provides an opportunity for us to learn and cultivate according to the Fa. I notice my shortcomings while listening to others share their experiences. For example, a practitioner talked about his father's ordeal of sickness karma. Fellow practitioners helped to send righteous thoughts. I thought about whether I would cooperate whole-heartedly in a similar situation. I still have attachments to fame and self-interest. Sometimes I pursue results."
Practitioner Ms. Lan said, "Several young practitioners started practicing recently but understand the principles clearly. Their sharing is so rational, especially about looking inward, that I was touched. I noticed there are many aspects that I have not enlightened to, even though I am much older than they are."
Ling Xi, a practitioner who submitted her experience sharing article to the conference, said, "In attending the conference, I was sober. Each practitioner's sharing was wonderful, because each shared his or her own experience and understanding. I was inspired. I have not enlightened to or not paid attention to some of the things they spoke of. This is helpful to my own cultivation."