Falun Gong Marching Band Leads Christmas Parade in Sherbrooke, Canada
December 02, 2016 | By a Falun Gong Practitioner in Montreal, Canada
(Minghui.org) Falun Gong practitioners' Tian Guo Marching Band led the 16th Christmas Parade in Sherbrooke, Québec on November 27, 2016.
Practitioners from Montreal, Ottawa and New York presented the beauty of Falun Gong with their resonant music, bright traditional costumes and high spirit.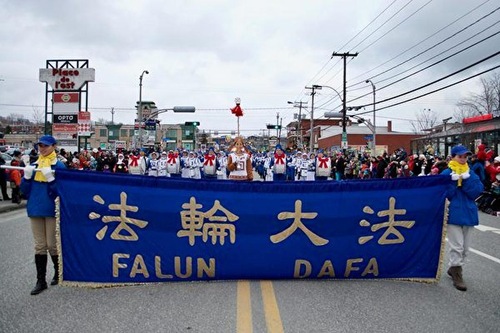 The Tian Guo Marching Band leads the parade through Sherbrooke.
It was the third time the band has been invited this annual parade. The local band has grown from 20 members to 150 over the past three years, with support from Falun Gong practitioners from Ottawa and New York.
The one-and-a-half-hour parade started at 3:30pm. Along the route, the band played music written by Falun Gong practitioners and traditional holiday music, including Falun Dafa Is Good, Sacred Song, and Jingle Bells. The joyful music brought a festive atmosphere to the local residents.
Ms. Claudine Roussel, coordinator of the parade, praised the Tian Guo Marching Band's visual and audio effects. She said the band shook the town because they were great musicians and that many of the spectators decided to come this year to watch the band.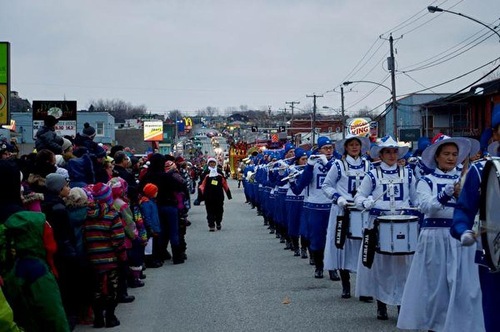 With 150 members from Montreal, Ottawa and New York, the Tian Guo Marching Band had a significant presence at the parade.
Local resident Bianca, her son, and her husband said the band was marvelous and beautiful.
Brigitte, another resident, has taken her two children to see the band for two years. She said, "I'm deeply touched every time!"
Marie-Lynn, who works for University of Sherbrooke, was especially excited to see the band this year. She said, "It's great! They are wonderful! We heard some of them came all the way from New York! I'm very impressed!"
The Tian Guo Marching Band leads the parade through Sherbrooke.
Nancy and her family sang high praise of the band. "They are the best! Most impressive! The musicians look like they're of different ages. We can see how disciplined and perfect they are!" she commented. Nancy's husband, Marc, sang a Christmas song to the band music. "It's so great to see them! I love the marching band!" he said.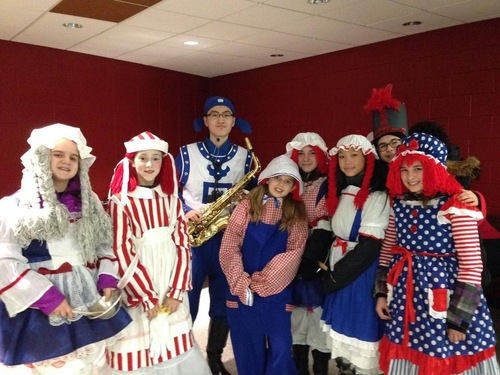 A group of local students in the parade take a picture with a member of Tian Guo Marching Band.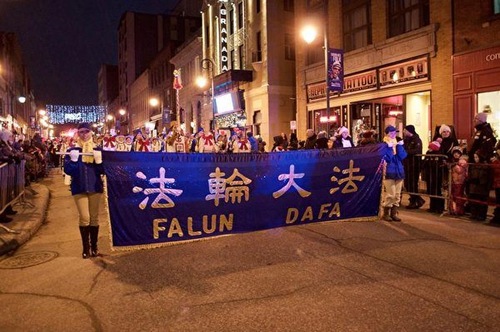 The Tian Guo Marching Band passes downtown Sherbrooke.