Experience Sharing Conference Held in Athens, Greece
December 19, 2016 | By a Falun Gong practitioner in Greece
(Minghui.org) Falun Gong practitioners met in Athens on December 11 for a cultivation experience sharing conference at the Municipal Conservatory of Moschato. Conference attendees were from Greece and Cyprus, and some traveled from as far away as Sweden, Australia, and the Netherlands. This year marked the third time that an experience sharing conference was held in Greece.
Falun Gong practitioners from a number of different countries met for an experience sharing conference at the Municipal Conservatory of Moschato in Athens.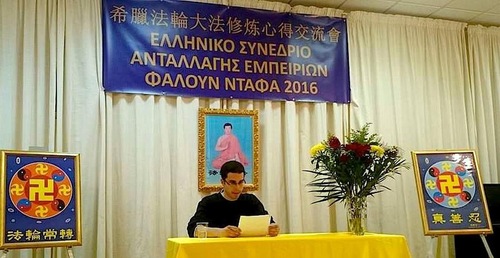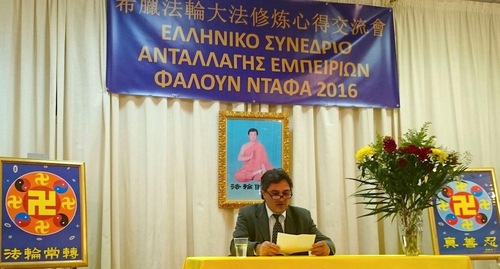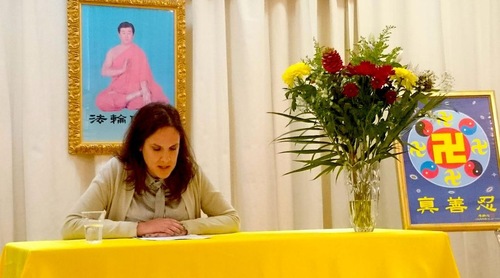 Practitioners read their papers at the conference.
Twenty speakers shared their understandings and experiences with their fellow practitioners.
Neli spoke about jealousy and how she realized that this attachment was behind her competitive mentality. She talked about how she eliminated jealousy when working with fellow practitioners, which helped her to resolve conflicts.
Neli said that after she got rid of jealousy, she became more tolerant and she could bravely face her other shortcoming.
Ioanna shared her experiences of talking to local lawmakers about Falun Gong and the persecution in China. She found that the biggest obstacle was her own pride. She tried to look inward when she ran into difficulties.
"When I got rid of pride, jealousy, and competitiveness, everything around me changed accordingly," Ioanna said. "My relationships with my co-workers became more harmonious." Developing a heart of compassion also enhanced the power of her words.
Christos shared his story of talking to European Union Parliament members earlier this year. Working in harmony with fellow practitioners from other countries, Christos visited lawmakers one by one and was successful in convincing them to sign a major resolution condemning the state-sanctioned organ harvesting of prisoners of conscience in China.
"Although I was exhausted by the end of each day, I felt that my body was purified, and my mind was uplifted during the whole process," he noted.
Kostas shared his experience of getting rid of attachments. He said that cultivators often mistakenly believe that the thoughts that stem from attachments are their true thoughts. He noted that attachments often exist in the darkness generated by one's own ignorance and illusion.
"If we don't actively sweep them out, the attachments will control our lives," he said.
Kostas used to be a soccer fan. Sometimes he could not concentrate on reading the Fa because of this attachment. He realized that this attachment to soccer had multiple components, including competitiveness, jealousy, validating one's self, and indulgence.
He treated this problem seriously and paid more attention to the cultivation of his main consciousness. With the guidance of the Fa, he got rid of the pollution in his mind.
Natalia, as a newlywed, shared her experiences of learning how to get along with her mother-in-law. At the beginning, she didn't look inward during conflicts, so their relationship became more and more strained. After she intensively studied the teachings of Falun Gong, she came to the understanding that for a cultivator, looking inward is the only solution to conflicts.
Marlen, a new practitioner from Cyprus, talked about how she started to treat people around her nicely and to put others' needs above her own. She also shared how she got rid of fear and was able to reach out to Chinese people and talk to them about Falun Gong.
After the conference, one attendee said, "It's very important to listen to fellow practitioners' sharing. After every such conference, I always feel that I have been purified. I always experience positive changes. It's a wonderful feeling. I believe that every attendee will experience improvements at his or her level of cultivation."