Falun Gong Human Rights Day Activities in Germany and Belgium Receive Great Support
December 18, 2016 | by Falun Gong Practitioners in Germany and Belgium
(Minghui.org) Falun Gong practitioners held activities in Belgium and 14 German cities on December 10, International Human Rights Day, protesting the persecution of Falun Gong in China and calling for it to end. Their persistent efforts to stop the persecution were noted by many and received great public support.
Activities were held in Brussels, Berlin, Hamburg, Bremen, Munich, Nuremburg, Heidelberg, Karlsruhe, Freiburg, Leipzig, Cologne, Frankfurt, Dortmund, Duesseldorf, and Cham.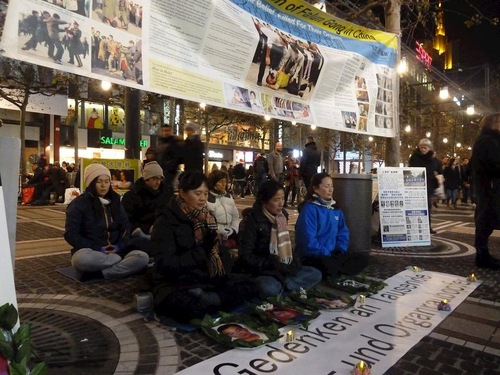 Candlelight vigil on December 10 in Frankfurt to commemorate practitioners who died as a result of the persecution in China.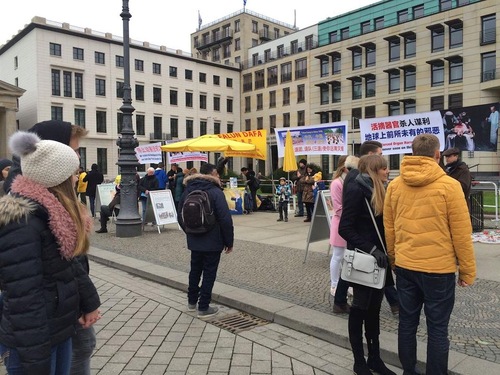 Practitioners demonstrate the Falun Gong exercises at Brandenburg Gate in Berlin.
Local residents and tourists in Munich learn about the persecution of Falun Gong.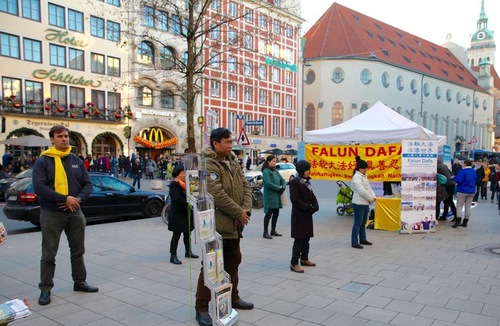 Falun Gong exercise demonstration in Munich.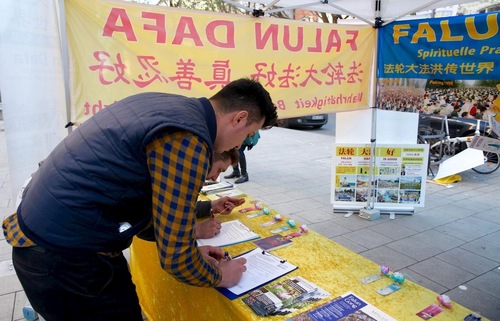 A couple in Munich sign a petition to stop organ harvesting atrocities in China.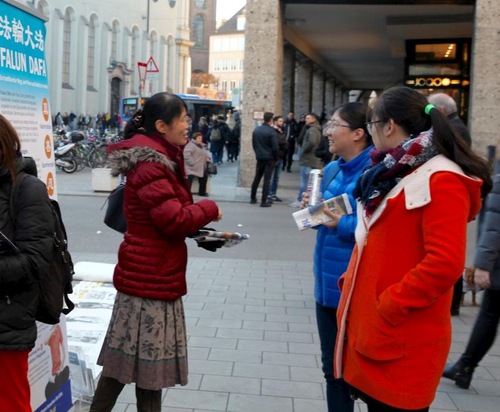 A practitioner (left) tells people about the persecution.
Many Chinese tourists visited the Cologne Cathedral on December 10 and received brochures about Falun Gong. A German Falun Gong practitioner gave a newsletter to a Chinese boy. The boy's father wanted the boy to return the newsletter, but the boy insisted on keeping it.
The German practitioner asked a Chinese practitioner to talk to the Chinese family. After hearing facts of the persecution, the boy's parents decided to quit the communist organizations they had joined in the past.
A couple of middle-aged Chinese men slowly approached the Falun Gong booth and whispered to ask for Falun Gong newsletters. A practitioner gave them some newsletters, but they continued to eye the other materials on the booth table. They were happy when they were finally given a copy of "Nine Commentaries on the Communist Party".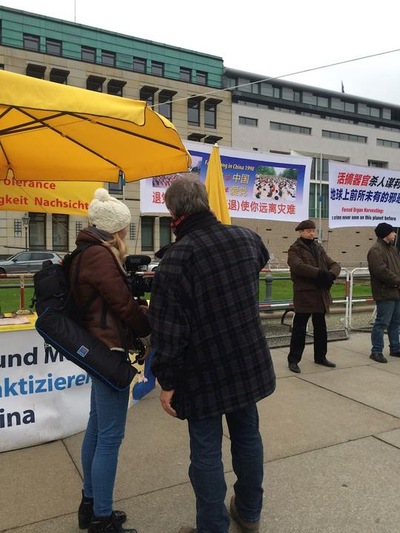 Natalia, an independent film producer, interviewed Falun Gong practitioners and planned to incorporate the content into her film.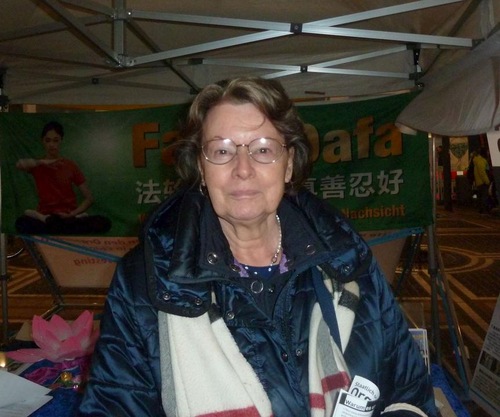 Sell, a resident of Frankfurt, signed the petition against organ harvesting, and suggested that her Chinese granddaughter-in-law visit the Falun Gong booth.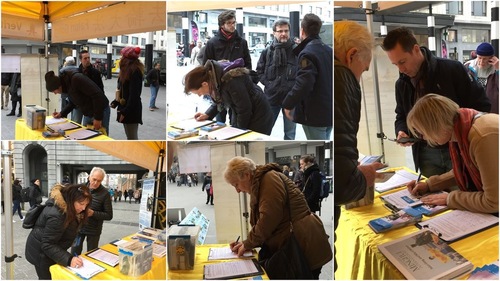 Many people in Brussels sign petitions against the persecution of Falun Gong.
A Belgian couple and their adult son told Christophe, a Falun Gong practitioner, that they had worked in China for several years. They learned Falun Gong was an untouchable topic in China. Their son got curious and looked up Falun Gong online, and then Chinese police went to visit them. Christophe told them what Falun Gong is and the facts of the persecution. They were very grateful for the information, and signed the petition to condemn the persecution.
A Chinese tourist told a Falun Gong practitioner that her mother-in-law had developed a much better temperament since she had started practicing Falun Gong in 1992. Her mother-in-law once had a bad accident, in which she was run over by a car, but she wasn't injured at all. The tourist knew Falun Gong was great and never believed the CCP's lies.
After learning about the health and spiritual benefits of Falun Gong, many people showed much interest in the great cultivation practice. They asked where they could learn it and looked forward to giving it a try.