Sharing Traditional Culture at Popular Christmas Parades Across the Globe
(Minghui.org) Falun Gong practitioners all over the world often participate in local festival parades, contributing to their communities and introducing this ancient Chinese cultivation practice to the public.
Last weekend, Falun Gong groups presented traditional Chinese culture performances for large crowds in Philadelphia, U.S.A and Christchurch, New Zealand.
The waist drum team of practitioners from Philadelphia performed in the 37th QVC West Chester Christmas Parade on December 2 for a crowd of over 30,000 spectators.
This was the ninth time that the Falun Gong group participated in this event, which U.S.A. Today calls "one of the top ten places to experience the arrival of Santa Claus during the holiday season."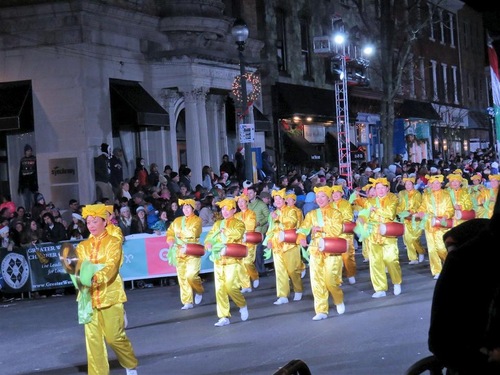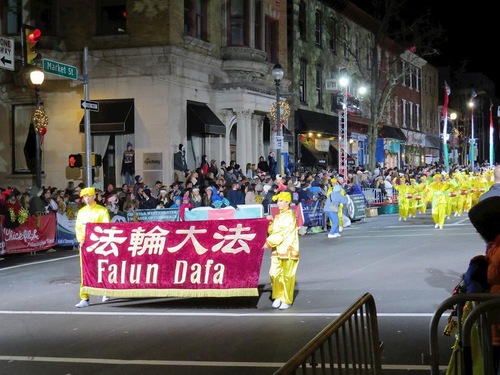 Falun Gong's waist drum team in the West Chester Christmas Parade.
The host of the parade introduced Falun Gong to the spectators as meditation exercises that teach the principles of Truthfulness-Compassion-Forbearance to improve body, mind, and spirit.
On the other side of the globe, practitioners' Tian Guo Marching Band performed in the 70th Christmas Parade in Christchurch on December 4. The event attracted more than 100,000 spectators and major New Zealand media.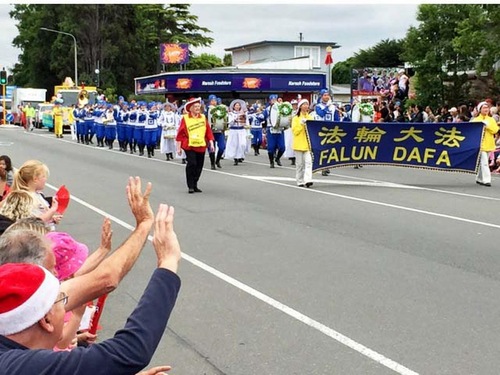 The Tian Guo Marching Band in the parade.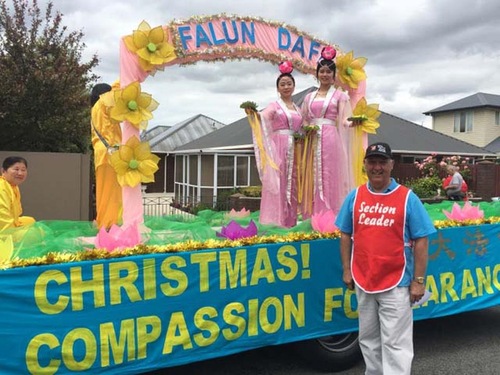 The organizer of the parade Clive Pincott said he likes the Tian Guo Marching Band's music. "Their costumes are outstanding too," he said. He thanked practitioners for presenting traditional Chinese culture in Christchurch.
Related report in Chinese:http://www.minghui.org/mh/articles/2016/12/7/新西兰法轮功团体参加基督城圣诞游行(图)-338633.html