New Evidence Concerning China's State-Sanctioned Live Organ Harvesting from Prisoners of Conscience Presented at Briefing in Canada's Parliament
November 07, 2016 | By Minghui correspondent Ying Xin
(Minghui.org) The Subcommittee on International Human Rights of the Standing Committee on Foreign Affairs and International Development, Parliament of Canada held a briefing on Allegations of Organ Harvesting in China on November 3, 2016. David Matas, human rights lawyer, and David Kilgour, former Canadian Secretary of State (Asia-Pacific), were invited to present their investigation of over ten years into the Chinese Communist Party's (CCP) state-sanctioned live organ harvesting from prisoners of conscience.
The investigators' presentations convinced the Members of Parliament (MP) who attended the briefing. MP Cheryl Hardcastle said in an interview afterwards, "Just years ago while hearing about this, [one would think] 'This can't be true. This is fear-mongering and exaggeration.' And now, from the work of these very esteemed gentlemen, who have been relentless in their work and standing behind their numbers, we know that there is something that's happening, somehow we have transplants that are unaccountable. The numbers don't make sense."
MP Hardcastle continued, "We are trying to give another State the benefit of the doubt in order to advance our good relationships. And there are things that we can still do in this country, to say no to the organ harvesting, to say yes to encourage investigations and to say yes to international human rights so that someone can't be imprisoned indiscriminately and executed."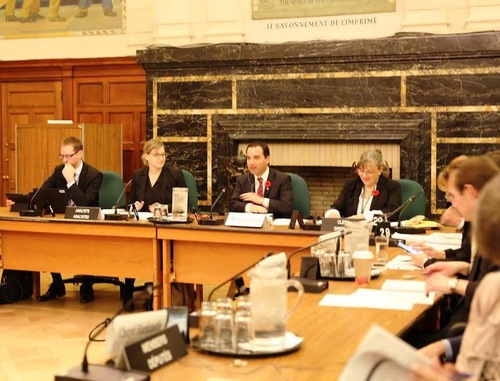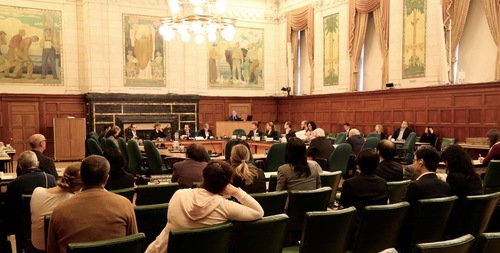 Briefing on Allegations of Organ Harvesting in China held by the Subcommittee on International Human Rights of the Standing Committee on Foreign Affairs and International Development, the Parliament of Canada.
Investigators: Canadian Government Needs to Work with International Community to Investigate CCP's Live Organ Harvesting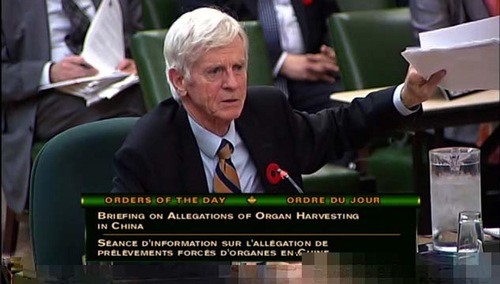 David Kilgour at the briefing on forced organ harvesting in China, Canadian Parliament. (Video screenshot)
Mr. Kilgour recounted the past ten years of investigation and announced the conclusions from analyzing Chinese hospitals' profit, bed numbers, usage rate, number of surgeons, training projects, and so on. Based on their research, China's organ transplantation cases range from 60,000 to 100,000, much more than the official number of 10,000.
A great deal of evidence indicates that the state-sanctioned organ transplantation is coordinated by state policy and capital, and involves such entities as the Chinese Army, the police and the state medical system.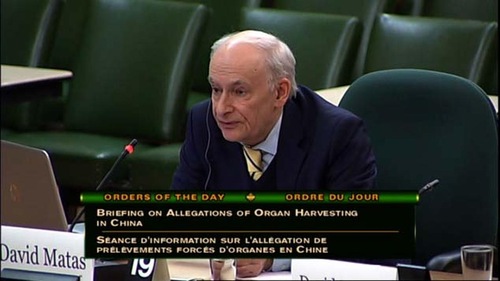 David Matas speaks at the briefing. (Video screenshot)
Mr. Matas briefly discussed the practice of Falun Gong and the CCP's long-term persecution of this traditional spiritual discipline based on the principles of Truthfulness-Compassion-Forbearance. He said that the CCP's defamation of Falun Gong practitioners and large scale detention, the CCP's acknowledged organ harvesting from prison inmates, shortage of funds in hospitals, and other factors pointed to large scale killing of Falun Gong practitioners for their vital organs. Imprisoned Falun Gong practitioners became the source of organs for profit and a major organ transplant tourism business.
The two investigators pointed out that the CCP's industrial scale organ transplantation mechanism has infiltrated the international community. They stressed that the Canadian government should enact laws and take action to control individuals, organizations, the medical system, customs and the tourism industry from engaging in overseas organ transplants and to oppose illegal organ trafficking. They believe that the government should work with the international community to investigate this massive crime against humanity.
MPs Appalled and Convinced
Former Minister of Justice and Attorney General Irwin Cotler said in an interview after the briefing that the evidence was convincing and exposed the CCP's large scale live organ harvesting for profit. Mr. Cotler believes that the state-sanctioned organ harvesting from Falun Gong practitioners is widespread in China and ongoing.
MP David Anderson said that live organ harvesting was unacceptable. Several MPs echoed Messrs. Matas and Kilgour and called upon the Canadian government to cooperate with the international community in stopping this crime against humanity.
Michael Levitt, who chaired the briefing, indicated that he was eager to know what Canada could do in cooperation with other countries. Last February, the previous subcommittee passed a motion condemning the CCP's live organ harvesting of Falun Gong practitioners and other prisoners of conscience.
MP Hardcastle thought that the suggestions by the investigators were inspiring and important. She said that Canada could take measures like Taiwan, Israel and Spain to ban citizens from traveling to China for organ transplants.
Mr. Cotler said that Canada needs a code to ban citizens from taking part in illegal organ trafficking in China. He also stressed that it is important for Canada to participate in further investigation into China's organ harvesting crimes.