Australia: Community Leader Supports Practice Site at Gold Coast, Queensland
November 21, 2016 | By practitioners in Australia
(Minghui.org) On October 29, 2016, a prominent community leader received a big welcome at the Falun Dafa practice site on the Gold Coast, Queensland.
Michael Kaff, who recently ran as an independent candidate for the Australian Senate, continues to be very supportive of Falun Dafa and has taken every opportunity to raise awareness of the horrifying reality that the Chinese Communist Party (CCP) is killing Dafa practitioners, Tibetans, underground Christians, and Uyghurs for their organs for profit in China.
Mr. Kaff showed his support for the fundamental freedom to practice Falun Dafa, without fear of persecution or organ harvesting, by attending the weekly practice site at Harley Park, Labrador. He learned all five exercises – the four standing ones and the sitting meditation.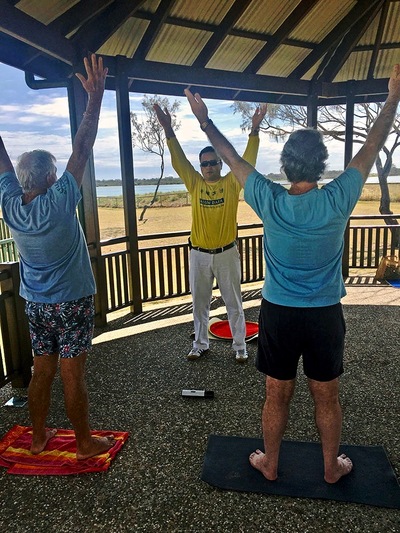 After doing the exercises, Mr. Kaff said he could find nothing about Falun Dafa that would justify the CCP's persecution of the peaceful spiritual practice.
"It is always so enjoyable meeting with the group," he said. "They are such peace-loving, beautiful people.
"It is disgraceful that the Falun Dafa practitioners' plight has not received the acknowledgement and support it deserves from the Australian Government
"Australian trade with China, which is substantial, must only take place on the condition that the human rights of Falun Dafa and other Chinese citizens are respected and protected and those responsible for these atrocities be brought before the United Nations Commission on Human Rights to face justice.
"There should be no financial gain at the cost of human decency or human life. The priority must be people before profit."
After the exercises, Mr. Kaff posed for a photo with practitioners and looked forward to their next local event to raise awareness of the plight of Falun Dafa practitioners in China.
Practitioners thanked Mr. Kaff for his tremendous support and said his righteous actions have helped bring positive change among elected politicians and other community leaders.