Health Care Workers Comment after Watching Organ Harvesting Film: "As a Nurse This Horrifies Me, As a Human This Shames Me."
November 21, 2016 | By a Falun Gong practitioner in the United States
(Minghui.org) Thousands of public health care professionals and students descended on the Denver Convention Center in Colorado for the annual national conference of the American Public Health Association (APHA) this October.
An educational documentary film about organ harvesting from prisoners of conscience called Hard To Believe was selected to screen at the APHA Global Public Health Film Festival at the conference as a featured session in the program on Monday, October 31.
Audience members watch "Hard To Believe" at the APHA Global Public Health Film Festival.
Over 100 attendees watched the film, which was followed by a lively Q&A discussion with experts who answered questions about organ harvesting. The panel members were Dr. Dana Churchill of Doctors Against Forced Organ Harvesting (DAFOH); Winston Liu, a chemical engineer in Wyoming who was tortured and blood tested in prison in China for his belief; and Kay Rubacek, one of the producers of Hard To Believe.
Many people signed petition postcards addressed to the U.S. State Department asking for help in stopping the crimes of forced organ harvesting in China, particularly from Falun Gong practitioners who are the main target of this offense.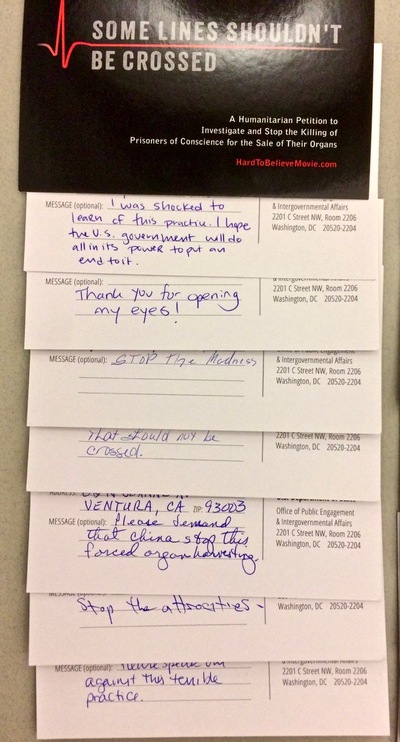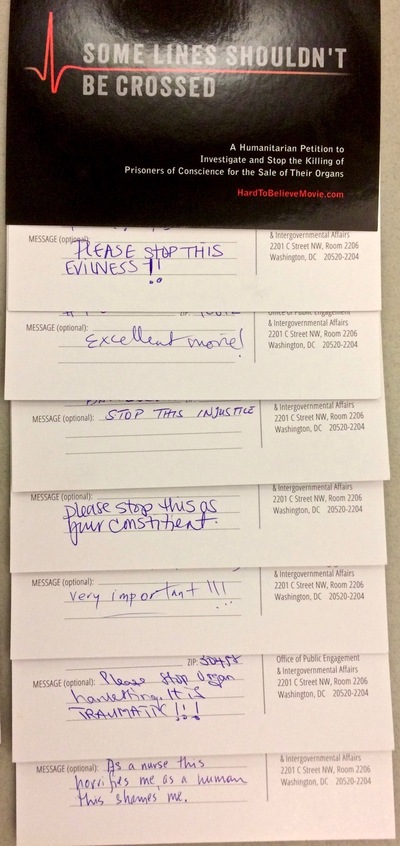 Postcards signed by healthcare professionals who attended the screening of "Hard To Believe." (Image credits: Swoop Films)
Some comments on the postcards read:"As a nurse this horrifies me, as a human this shames me."Thank you for opening my eyes!""Stop the madness""Very important!!!""Stop this injustice""Please stop organ harvesting. It is TRAUMATIC!!!"
— Attendees at the APHA Global Public Health Film Festival
Hard To Believe is a serious investigation into the issue of organ harvesting from Falun Gong practitioners in China and investigates why so few people have been paying attention to such a serious crime.
The film has been screened for professionals and students in healthcare, ethics, international studies, social studies, and other fields since its release on American television in 2015. Audience members are often moved to tears after learning about the crime, many saying that they didn't pay attention to Falun Gong practitioners' appeals or flyers before, but that after seeing the film they will take notice and join the efforts to stop it.