Insights and Reflections from Attending the European Falun Dafa Cultivation Experience Sharing Conference
November 21, 2016 | By Minghui correspondent Tang Xiuming
(Minghui.org) Approximately 1,000 Falun Gong practitioners from more than 30 European countries attended the European Falun Dafa Cultivation Experience Sharing Conference in Munich, Germany, on November 6, 2016.
Three practitioners from Eastern Europe shared their insights and reflections after attending the conference.
Practitioner from Ukraine: I Must Deal With Others Kindly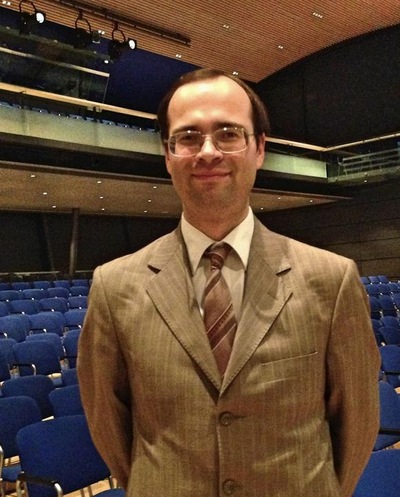 Ivan from Ukraine
Ivan from Ukraine lives in Kiev, the capital city, and owns a small bookstore. He started practicing Falun Gong in 2001, at the age of 16. He said he had sought the meaning of life since he was very young, and had tried martial arts, meditation, and qigong. He was at a book fair one day when he saw a flyer introducing Falun Gong. He was told that Zhuan Falun, the main book of Falun Gong, was available for purchase.
"I was in high school," recalled Ivan, "The book seemed expensive for me. But I made up my mind and bought it. I read half of the book that evening. I felt it was great because it provided answers about the meaning of life." He subsequently decided to start practicing Falun Gong and joined a local practice site.
Ivan said he treasured the opportunity to attend the European Fa conference, and benefited from listening to other practitioners sharing their experiences. He gave an example, "I have felt uneasy when someone reprimanded me. I didn't know how to handle this. Listening to the sharing at the conference, I understand now that I must deal with others kindly as a practitioner."
Practitioners from Slovenia: We Must Cultivate Well and Help More People Become Aware of the Persecution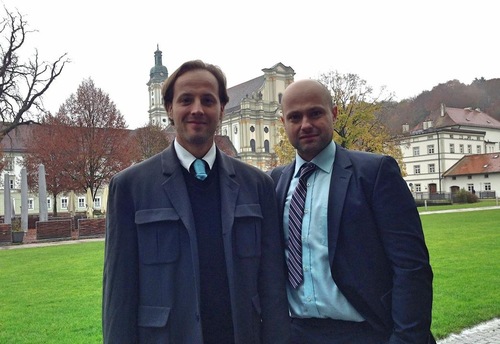 Gregot Cadez (left) and Ziga Pozun (right) from Slovenia.
Gregot Cadez and Ziga Pozun are from Slovenia, a country that used to be a part of Yugoslavia. It was their first time attending the European Fa conference.
Cadez has always been fond of Asian culture and had been a Taichi and qigong instructor for six years. A doctor of Chinese medicine had told him that Falun Gong was persecuted in China, and that its books were banned. Cadez's curiosity was aroused and he started practicing Falun Gong in 2014.
"I knew that qigong was extraordinary," Cadez recalled, "But no book could explain what the purpose of qigong was. I learned the answer and understood the meaning of life after reading Falun Gong and Zhuan Falun. I knew it was I was seeking."
Cadez said he has benefited from practicing Falun Gong. He has become kinder and more tolerant. "I had a hot temper and had a difficult relationship with my wife," he said, "After practicing Falun Gong, I understood that the troubles were probably caused by me. I now intentionally improve my character and become kinder by following the principles of Truthfulness-Compassion-Forbearance."
His health has improved greatly through the practice, "I had an incurable disease. I lost my job and received medical assistance. I became healthy after practicing Falun Gong. I had a medical examination in June. My incurable illness was gone."
Attending the conference he felt a sense of peace, and he was encouraged by the practitioners who shared their experience papers. "I think we need to do better," he said, "I wish more people in Slovenia will come to know about Falun Gong and the persecution in China."
Ziga Pozun is a university student majoring in chemistry who started practicing Falun Gong in 2013. He said he was touched by Master's greeting to the conference. "I felt that Master was speaking to me," he said, "I have a strong wish. I must work hard to accomplish my mission. Master reminded us that personal cultivation is the basis and we must do well in every aspect."