Paris: Film Director Praises Falun Gong Group for Exposing Atrocities in China
November 19, 2016 | By Zhou Wenying, Minghui correspondent in Paris
(Minghui.org) Braving the wind and rain on Sunday, November 13, Falun Gong practitioners in Paris, France, demonstrated the exercises under the Eiffel Tower and collected signatures on a petition calling for an end to the Chinese Communist Party's (CCP) persecution and brutal practice of forced organ harvesting against Falun Gong prisoners of conscience.
Many people stopped to learn about the persecution and sign the petition. Among them was Mr. Claude Leterrier, a documentary director and writer, who praised Falun Gong practitioners for exposing the organ harvesting atrocities.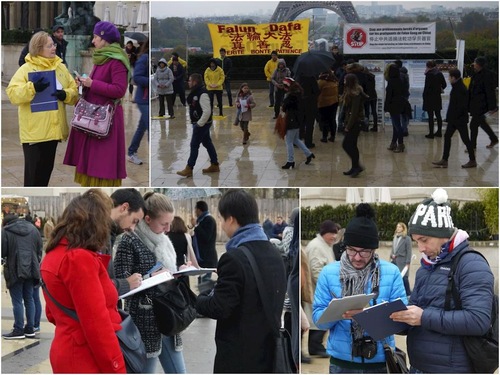 Falun Gong practitioners expose the persecution and collect signatures on a petition under the Eiffel Tower.
Mr. Leterrier talked to a Falun Gong practitioner for a long time. He said, "It's remarkable for you, as Chinese, to be so independent and open-minded, and talk to people about it here...You have exposed organ harvesting from living people in China, and are helping to stop it!"
After signing the petition, Mr. Leterrier said, "I used to have doubts about it [the allegations of organ harvesting]. But it has been proven. This is like a horror movie that plays every day."
Mr. Letterrier said he was shocked that humans could do this and that it was state-sanctioned by the communist regime. "It's absolutely inhumane conduct!" he said. "It will become known as a major happening in history and the news will be spread wider and wider."
Feeling a personal sense of responsibility, he said, "I have to tell people around me. We have to make changes."
Mr. Leterrier thinks it's only a matter of time before the truth about the organ harvesting atrocities is widely known."China could control 1.3 billion people for some time, but they can't keep the facts in the dark woods forever. The truth will be exposed as the sun rises."
He thinks when this happens it will also mean the fall of the Communist Party, "The Communist Party is doomed. It's living in delusion, but it's already done for. Seeing you makes me feel its days are numbered."
Praising Falun Gong practitioners for their perseverance, he said,"When I see you and hear your thoughts, I see hope for China. You have given me a positive impression."
He added, "The Chinese Communist Party hasn't realized how much criticism China has received for it's spiritual shackles."
He encouraged the practitioners to keep going, saying, "Keep up the good work! Spread your message further, to the big cities in Europe and all over the world! I hope you get strong support and put a lot of pressure on the Chinese regime. Shine on!"