European Practitioners Strengthen Faith at 2016 San Francisco Experience Sharing Conference
November 01, 2016 | By Dexiang and Tang Xiuming, Minghui correspondents in San Francisco
(Minghui.org) During the 2016 San Francisco Falun Dafa Experience Sharing Conference on October 24, 2016, European Falun Dafa practitioners were inspired by the experience sharing on self-cultivation and truth clarification. They were motivated to make improvements by the presenters' solid cultivation of looking inward and their tenacious work in offering salvation to sentient beings.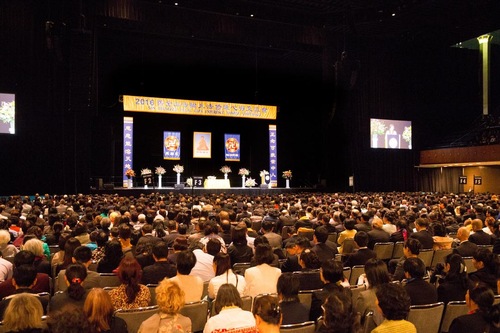 Close to 6,000 Falun Dafa practitioners from around the world attended the 2016 San Francisco Falun Dafa Experience Sharing Conference at Bill Graham Civic Auditorium on October 24, 2016.
Mr. Robert Rook is a law school student from Germany. He learned that Dafa practitioners had to proactively think about what they could do, and do their best to accomplish it. He was impressed by a fellow practitioner's sharing on how he had actively and efficiently worked on The Epoch Times newspaper. It made Robert reflect upon his own many unfinished tasks. He was determined to concentrate on finishing what he had started, instead of leaving things for others to finish.
Austrian practitioner Katja Hausmann said that every speech was fascinating and that she listened carefully to every word. "I have learned something from every one of them. For example, I always wanted to learn Chinese, so that I could clarify facts of the Dafa to Chinese people, but I always thought it was too hard. An Indian practitioner shared how he had learned a little Chinese so that he could better explain the facts about Falun Dafa. I was inspired. When people have the wish, they can accomplish it... I gained strength from the conference. I could feel waves of strong and quiet energy. I have to be diligent and do better step by step... Even though Master didn't come, I could feel he is here. It's a wonderful feeling!"
Ms. Hausmann has been practicing Falun Dafa for three years. She started her cultivation after watching a show by Shen Yun Performing Arts. She said cultivation made her clever and calm. "If anyone had said I was calm before my cultivation, it would be a joke." Her family and friends, especially her husband, witnessed her huge change. Her husband is very supportive of her truth clarification activities and has given her a lot of help.
Katja Hausmann (left) and Robert Rook (second from right) at the San Francisco Experience Sharing Conference.
Ms. Tatiana Brug from Ukraine has been practicing Falun Dafa since age 15. She learned about Dafa from her father. Tatiana said attending this conference made her faith in Dafa and Master grow stronger. She understood why Master gave us experience sharing as a format of cultivation. She said, "I can feel Master is with us today. I know Master can see my attachments and human mentality very clearly. Ukraine used to be a communist country. We still have elements of the Party culture, like struggling mentality. I try to attend international conferences, learn from practitioners from other countries, and eliminate Communist Party elements from myself."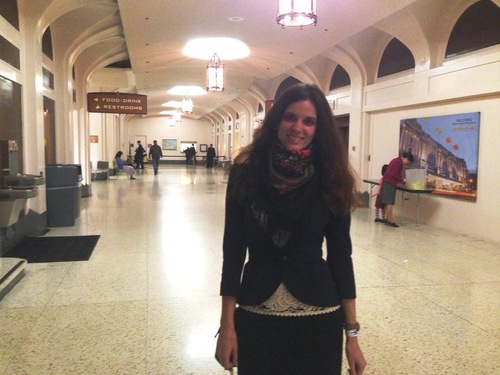 Ms. Tatiana Brug at the San Francisco Experience Sharing Conference.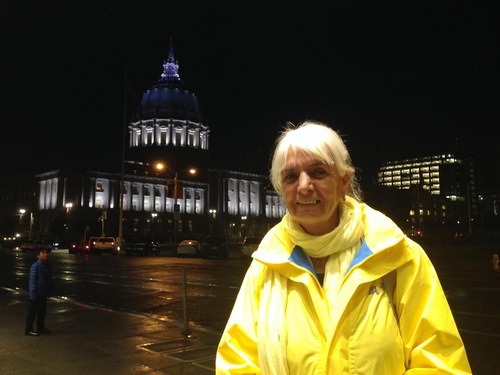 Aviva from Israel at the San Francisco Experience Sharing Conference.
One evening 14 years ago, Aviva met a couple of Falun Dafa practitioners who were holding a "Stop the Persecution" banner on the street. They gave her a flyer about Falun Dafa. She subsequently started cultivating. She had lived in Taiwan for a short period of time and learned beginner Chinese.
She said, "There are many Chinese tourists at the airport, but they don't speak English. I would like to learn some more Chinese sentences so that I can talk to them, like the fellow practitioner who shared his experience of learning Chinese."
Aviva said that she learned a lot from the sharing. "The key is to look inward. As cultivators, we have to look for our fault no matter what. I learned today how others had looked inward. I'm inspired. I could feel the energy and felt uplifted. I will do better in my cultivation."