I Escaped Injury-Free from a Car Crash
October 08, 2016 | By a Falun Gong practitioner in the United States
(Minghui.org) I suddenly saw dust around my car and realized that I had crashed my car along the highway on my way home last week. I immediately shouted, "Falun Dafa is good." Within seconds, my car made a U-turn and stopped on the grass by some bushes beside the highway. I pressed the brake hard.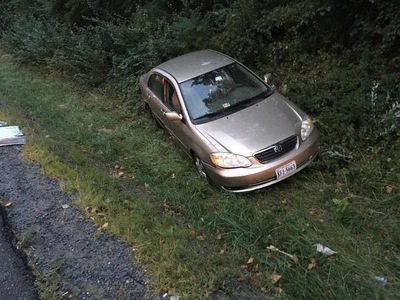 My car made a U-turn and stopped on some grass beside the highway.
I saw that there were people on the roadside. Someone asked me, "Are you okay?" I moved a little and felt that I was fine. But I could not get out as the door was blocked by the bushes. Someone came over to open the door for me. I got out and stepped onto the roadside.
I did not know which car hit mine, or how it occurred. Someone told me what had happened. A car driven by a 17-year-old boy had hit my car. It happened very quickly as the boy was driving too fast. His car stopped after hitting mine and proceeding another 150 feet.
Four other vehicles stopped to help me. They thought I must have been injured. Someone called 911 though I said I was fine and has no need to go to the hospital.
The police and tow truck arrived, and they saw I was fine even after one hour. They were happy for me and believed that there must have been an angel protecting me. I said I was fine, though scared, after the accident. They all understood.
I calmed down a little later and went to my car to remove the Falun Dafa flyers. I distributed the flyers to the boy and his three young friends. I told them that I had practiced Falun Dafa for nearly 20 years, and that my Master had protected me from injury in the crash.
They thanked me. I then introduced Falun Dafa to the witnesses. I stayed there for over two hours before leaving for home. The police officer said it was a big accident, and it was fortunate that I was not hurt.