Recent Falun Gong Events: Teaching Exercises, Exposing Persecution
(Minghui.org) Practitioners of Falun Dafa (also known as Falun Gong) around the world have held public events for more than a decade to raise awareness of and calling for help to end the brutal persecution in China. Meanwhile, practitioners hold free classes, seminars, and other events to introduce this ancient Chinese self-cultivation practice to the public.
This newsletter covers multiple events that took place in Indonesia, Russia, the United States, and Turkey during the past few weeks.
Teaching the Falun Gong Exercises
Indonesia
Falun Gong practitioners in Batam, Indonesia have visited local schools in the past several months, introducing the practice to students and teachers.
Although their main goal was to teach the exercises, practitioners also informed the students about the 17-year-long brutal persecution of Falun Gong by the Chinese regime and the state-sanctioned organ harvesting atrocities.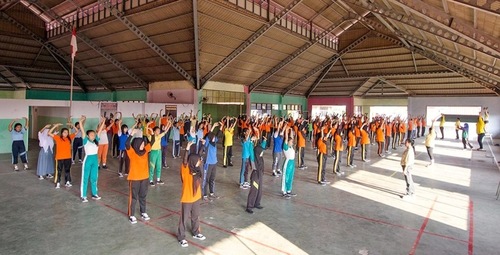 One hundred and twenty students and teachers at Putrajaya College learn the Falun Gong exercises in July 2016.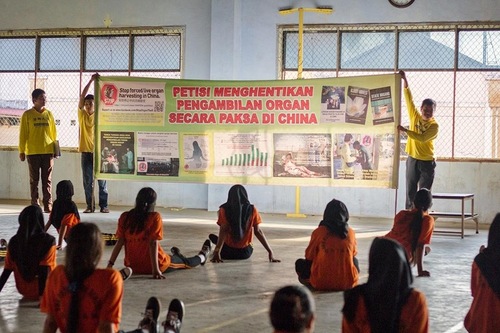 Practitioners give a presentation on forced organ harvesting in China.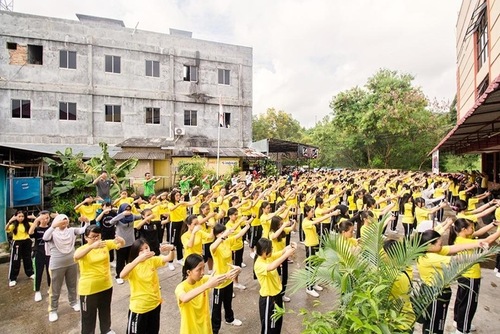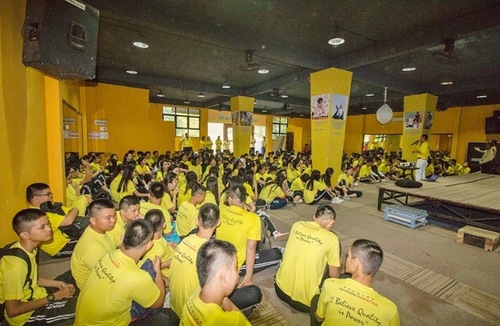 Students from College of Hope Diamond learn the exercises in July 2016.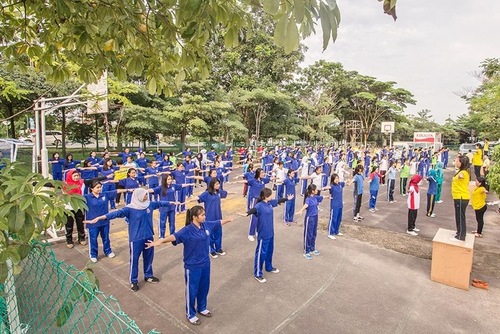 One hundred and twenty students and teachers at Batam Business School learning the exercises in August 2016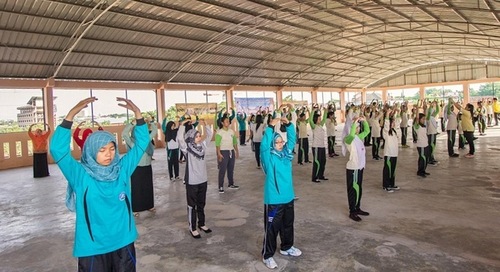 Students at a school in Nusa Tenggara doing the exercises in August 2016
Russia
Practitioners in St. Petersburg, Russia participated in the International Healthy Life Expo on October 12-15. Two exercise demonstrations on the stage and more demos at the booth attracted many visitors.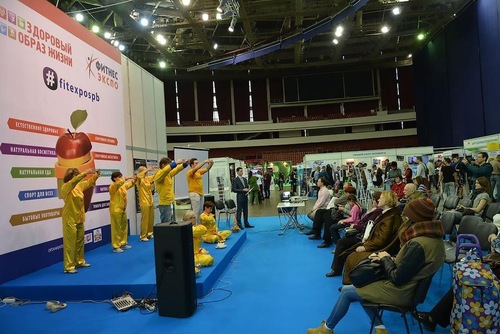 Demonstrating the exercises
Practitioners' booth at the expo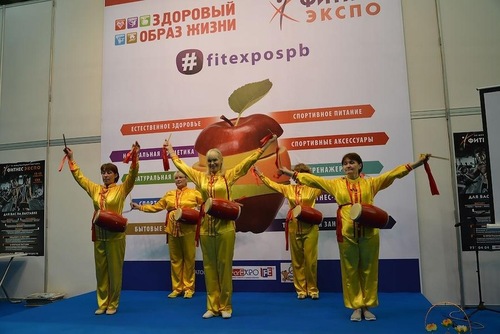 Besides the exercise demonstration, practitioners also gave a traditional Chinese waist drum performance.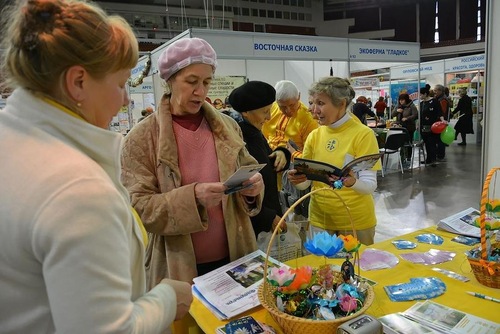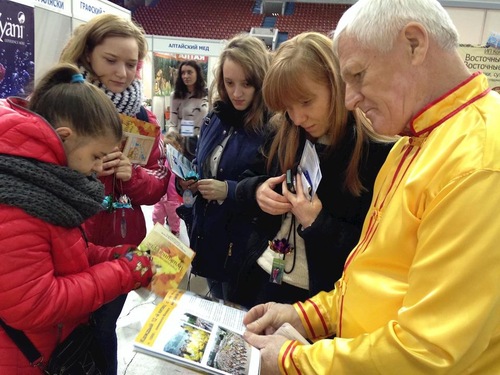 Numerous visitors stopped at the booth to learn more about Falun Gong.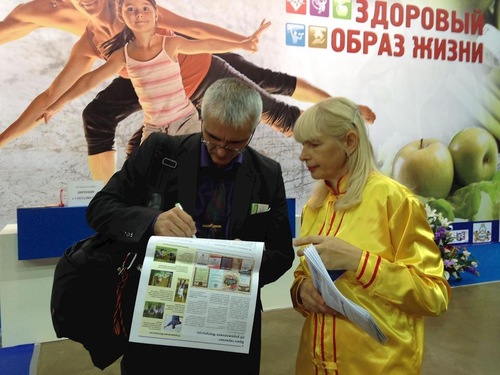 A visitor signs a petition to condemn the persecution of Falun Gong in China.
Calling for Help to End Organ Harvesting Atrocities
San Francisco, U.S.A.
As reported on Minghui.org this week, more than 6,000 Falun Gong practitioners came together in San Francisco over this weekend through Tuesday and held a series of events to call attention to the persecution.
Below are photos from a rally in front of City Hall on Tuesday that focused on the state-sanctioned organ harvesting in China.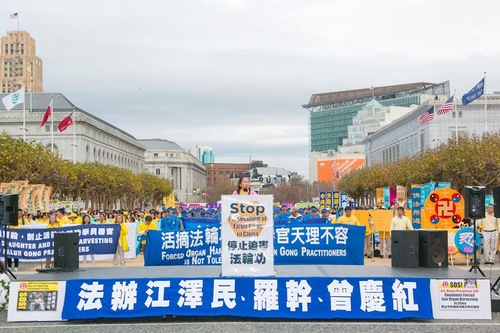 A practitioner speaks at the event.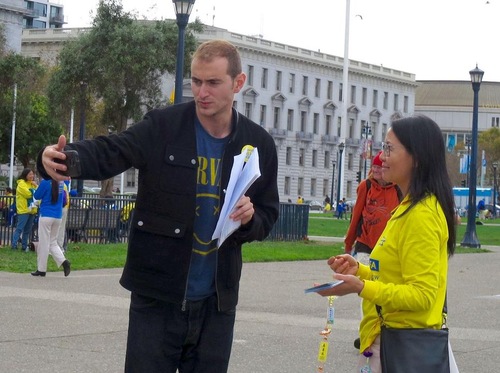 Local resident Richie King takes a selfie with the petition that he had just signed. "This is very important. Forced organ harvesting is a crime, and the Communist Party must stop this crime," he said. Richie asked for some Chinese materials for his friends.
Tobias Piastowski, a practitioner from Germany, is happy that people are willing to talk to him and accept flyers from him. "People are friendly," he said. "A lady almost cried when I told her what has been happening in China. Many people listened to me carefully and asked questions."
Turkey
In Konya, Turkey, practitioners set up a booth at the 11th National Organ Transplantation Convention on October 14, and informed the 450 attendees from the medical community about forced organ harvesting in China.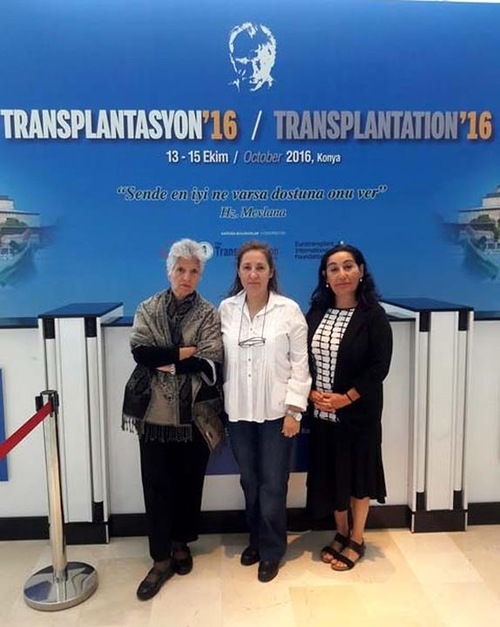 Practitioners' booth
Many doctors wanted to know more. They took materials for their colleagues and signed the petition to condemn the crime.
At the end of the convention, the chair of a medical association said to practitioners that he will send the information about the organ harvesting to its 14,000 members. He also invited practitioners to its conference next year.
Related reports in Chinese:罗斯法轮功学员受邀参加国际健康展(图)土耳其器官移植大会-法轮功学员讲真相(图)中共活摘器官,全世界人都不会放过它"(图)