Canada: Falun Gong Finds Public Support at Cambridge International Festival
October 02, 2016 | By a Falun Gong practitioner
(Minghui.org) The annual Cambridge International Festival was held in Cambridge, Ontario, Canada, on September 24, 2016. Falun Gong practitioners participated in the festival again by invitation. They introduced Falun Gong and collected signatures calling for an end to the Chinese Communist Party's (CCP) state-sanctioned killing of Falun Gong practitioners for their organs.
Many passersby paused at the Falun Gong booth and signed the petition against the persecution in China. Some left words of thanks for practitioners who provided the information. Some expressed indignation towards the organ harvesting atrocities.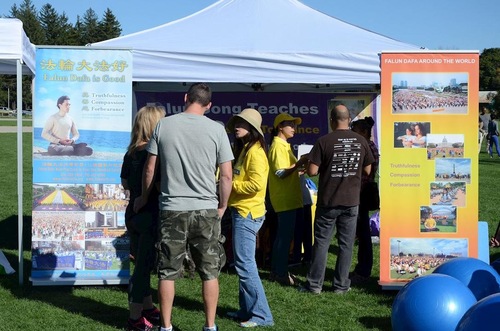 Passersby stop to learn about Falun Gong at the Falun Gong booth.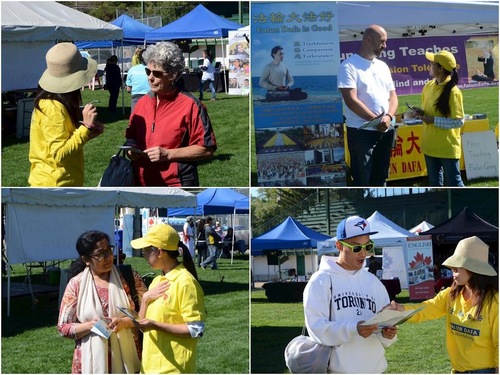 Practitioners talk with passersby and raise awareness of the persecution.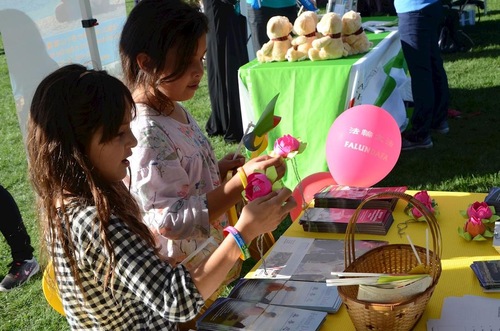 Young girls are attracted by the beautiful paper-folded lotus flowers at the Falun Gong booth.
Luo Pinto said that he signed the petition for the sake of justice. He encouraged the practitioners to keep up their efforts.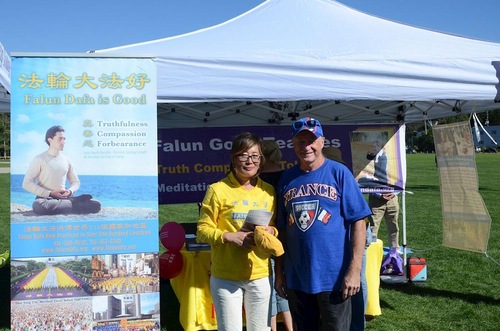 Luo Pinto and a Falun Gong practitioner
Anjo Zonneveld signed the petition and, after a moment, asked a practitioner whether she could sign on behalf of her husband. She was told she could as long as her husband agreed. After signing for her husband, she said, "I want to fill in my mother's name. This is too important."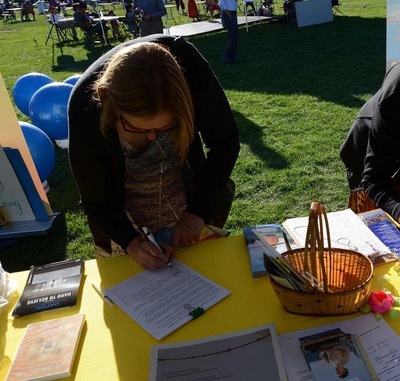 Anjo signs a petition condemning the persecution.
Mr. Shen, who works for a publisher in China, said he understood what the practitioners were doing. He learned how to circumvent internet censorship in China and said he would learn more about Falun Gong.
Ashmir learned the Falun Gong exercises on the spot. His parents are from India and had listened to the practitioners' introduction in the morning. He stopped by the Falun Gong booth with his mother in the afternoon and asked a practitioner to teach him the exercises.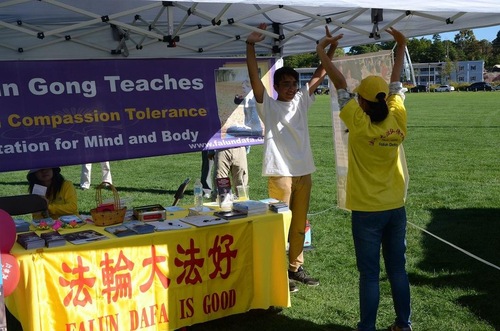 Ashmir from India learns the first Falun Gong exercise.
Teresa, who works with Family and Children Services, came to greet the practitioners as soon as they had finished setting up her booth.
She came back to talk with the practitioners in the afternoon. "I watched you for long," she said. "You are so peaceful. The festival is busy and noisy. But I feel very calm sitting beside you. Possibly it is the reason I came here today."
Before the end of the festival, Diana Palmerin of the hosting organization came to express her thanks. She said the Falun Gong booth was welcomed and hoped that the practitioners would come again next year.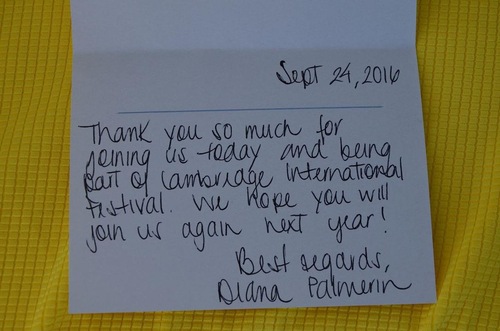 Diana Palmerin's note thanking the practitioners for their participation