Sweden: Learning about Falun Dafa and the Persecution in China at the Norrköping Culture Night
October 14, 2016 | By Falun Gong practitioners in Sweden
(Minghui.org) The Swedish town of Norrköping welcomed Falun Dafa for the 16th time at Culture Night (Kulturnatten), its most important annual event, on September 24, 2016.
Locals and international students stopped to learn more about this Chinese meditation practice and its moral teachings, qigong exercises, and its ongoing persecution by the communist regime in China. They also learned how to make their own origami lotus flowers.
A mother and her two children enjoy making origami lotus flowers.
Hero for Human Rights in China
A large number of students came for the screening of the documentary "Transcending Fear" (2014) that evening. The film tells the story of prominent Chinese human rights lawyer Gao Zhisheng. Gao, a Nobel Peace Prize nominee, has been in prison and under house arrest for more than five years for defending supporters of Falun Dafa, Christians, and other victims of the Chinese regime's persecution.
The audience was deeply moved by Gao's bravery and wanted to know about further developments. A student from Slovakia asked how he could make an impact to change the situation in China, and he was encouraged to help by sharing the information with more people.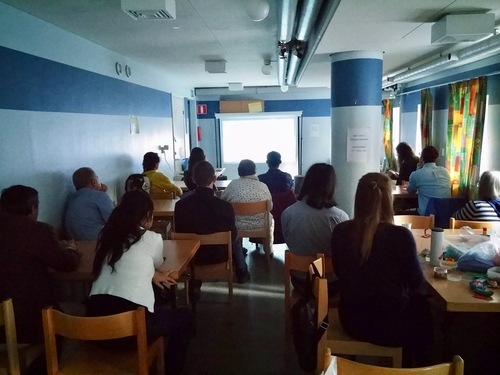 Students from Russia, Spain, Slovakia, Ethiopia, and other countries came to the screening of "Trascending Fear."
Organ Harvesting and Global Response
Since the persecution of Falun Gong began in 1999, it is estimated that up to 1.5 million organ transplants have been carried out in China and that most of the organs were taken from prisoners of conscience.
The main population targeted for organ harvesting are Falun Gong practitioners. Other victims include members of the Muslim Uyghur minority, Tibetans, and Christians.
The European Parliament and the U.S. Congress recently passed resolutions condemning the Chinese government's state-sanctioned harvesting of organs from prisoners of conscience.
After the release of an earlier report on forced organ harvesting in China, Spain and Israel introduced laws making it illegal for their citizens to travel to China to receive organs whose ethical origin could not be confirmed.