New South Wales, Australia: The Art of Zhen, Shan, Ren Returns to Yass
October 13, 2016 | By a practitioner in Australia
(Minghui.org) The Art of Zhen, Shan, Ren (Truthfulness, Compassion, Forbearance) International Art Exhibition returned to the small town of Yass in New South Wales, Australia, October 6-9, 2016. Some new pieces have been added to the collection of artwork by Falun Gong practitioners since the exhibition was held here five years ago.
In connection with the exhibition, there was also a screening of the award-winning documentary Hard to Believe on Friday night and an opening ceremony attended by three members of the local council.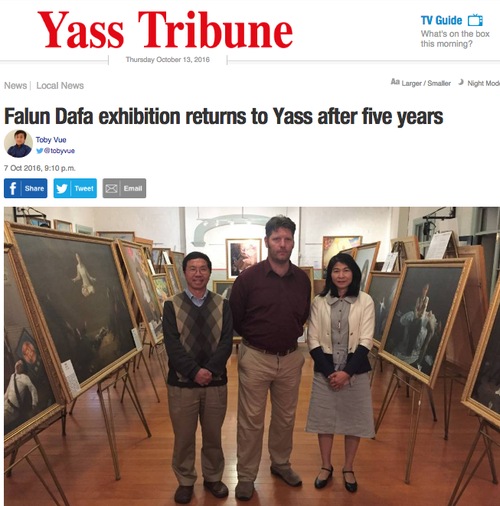 Screenshot of Yass Tribune report. The caption of the photo read "Spreading the message: Falun Dafa practitioner and exhibition curator Daniel Clark (centre) with fellow coordinators Songfa Liu (left) and Xuan Tieu (right) say the exhibition aims to bring awareness of human-rights abuse of Falun Dafa practitioners in China. Photo: Toby Vue"
Volunteers from the Falun Dafa group discussed the subject matter of the paintings with many people from the town who attended the event, and a local community radio presenter interviewed them.
The event was also reported on in the Yass Tribune.
The reporter interviewed Falun Dafa practitioner and exhibition curator Daniel Clark, who said the event aims to raise awareness of the human-rights abuse of practitioners, which includes forced organ harvesting, in China.

"It's very hard to go up against China in our current climate," explained Mr. Clark in the report.
However, he pointed out, "The more people know about it, the more they can tell others. It's only through word of mouth that people can learn about this situation. Then things can change."