Persecution of Falun Gong in Hongxinglong Farming Branch of Heilongjiang Province
October 13, 2016 | By a Minghui correspondent in Heilongjiang Province, China
(Minghui.org) Heilongjiang Province is one of the areas in China where the persecution of Falun Gong is especially severe.
Heilongjiang has a Land Reclamation Bureau with nine farming branches – including more than 100 farms – scattered across the province. They are independent from municipal administrations and directly governed by the provincial office. Each farm has its own Communist Party branch and Political and Legal Affairs Committee.
The Party officials in these farming branches have been actively participating in the persecution of Falun Gong since 1999. Practitioners in these jurisdictions have been subjected to unlawful detention, torture, brainwashing, forced labor, imprisonment, ransacking of their homes, extortion, and termination from their jobs.
This report documents a portion of the persecution reported in the 12 farms under the Hongxinglong Branch of the Heilongjiang Land Reclamation Bureau.
Imprisonment
It has been confirmed that 27 Falun Gong practitioners have been sentenced by courts within Hongxinglong Branch since 1999, with an average prison term of 4.4 years.
Table 1. Falun Gong practitioners illegally sentenced in Hongxinglong Branch of Heilongjiang Land Reclamation Bureau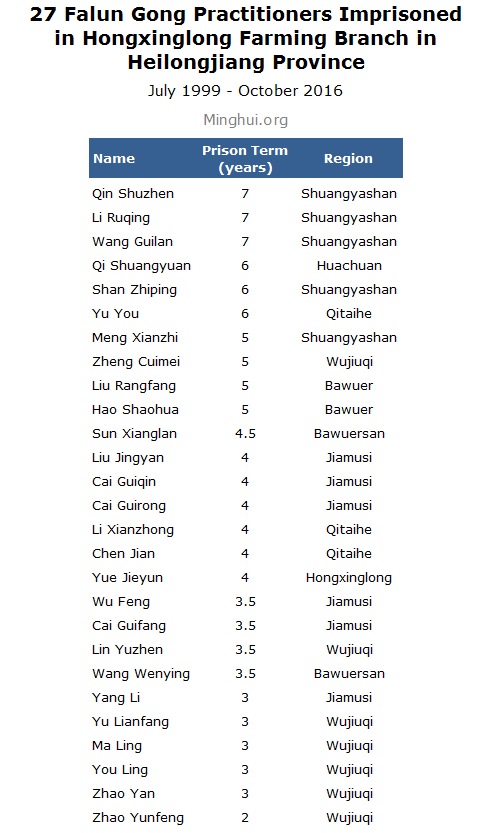 Beatings, Torture during Interrogation
Reports of torture are common at police stations and detention centers following arrests of Falun Gong practitioners.
Mr. Chen Jian was arrested on May 22, 2008 and detained at Hongxinglong Detention Center. During interrogation the next day, officers struck his head repeatedly, leaving him with seven loose teeth and a nosebleed.
Mr. Chen filed a complaint and retracted the confession he was forced to give under torture. Xu Lianbin, the deputy head of the detention center, ordered officers to cuff Mr. Chen's hands behind his back for 37 days, even when he was sleeping. Xu said to him: "We never grant you Falun Gong any human rights."
Mr. Chen was later sentenced to four years in prison.
Torture illustration: Hands cuffed behind the back
Mr. Yu You suffered the same torture, with the addition of 66-pound shackles on his legs. The officers threatened to keep him shackled for a year if he did not cooperate during the interrogation.
Ms. Tian Guomin, 64, had her hands and feet cuffed together for one week at Hongxinglong Detention Center. The officers did not release the cuffs until her family came to demand her release. Ms. Tian was unable to walk after the torture.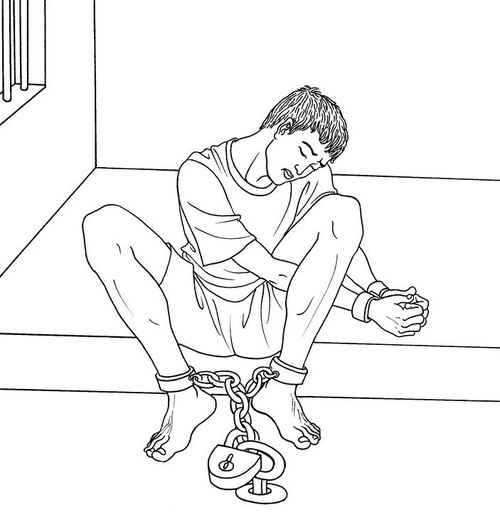 Torture illustration: Hands and feet cuffed together
Mr. Qi Shuangyuan was held at Hongxinglong Detention Center, where guards ordered inmates to beat him. When he refused to follow the detention center rules, they cuffed his hands behind his back and put 63-pound shackles on his feet. As he was unable to eat, they force-fed him and left the feeding tube in his stomach.
The guards kept him cuffed and force-fed him for 15 days. They repeated the same torture three more times during his detention. Mr. Qi had spasms several times as a result of the torture. The deputy head of the detention center, Xu Jianbin, said he was "making trouble for them."
Unlawful Detention
Some practitioners were denied family and even lawyer visits during detention.
Mr. Chen Yan, 54, was arrested for distributing Falun Gong flyers at Shuangyashan Farm on September 14, 2016. The police kept him at Hongxinglong Detention Center and ransacked his home the next day without telling his family his whereabouts.
Mr. Chen's father found out about his detention only after he went to the police department on September 22.
The next day, Mr. Chen's lawyer went to the detention center and requested to see him. He was told by the guards that they never allow anyone to visit a Falun Gong practitioner.
The lawyer went to the procuratorate to file a complaint, but he was shoved out of the door by the staff. He then returned to the detention center and sent a meeting request to the head of the detention center, who did not answer his phone the entire afternoon.
Mr. Chen's family is still being kept in the dark regarding his current situation, three weeks after his arrest.
Prior to his latest arrest, Mr. Chen had been sent to a forced labor camp twice and a brainwashing facility once. His wife divorced him under the tremendous stress of the persecution. His elderly father is in poor health and longs for his return.