Protesting Organ Harvesting Atrocities in China Outside a Conservative Party Conference in the UK
October 12, 2016 | By a Falun Gong practitioner in the U.K.
(Minghui.org) Outside of Birmingham's International Convention Center, Falun Gong practitioners held various activities on October 3 and 4 to raise awareness about state-sanctioned organ harvesting atrocities in China. Those killed for their organs are prisoners of conscience, most of whom practice Falun Gong.
The Conservative Party was holding a conference inside at the same time. Many passersby learned more about the persecution of Falun Gong in China and signed petitions calling for an end to organ harvesting atrocities.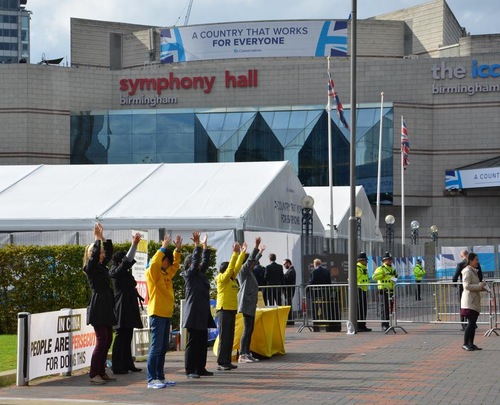 Falun Gong activities outside Birmingham's Conservative Party Conference 2016.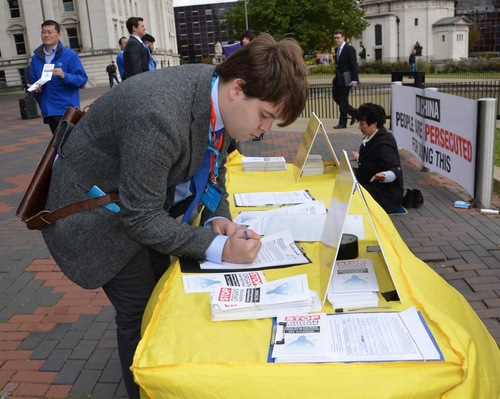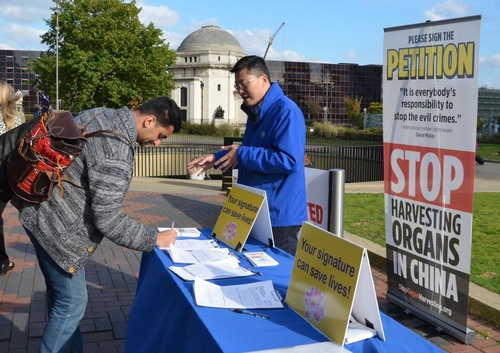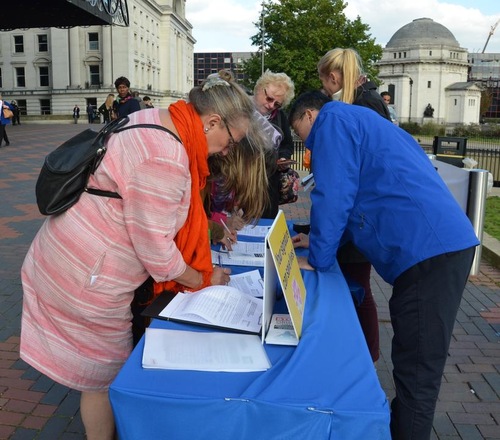 Conference participants and passersby sign petition in support of Falun Gong
Writer Anna Andrew and two friends went to sign the petition. Anna said that she chose to sign because she believes that harvesting organs from living people for profit should not happen, and that the practice is way below the bottom line of morality.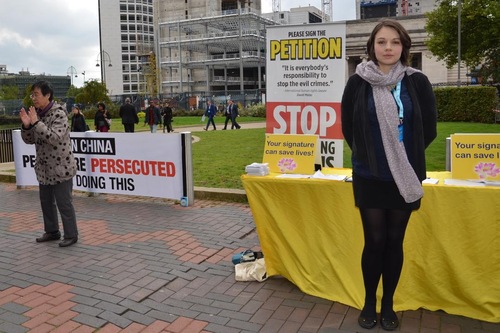 Rebecca Sheen says that everyone should do something about the persecution.
Rebecca Sheen is running for Birmingham city council. After signing the petition she said that the practitioners must continue what they do. They should help more people learn about the persecution because for a very long time people didn't know what Hitler did to the Jewish people. Only by exposing these crimes can they be brought to an end.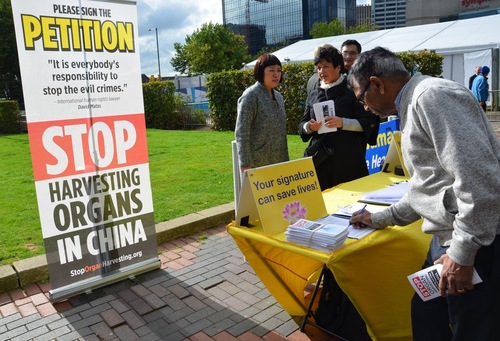 Signing a petition calling for an end to the forced organ harvesting in China
A man named Dsbamislau said that people shouldn't keep quiet on a crime so brutal. He believes that the world should investigate and bring the perpetrators to justice.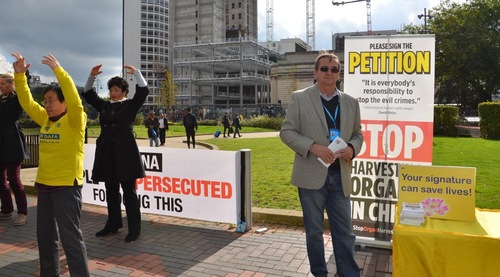 Retired police officer Tom signs the petition
Tom retired as a police officer last year and is now member of a district council in Staffordshire. He believes that such unthinkable crimes in the 21st century could only take place in a dictatorship. He mentioned that holding activities outside of the conference was a good idea to let more people know about the persecution and to help bring it to an end.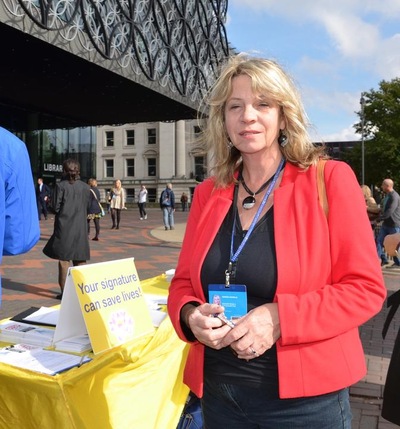 Sandra offers to help spread the word about the persecution and forced organ harvesting.
As a nurse, Sandra was appalled to learn about the organ harvesting atrocities taking place in China even today. She finds it both horrifying and shocking. She said that she would help spread the information because she believes that most people will be happy to help if they know about it.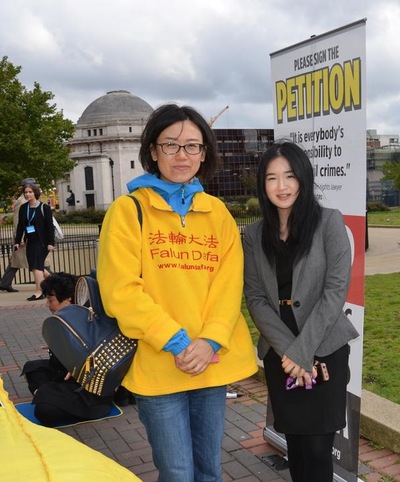 Phaedra asks the international community to help stop forced organ harvesting.
Phaedra is a Birmingham city employee. She said that innocent people shouldn't be murdered like that and the international community should launch an investigation and help to stop the practice.
Peter Shelyn signs the petition.
Peter Shelyn has been to China 13 times. He signed the petition and encouraged the practitioners to continue doing the right thing to expose the atrocities.