Melbourne: "I Am Truly Proud of Them!"
January 05, 2016 | By Xia Chunqing in Melbourne Australia
(Minghui.org) Mr. Heath Weva was one of the 500,000 people who came to the center of Melbourne in the heat to watch the performances and fireworks show on New Year's Eve. He saw many Falun Gong practitioners at city square.
The practitioners were collecting signatures to stop the forced live organ harvesting in China and reporting Jiang Zemin to the Supreme Procuratorate of China, for ordering the persecution of Falun Gong.
After talking to the practitioners, Mr. Weva, a construction worker in Melbourne for more than 10 years, signed the petition to express his support.
Mr. Weva said that he supported the practitioners' efforts to bring Jiang to justice, and he said the persecution was terrible, cruel and shocking.
"(Falun Gong practitioners) are courageous and persistent. We definitely need some people to step up and let the world know. I am truly proud of them!" said Mr. Weva.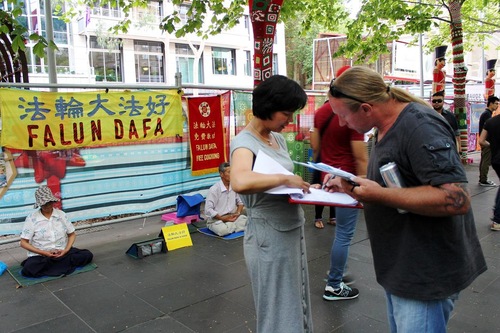 Mr. Heath Weva, a resident of Melbourne Australia, is signing a petition form to report Jiang Zemin, the former dictator of China, to the Supreme Procuratorate of China.
Practitioners have come to the square for the past few years on New Year's Eve. They put up banners, set up display boards and demonstrated the Falun Gong exercises to raise awareness of the persecution and collect signatures to stop the live organ harvesting from imprisoned Falun Gong practitioners in China.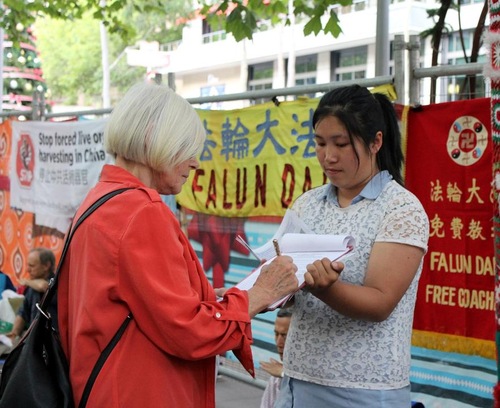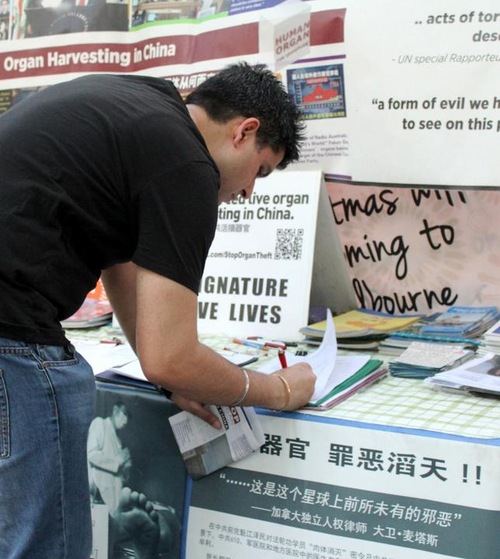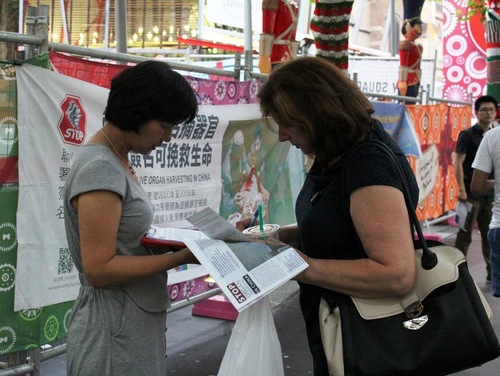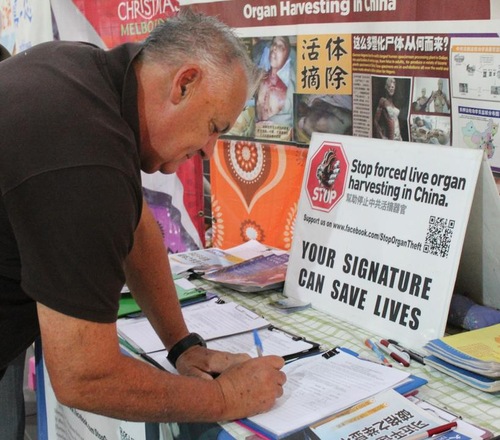 Falun Gong practitioners collect signatures to bring Jiang Zemin to justice.
Many who walked by signed the petition. Some Chinese tourists raised their thumbs to show their respect and the local Chinese residents often spent quite some time talking to the practitioners, according to Ms. Jin, a Falun Gong practitioner at the site.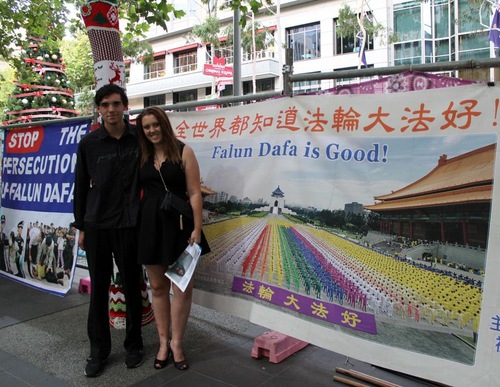 Ms. Sullivan from Albury: "I hope the organ harvesting atrocities can be stopped as soon as possible."
Mick Bayiis, a salesperson for a food company in Sydney, came to Melbourne for vacation. He had first learned about the persecution in China about a year ago.
"That's 100% right. No one should escape punishment after committing a crime," said Mr. Bayiis. "Truthfulness-Compassion-Tolerance is a principle for every society. No persecution should happen to anyone under any circumstances."
He signed the petition and asked his wife and other family members to sign the form.
Medical doctor Daniel Reichard and his friend Ofar Shahar came from Geelong, a harbor city southwest of Melbourne.
Medical doctor Reichard encouraged one practitioner after talking to her: "It's a good idea to charge Jiang Zemin in court. This is my first time hearing about the persecution. It's awful and brutal."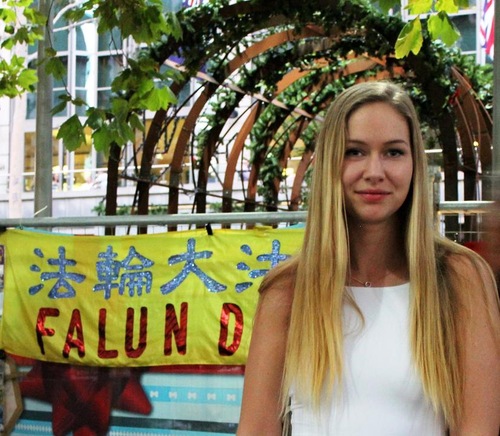 Anna Westvlon: "It is hard to believe that forced live organ harvesting can happen in such a developed society. It's a good idea to sue (Jiang Zemin), and everyone should sign to express their support."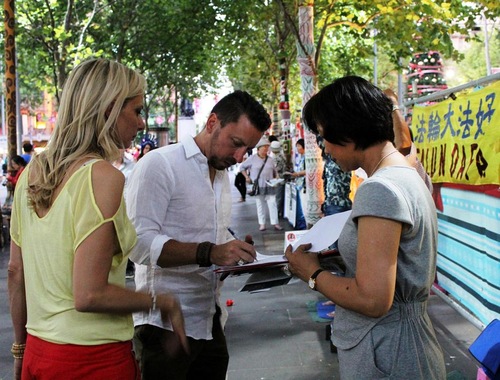 Ms. Luise Sambucco and her friends both signed their names.
Real estate agent Ms. Luise Sambucco is an animal protection activist and has learned much about the persecution of Falun Gong.
"I wish more people would be aware of it and help stop the persecution," said Ms. Sambucco after signing a petition. "Those responsible should pay for what they did. Like the Nazi's. (Jiang Zemin) must be tried for the injustice he created.
"I believe people must speak out against the persecution, otherwise, you are showing indifference to the crime."