Taiwan: Falun Gong Practitioners in Taipei Wish Master Li a Happy New Year
January 03, 2016 | By Minghui correspondent Cheng Yu-yan
(Minghui.org) Falun Gong practitioners gathered in front of Taipei's Shilin Official Residence on the morning of January 1, 2016, to wish Master Li a happy New Year. They encouraged each other to move forward diligently.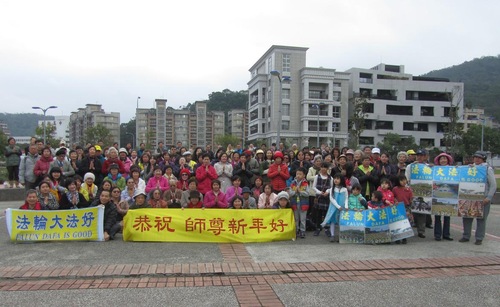 Group photo of Falun Gong practitioners in front of the Shilin Official Residence in Taipei. The banners read, "Falun Dafa Is Great" and "Wishing Master Li a Happy New Year!"
The Shilin Official Residence is the former residence of late Republic of China President Chiang Kai-shek. It is located in Shilin District of Taipei, Taiwan, and is a must-see destination for Chinese tourists. Many tourists who saw the practitioners' greeting were touched. Some tourists renounced their memberships in the Chinese Communist Party (CCP) and its affiliated organizations on the spot.
Mr. Chen is an owner of an import/export company. He was diagnosed with stomach cancer eight years ago, and hesitated whether or not to undergo surgery. He recalled a friend who had lost more than 40 pounds due to illness, but whose illnesses disappeared within a few months after practicing Falun Gong. Mr. Chen took the book Zhuan Falun that his friend gave him, and read it. He then started practicing Falun Gong.
He became healthy, and his hot temper subsided. He stopped criticizing his employees with harsh words, and he no longer became depressed due to business circumstances. He now has a happy life. Mr. Chen said, "I am excited to join the New Year greeting to Master Li. Master, Happy New Year!"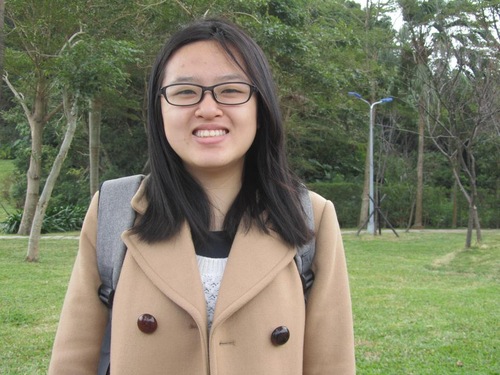 Fujino from Japan studies at the University of Taiwan. She felt happy joining the greeting.
Fujino was born in Japan, and was admitted to the Department of Advertising at the University of Taiwan as a foreign student last year, after she graduated from high school in Japan. She started practicing Falun Gong when she was in grade three, following her mother and grandmother. It was difficult for her to read Zhuan Falun in Chinese initially, when reading the book with her mother. She can now recite the book fluently in Chinese.
She said, "Reading Zhuan Falun in Chinese helps me learn Chinese a lot." She feels that Taiwan has a good cultivation environment, and was excited to join the greeting with so many practitioners.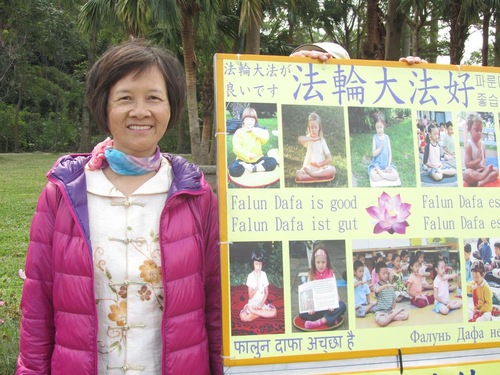 Hong Chi-ling has a happy family life after eliminating resentment toward her husband.
Hong Chi-ling has been retired from primary school teaching for seven years. She and her husband got married after being introduced by a matchmaker, but had different values about life. Her husband was easily angered, and did not talk to her. He did not take care of home matters. Chi-ling was busy dealing with the household matters, and had ongoing resentment toward her husband. They used to not talk to each other for weeks at a time.
After Chi-ling began practicing Falun Gong, and followed the principles of Truthfulness-Compassion-Forbearance, and gradually eliminated her resentment, and talked with her husband sincerely. Her family slowly become harmonious. Her brother also started practicing Falun Gong, after seeing the changes in his sister.