Residents of Nanchang, Langfang, Jieyang, and Tangshan Cities Support Lawsuits Against Jiang Zemin
January 29, 2016 | By Minghui correspondents in China
(Minghui.org) According to reports on the Minghui website, since May 2015 more than 200,000 Falun Gong practitioners and their family members have filed criminal complaints against former leader Jiang Zemin with China's highest court. In a broad show of support, people throughout China and other countries have signed petitions demanding that Jiang be brought to justice.
Jiang Zemin, former head of the Chinese Communist Party, launched a nationwide campaign to eradicate Falun Gong on July 20, 1999. The brutal persecution continues to this day.
To counteract the regime's negative propaganda and offer people an opportunity to understand this traditional cultivation practice, practitioners for the past 16 years have been talking to people about Falun Gong and exposing the persecution. Throughout China, citizens are courageously signing petitions to express their wish to see the persecution end and the chief perpetrator brought to justice.
211 Residents Sign Petition in Nanchang City
Residents of Nanchang City, Jiangxi Province have shown their support, with people from all walks of life signing petitions calling for an end to the persecution. Since October 2015, 211 people have signed, including government officials, teachers, students, drivers, shopkeepers, and retirees.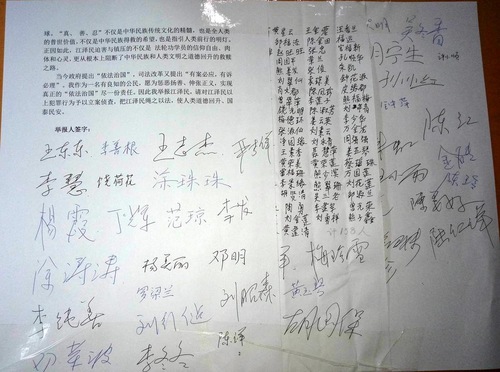 382 Residents Sign Petition in Langfang City
In Langfang City, Hebei Province, practitioners began circulating petitions in October 2015. In less than one month, 382 signatures were collected.
The following are some of the comments made by those who signed:
"Jiang Zemin is a rotten man. He should have been sued a long time ago."
"Jiang has done nothing good for China or the people. He has destroyed the country and made us suffer."
One elderly man said, "I support you! When are they going to arrest Jiang?"
"Falun Gong practitioners are very kind. You are still trying to do good despite being persecuted. I truly admire you."
796 Residents in Tangshan City Sign Petition
In Tangshan City, Hebei Province, 796 people signed a petition in support of the lawsuits against Jiang.
Residents of Jieyang City Show Their Support
When the wave of lawsuits against Jiang began on May 1, 2015, many Falun Gong practitioners in Jieyang City, Guangdong Province filed lawsuits against him.
Officers from the Public Security Bureau and police stations have harassed practitioners in their homes, pressuring them to withdraw their letters of complaint. Many practitioners pointed out that such harassment is clearly illegal.
More than 1,500 people in Jieyang have now signed the petition to show their support for bringing Jiang to justice, and more are signing every day.