Falun Dafa Practitioners and Others Who Support Dafa Respectfully Wish Master a Happy New Year
(Minghui.org) With the coming of the new year, Falun Dafa practitioners, along with their non-practitioner family members, relatives and friends send greetings to revered Master Li.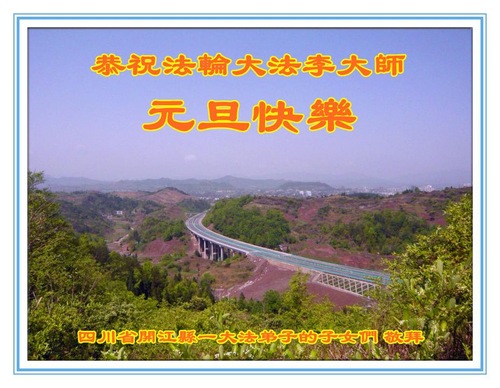 These well-wishers hail from many different places:
Kaijiang County, Dazhou City, Sichuan ProvinceLangfang City, Hebei ProvinceQiqihar City, Heilongjiang ProvinceJing County, Hengshui City, Hebei ProvinceHuaiyang County, Kaifeng City, Henan ProvinceLongkou, Yantai City, Shandong ProvinceTianjinQingdao City, Shandong ProvinceLuchuan, Guangxi Autonomous RegionXiong County, Baoding City, Hebei ProvinceAnlu City, Xiaogan City, Hubei ProvinceYingshan County, Nanchong City, Sichuan ProvinceXianyang City, Hubei ProvinceShijiazhuang City, Hebei ProvinceHeze City, Rongcheng City, Weihai City, Shandong ProvinceDuozhuang Town, Mengyin County, Linyi City, Shandong Province
A practitioner's son whose mother is a veteran Falun Dafa practitioner wrote on behalf his family in their greetings,"My mother is a veteran Falun Dafa practitioner, and our whole family has undergone tremendous changes over these years.
"I thank Master on behalf of my father, my wife and my son and daughter, and send our New Year greetings to Master Li on this wonderful moment! Our whole family will continue following Master Li!Respectfully, a family member of a sincere Dafa practitioner in Yuhua District, Shijiangzhuang City, Hebei Province"
Greetings were also sent by judges and staff working in courts.