Police Break into and Ransack 77-year-old Woman's Home
January 14, 2016 | By a Minghui correspondent from Guizhou Province
(Minghui.org) Ms. Li Chunxiang is a 77-year-old Falun Gong practitioner from Anshun City, Guizhou Province.
Ms. Li heard a group of police officers banging on her door at around 3:30 p.m. on December 15, 2015. She did not open it, so they broke the lock.
After entering the house, They broke Ms. Li's desk, ransacked her home and confiscated Falun Gong books and informational Falun Gong CDs. The police left the tools they used to break the door behind.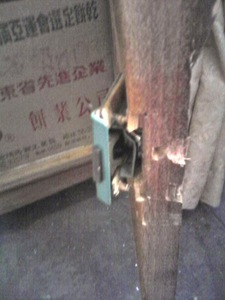 Local police broke into Ms. Li Chunxiang's home
The police terrorized Ms. Li's daughter because she refused to open the door. They claimed that she "obstructed police business."
Ms. Li's son was not spared either. They demanded that he guarantee in writing that he would force his mother to give up her belief. They threatened that if he did not cooperate, they would have him fired from his job.
Ms. Li was taken to a brainwashing center in 2006 because of her belief in Falun Gong. He blood was forcibly drawn in April 2014. The Guizhou Province Police Department ordered all Falun Gong practitioners in the area to take blood tests to build a DNA database, presumably so that they could serve as a living organ donation bank.
Background
In 1999, Jiang Zemin, as head of the Chinese Communist Party, overrode other Politburo standing committee members and launched the violent suppression of Falun Gong.
The persecution has led to the deaths of many Falun Gong practitioners over the past 16 years. More have been tortured for their belief and even killed for their organs. Jiang Zemin is directly responsible for the inception and continuation of the brutal persecution.
Under his personal direction, the Chinese Communist Party established an extralegal security organ, the "610 Office," on June 10, 1999. The organization overrides police forces and the judicial system in carrying out Jiang's directive regarding Falun Gong: to ruin their reputations, cut off their financial resources, and destroy them physically.
Chinese law allows for citizens to be plaintiffs in criminal cases, and many practitioners are now exercising that right to file criminal complaints against the former dictator.