Australia: Falun Gong Practitioners March in Downtown Sydney
(Minghui.org) Falun Gong practitioners who were attending the cultivation experience sharing conference in Sydney held a grand march in the downtown area on September 4, 2015.
The march, led by the Divine Land Marching Band, began at Hyde Park, proceeded along Park and College Streets, and ended at Domain Park. The procession included three teams, themed in "Falun Dafa is Good," "16-Year-Long Peaceful Resistance," and "Supporting the Chinese Withdrawals from the Communist Party." Practitioners also performed waist drums and demonstrated the exercises.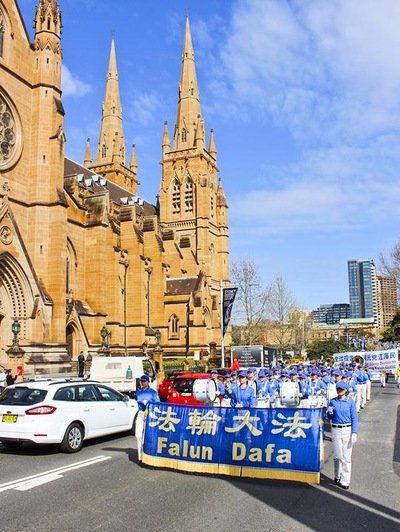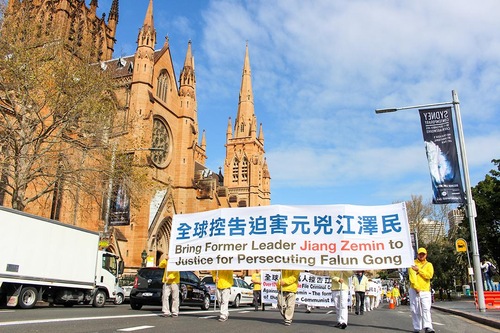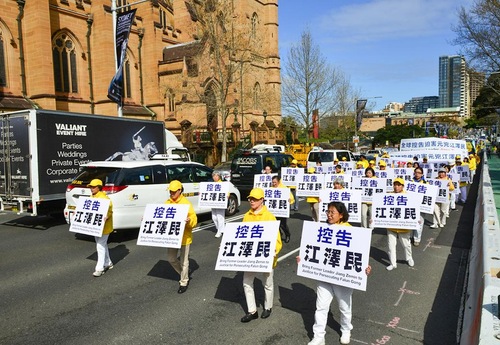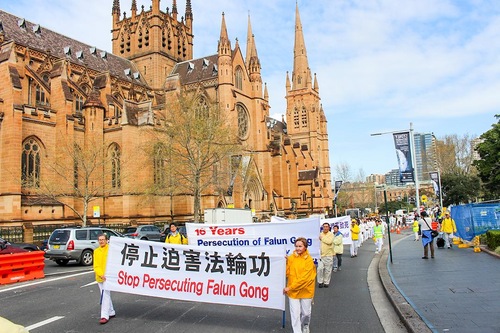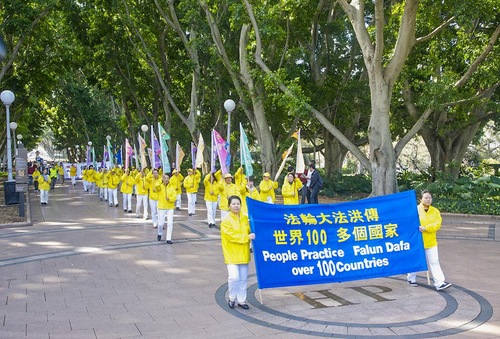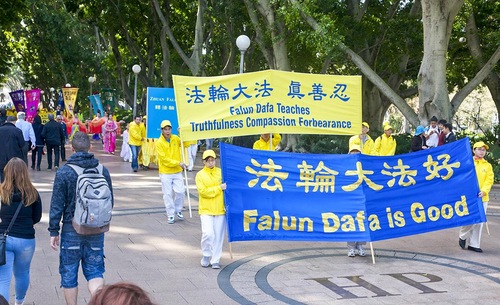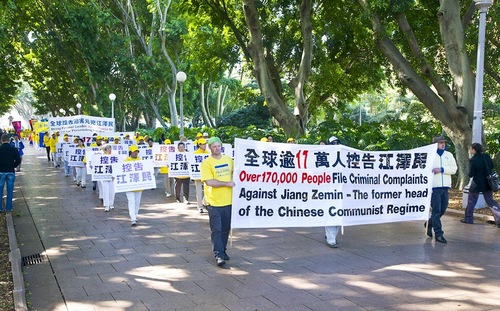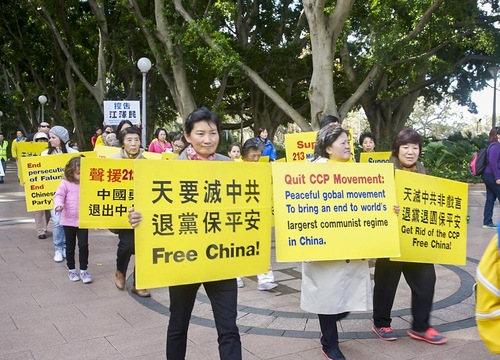 Falun Gong's march in downtown Sydney.
Many people saw the march, as it was held during the lunchtime hour on a weekday. Spectators took videos and photos, accepted Falun Gong informational materials, and signed a petition to support Falun Gong's peaceful resistance to the ongoing persecution in China.
Philip Nat, a computer engineer, said he had seen many Falun Gong activities in multiple cities, but he had never seen such a large-scale march.
"The large-scale march with the band is really eye-catching. It is a great way to draw the public's attention," Philip said, "The traditional Chinese culture demonstrated in the march is appealing. People like the Australian and Chinese songs played by the band. Many people can learn about the persecution of Falun Gong in China through the march."
Local banker Kiashe Genan knows well about the persecution of Falun Gong in China. He said that suppression of a peaceful group by the government is horrible, especially the state-sanctioned organ harvesting from Falun Gong.
"The worst thing is that the international community has not paid enough attention to these crimes, because of trade with China," Kiashe said, "I believe that Australians should stand out and help to end the persecution. People should ask the parliament members to take action."
Union member Geff Carit was attracted to the Falun Gong meditation. "I am learning meditation, and I am happy to see it in the march. I heard about the persecution of Falun Gong, but I didn't know that Falun Gong includes meditation. Had I known it, maybe I would be in the march too," he said.
Geff condemned the persecution, and said he believed that the major instigator, Jiang Zemin, who launched and directed the persecution, should be brought to justice. He said, "The Australian minister of foreign affairs should speak out and help to stop the persecution. We should also call upon the parliament members for help."
"Truthfulness-Compassion-Forbearance is a great truth. I will learn more about it from the Internet, and share this with my friends," Geff said.
A young man from Taiwan followed the march along the entire route, and talked to practitioners for a long time after the march.
He heard about Falun Gong in Taiwan, but he thought it is just a qigong practice, and didn't understand why Falun Gong seemed to be involved in politics.
"But today, after I listened to several Falun Gong practitioners' personal experiences of being tortured in China, I realize what Falun Gong wants is the basic human right—the freedom of belief. The persecution is unacceptable."
"In my opinion, Falun Gong is also different than other qigong schools," he said, "because practitioners follow the principle of 'truthfulness-compassion-forbearance'." He smiled, saying, "I've learned a lot today."