Sydney, Australia: Group Practice in the Morning Touches Chinese Tourists
September 06, 2015 | By a practitioner in Sydney
(Minghui.org) Falun Gong practitioners held group exercise practice at Martin Place in downtown Sydney on the morning of September 4, 2015. It was a drizzly day, but the peaceful group practice scene caught the attention of many passersby.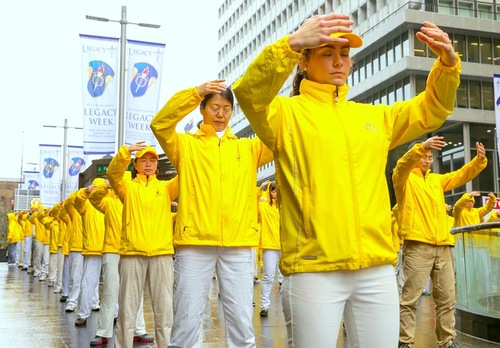 Falun Gong practitioners do the second set of Falun Gong exercises at Martin Place in downtown Sydney on the morning of September 4, 2015.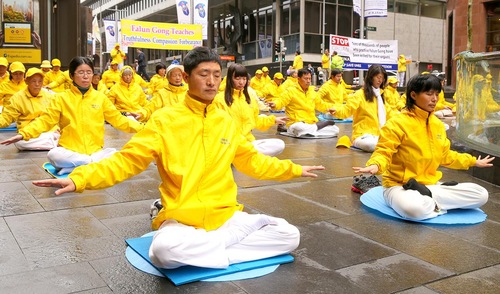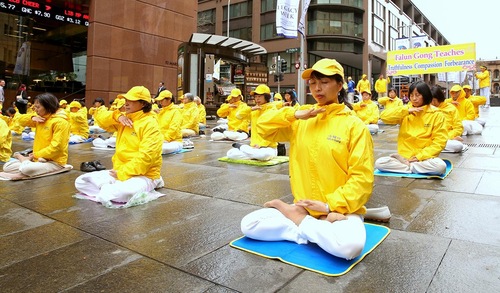 Falun Gong practitioners do the sitting meditation at Martin Place in downtown Sydney.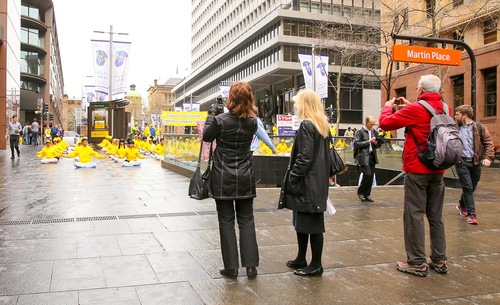 Passersby took photos of the practitioners during the group exercise at Martin Place.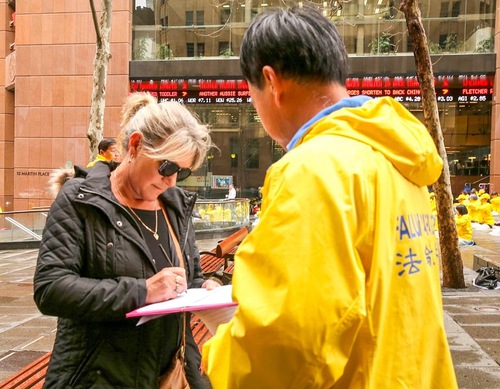 A passerby signs a petition calling for an end to the persecution of Falun Gong in China.
Merchant from China: I Am Waiting to Watch Falun Gong Activities
A businessman from Dalian, Liaoning Province, China, who came to attend a conference in Sydney, watched the group practice attentively. He said while chatting with a practitioner, "I decided to come to watch the group practice when I read the notice published in the Epoch Times newspaper I got downtown last Friday. It is my first time in Sydney. So I asked around where Martin Place was. My colleagues are still sleeping at the hotel. I came here myself to watch the group practice."
"Such a group practice must be beneficial, as the practitioners can exchange experiences in the field. Many people in my workplace practiced Falun Gong before the persecution began in 1999. I know the practice is very good, and beneficial to society."
In talking about Jiang Zemin, former head of the Chinese Communist Party who initiated the persecution, he said, "Some high level officials were arrested for corruption. Jiang will be arrested sooner or later."
He left after watching the entire morning exercise session.
Local Passerby: The Peaceful Scene Is Appealing.
A young lady named Lila passed by Martin Place, and was drawn by the peaceful group practice. She stopped and took photos with her cell phone. She said, "This is beautiful and peaceful. People generally walk fast in the busy downtown. A group of people are sitting serenely in the busy environment. The scene drew my attention. The peaceful scene is appealing."
Passerby Barbara walked to the signature collection table directly and signed the petition calling for a stop to the Chinese Communist Party's live organ harvesting. She said, "I must help these people to get justice." She said she felt sorrow when she learned that practitioners were being killed for organs.