U.S. Department of State Official Expresses Concern Over the Persecution in China
September 29, 2015 | By a Falun Gong practitioner in Atlanta
(Minghui.org) In a recent letter sent to U.S. Senator Johnny Isakson, a U.S. Department of State official wrote that the department remains deeply concerned about the Chinese government's treatment of Falun Gong practitioners.
Senator Isakson wrote to Department of State on August 24, about the safety of Atlanta resident Liu Yuelong's sister, Ms. Liu Yueli. When Ms. Liu handed people Falun Gong materials near a subway station in Guangzhou City, Guangdong Province, police arrested her and kept her at the Guangzhou First Detention Center.
Ms. Liu's family member were denied to visit her. They suspected she might face severe torture and brainwashing.
On the letter dated September 4, Julia Frifield, Assistant Secretary of Legal Affairs, wrote, "We raised the persecution of Falun Gong practitioners during this year's high-level U.S.-China Human Rights Dialogue which concluded earlier this month."
According to the letter, since 1999 the Secretary of State has designated China as a "Country of Particular Concern" under the International Religious Freedom Act for particularly severe violation of religious freedom. "The government's treatment of Falun Gong practitioners is extensively covered in the Sate Department's annual International Religious Freedom Report."
"We will continue to raise our concerns over the general treatment of Falun Gong practitioners as well as individual cases of concern, and call on the Chinese government to respect the universal human rights of all individuals in China in accordance with China's international human rights commitments," Frifield wrote, "The United State strongly believes that the protection of human rights—including religious freedom—is critical to China's prosperity, security, and stability."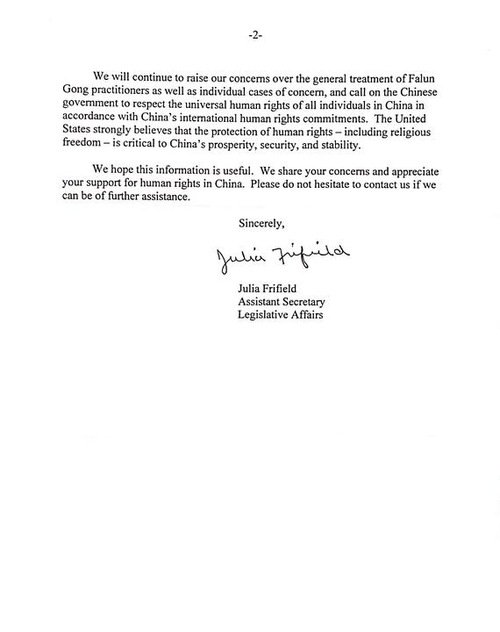 Letter sent to U.S. Senator Johnny Isakson from Department of State regarding detained practitioner Ms. Liu Yueli