Seattle Media Report on Falun Gong Protests during Xi Jinping's Visit
(Minghui.org) A Seattle Times report titled "Falun Gong Protesters: an Explainer", published on September 24, introduced the background of Falun Gong and what practitioners hope to achieve with their demonstrations during Chinese President Xi Jinping's visit to the Puget Sound area. "Michael Green said that former President Jiang Zemin persecuted and imprisoned Falun Gong participants, and the group wants Xi to bring him to justice."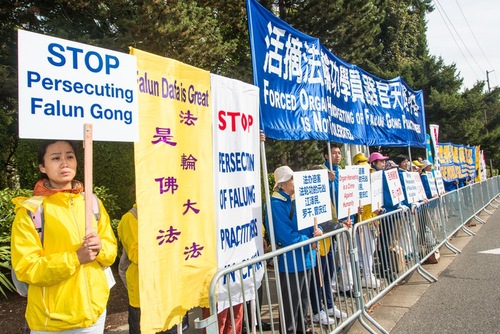 Falun Gong practitioners call for an end to the persecution during Chinese President Xi Jinping's visit to the Puget Sound area.
The report explained,
"Falun Gong, a spiritual, meditation and exercise practice that promotes three tenets — 'truthfulness, forbearance and compassion' — has been banned in China since 1999."
"The demonstrators traveled to events attended by President Xi, where they held banners and passed out literature about Falun Gong.
"Protester Michael Green said that former President Jiang Zemin persecuted and imprisoned Falun Gong participants, and the group wants Xi to bring him to justice."
"Falun Gong practitioners say thousands have been jailed for practicing Falun Gong.
"The New York Times reported the Chinese government began its campaign against the practice in 1999 after Falun Gong practitioners staged a silent demonstration outside Communist Party headquarters in Beijing.
"In 2000, The New York Times reported China's actions against the Falun Gong, 'have led to at least a dozen deaths, alleged death by torture, thousands of cases of abuse and the harassment of tens of thousands …'
"In 2009, human-rights groups told the Times 2,000 people had been killed in the suppression of Falun Gong.
"Chinese lawyers told The Associated Press in 2014 they were tortured by police for protesting with relatives of Falun Gong members."
According to another report by the Seattle Times on September 22, Falun Gong practitioner Wang Yunbo flew from San Francisco to demonstrate during the Chinese president's Seattle visit. He claimed having been imprisoned for 8 years for practicing Falun Gong before he left China.
"Qian Zhang, a software engineer who lives in San Francisco, wanted to raise awareness about how the Chinese government treats members of Falun Gong, a type of spiritual practice that combines yoga and exercise with certain moral teachings. She said some people who practice Falun Gong have been jailed, tortured and forced to donate their organs. That's why her sign read 'Stop forced live organ harvesting in China.'"
King5, a TV Station in Seattle, reported, "Some Xi Protestors Spread Message through Silence."
"Dozens of Falun Gong practitioners have been demonstrating in silence both Tuesday and Wednesday.
"Michael Green, a Falun Gong member from Seattle, says this is far from the violent protesting the city is used to seeing. 'You're not going to see Falun Gong practitioners yelling,' Green said... 'Our point here is to urge President Xi to bring to justice former President Jiang Zemin for his crimes and persecuting Falun Gong members,' he said."