United Kingdom: Falun Gong at Mind Body Spirit Birmingham Wellbeing Festival
September 27, 2015 | By Tang Xiuming, a Minghui correspondent in Birmingham, UK
(Minghui.org) Falun Gong practitioners in Birmingham, UK, participated in the Mind Body Spirit Birmingham Wellbeing Festival held in the National Exhibition Centre (NEC) September 11 to 13, 2015.
38 years ago it was the first such gathering in the world entirely devoted to the pursuit of healthier, more creative, and fulfilling lifestyles. Falun Gong practitioners shared the benefits of Falun Gong with thousands of festival attendees.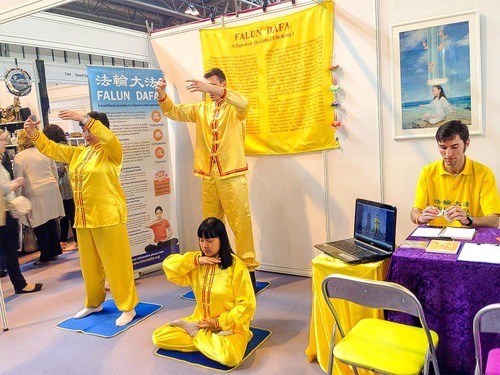 Falun Gong practitioners in Birmingham introduced Falun Gong at the Mind Body Spirit Birmingham Wellbeing Festival in the NEC September 11 to 13.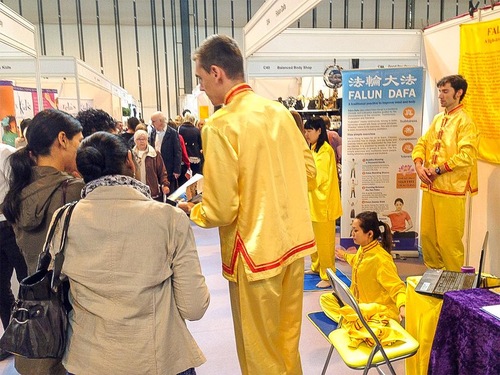 Visitors learn the Falun Gong exercises.
Among about 100 exhibition booths, Falun Gong stood out with an eye-catching display and practitioners in gold outfits demonstrating the exercises to beautiful music. They also distributed flyers and paper lotuses and told people about the benefits of Falun Gong.
Many visitors to the festival were interested in learning the exercises. Practitioners taught the exercises four times a day. Many people got to personally experience how great it felt to do the Falun Gong exercises.
Festival Organizers Appreciate Falun Gong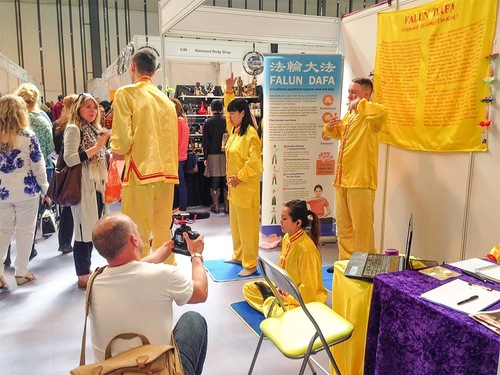 A festival official videotapes Falun Gong practitioners.
The festival organizers recognized Falun Gong practitioners' great contribution and invited them to participate again next year.
A festival official chose the Falun Gong booth as one of the featured participants and videotaped Falun Gong activities twice.
Media Interviews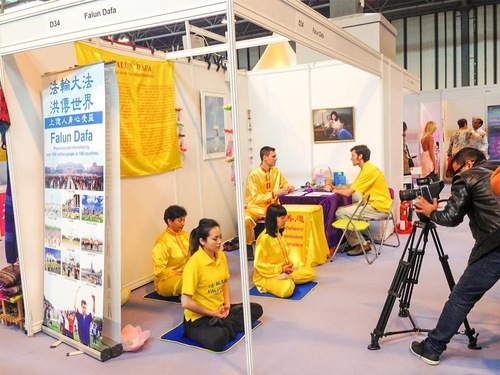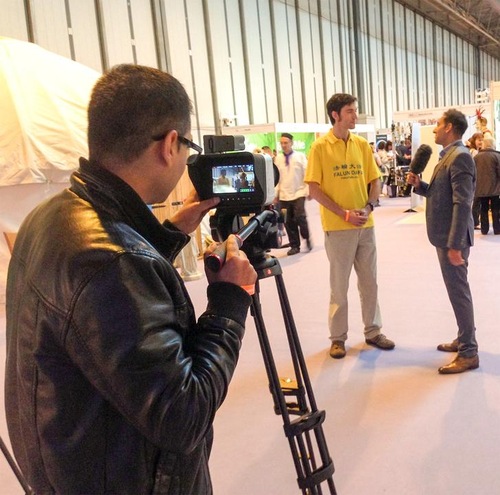 SKY TV interviews a Falun Gong practitioner.
A SKY TV program about Asian culture approached the Falun Gong booth first thing on September 12. The reporter interviewed a practitioner about his experience with Falun Gong and recorded practitioners doing the meditation exercise.
Falun Gong Promotes Harmony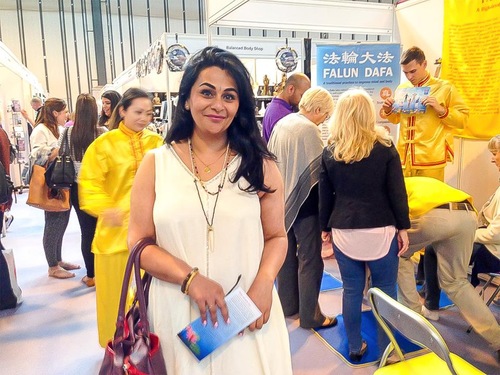 Neelam is fascinated by Falun Gong.
Neelam, a psychic reader, approached the Falun Gong booth and asked if she could take a look at the books. When she opened one, she found her connection with Falun Gong. She said, "I also do meditation. These movements look so familiar!"
She was even more excited to see the picture of the Falun in the book. "Look! Look at this picture! It reminds me of a picture my father always drew before he prayed. He told me this symbol represented the entire universe, that Gods were everywhere, and that they bring positive energy to the entire universe."
Neelam said she has always been interested in spiritual things and different cultures. Even though it was the first time she had ever encountered Falun Gong, she was convinced it was extraordinary. Her schedule didn't allow her to attend when the exercises were being taught, but she said she would find out more about it online.
Truthfulness-Compassion-Forbearance Are What Everyone Wants for the World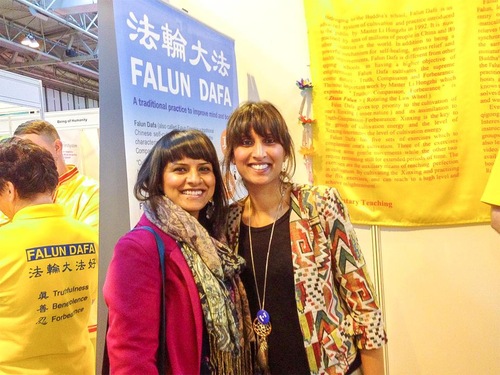 Sisters Sukhueer and Gurpreet praise Falun Gong after trying the exercises.
Sisters Sukhueer and Gurpreet are both teachers, and both enjoy meditation. They were fascinated by Falun Gong and learned the exercises at the event. They said, "It was very relaxing. It calmed me down, especially when I remember we are in the middle of all this noise. It's great!"
"I think Truthfulness, Compassion, and Forbearance are what everyone wants for the world. People living in the 21st century are so busy thinking of ourselves, but forget the unity and connectivity between lives. Compassion would connect everyone to the universe. So we should treat all things compassionately, including every person, every animal, and nature."
A Strong Energy Field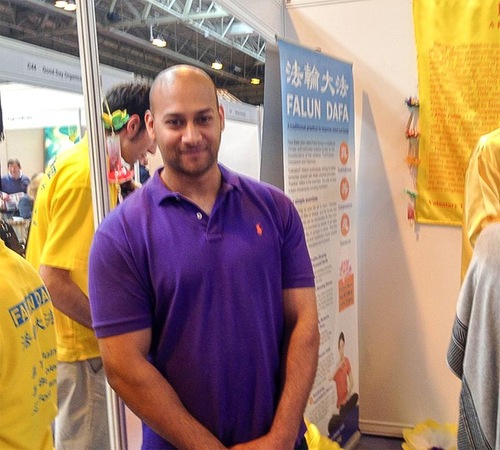 Dean Roberts learns Falun Gong.
Mr. Dean Roberts, a personal instructor, has been meditating for four years. He was drawn to Falun Gong by the strong energy field he sensed on the first day of the festival.
After listening to a practitioner's introduction, he came back the next day to learn the exercises. When asked how he felt afterwards, he said, "It clears your mind, and it's very relaxing, in a positive way...I enjoy meditating. It's exactly the energy I need." He also mentioned he had decided to try Falun Gong on the previous day. "I felt it yesterday. There is a strong energy field here."