London: Learning about the Persecution of Falun Gong at St. Martin's Place
September 02, 2015 | by Minghui corespondent Tang Xiuming
(Minghui.org) Renowned attractions such as the National Portrait Gallery and St. Martin's Place have always attracted many tourists from the UK and other places all over the world. When practitioners came here again over the weekend as they normally do, a large number of passersby learned about the practice and the severe suppression in China.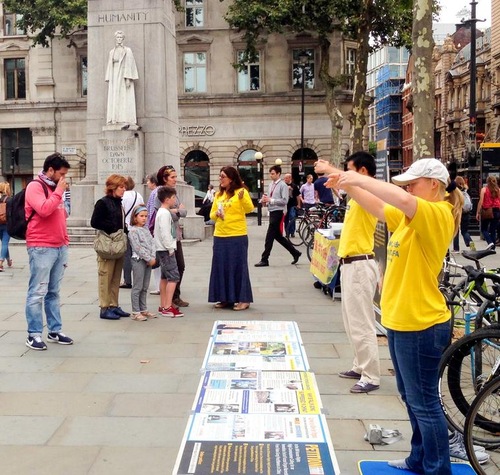 Practitioners doing the exercises and telling people about Falun Gong at St. Martin's Place
Writer: If We Ignore It, We Could Become the Next Victim
Peter and Christina, husband and wife, are both writers, and saw the practitioners as they walked with their friend Robert. "We are long time residents of London and we have seen your protest in front of the Chinese Embassy," said Peter, "You are doing great and please keep it up."
"Because this issue [the persecution] involves basic human rights, even the United Nations should pay attention to it. As long as you keep working at it, you will succeed in the end." He continued.
Christina thinks atrocities like live organ harvesting from living people should concern everyone, "We have to take action to stop it. If we ignore it, we could become the next victim."
In addition to accepting materials from practitioners, Peter asked for another copy for his friends. Robert, a painter, wished practitioners success, "I hope this situation will end soon."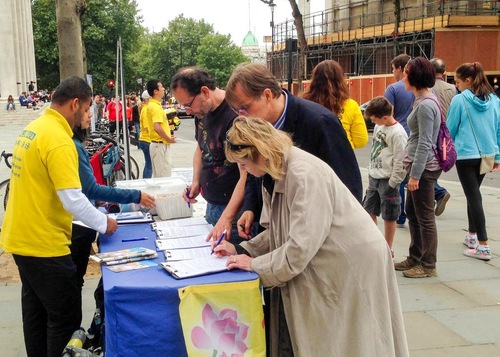 Writer Christina, her husband, and their friend signing petitions.
Medical Professional: Live Organ Harvesting Is Horrible
Medical professional Joy and her husband stopped by the posters that displayed torture methods practitioners had experienced. They signed petitions and talked with practitioners.
John had heard about the persecution before, but this was the first time he knew about organ harvesting from living practitioners. "Why does the Chinese communist treat Falun Gong so badly?" He asked.
One practitioner explained the history of the Chinese Communist Party (CCP), from its beginning to various political campaigns such as the Cultural Revolution and the Tiananmen Square Massacre in 1989. "The CCP did these things to strengthen its rule. But these crimes against humanity have cost tens of millions of lives."
Both Joy and John agreed that these tragedies should not have happened in the first place. "Especially live organ harvesting—it is horrible!" said Joy.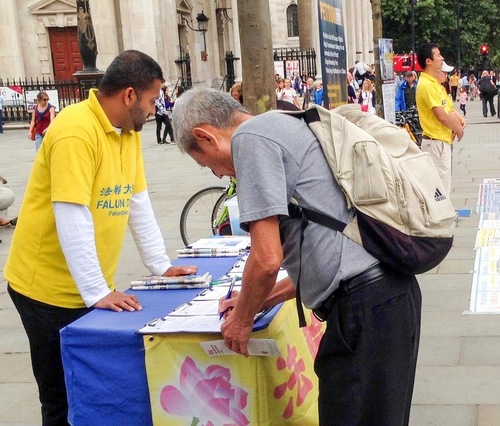 A Chinese man signs petition to support practitioners.
"I Saw Your Group as Soon as I Thought About Doing Meditation"
Rose from Mexico said she knew about Falun Gong and had watched the dance drama "Monkey King" performed by Shen Yun Performing Arts three months ago.
"I spent most of my time in Venezuela and I am just back to London to visit my daughter." Because she had to stay here for six months, she thought about doing meditation, which was practiced by many people back in Mexico and Venezuela. "Interestingly, I saw your group as soon as I thought about doing meditation."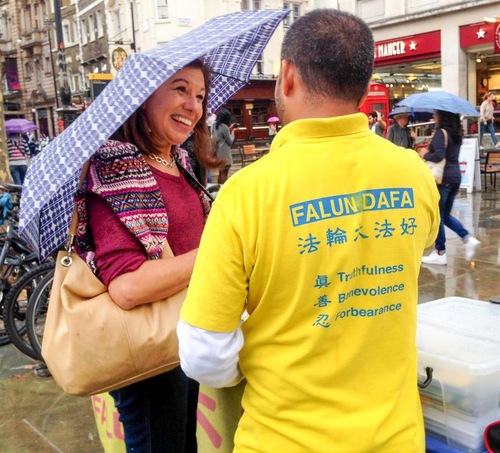 Rose from Mexico said she was interested in doing the meditation.
Upon hearing about group meditation at Regent's Park, Rose said she would go next weekend. "It's a chaotic world with many problems. I believe the peaceful meditation you are doing is important for all of us."