Uppsala, Sweden: People Learn about Falun Gong at Cultural Festival
September 17, 2015 | By a Falun Gong practitioner in Sweden
(Minghui.org) Home to the oldest university in Scandinavia, Uppsala is a well-known town with diverse culture. During a recent annual cultural festival, Falun Gong practitioners introduced people to the meditation system rooted in ancient Chinese culture.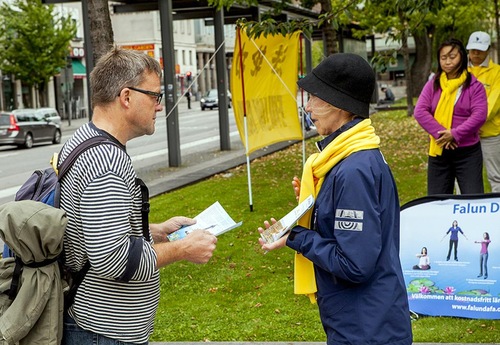 One practitioner tells a man about Falun Gong exercises.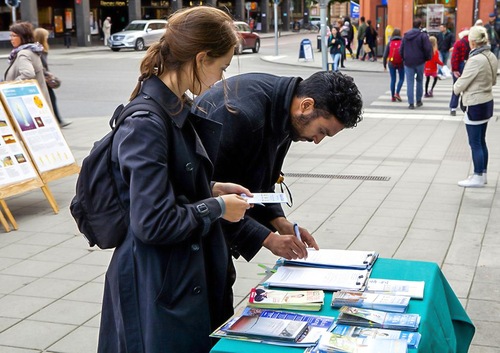 A man signs a petition to help practitioners persecuted for their belief in China.
Local resident Erik Olsson said he had seen practitioners at the event in previous years. He said he was glad to meet the practitioners, but at the same time felt sad because the persecution of Falun Gong in China has not stopped.
Intrigued by the peaceful exercises, two women asked many questions and found local exercise groups they could join. Like Olsson, they signed petitions calling to end the 16-year-long persecution in China.
Many Chinese students and tourists came to the event. One young woman said she was happy to see Falun Gong practitioners. "I came here a week earlier for study and didn't we have Falun Gong practitioners here," she said. She mentioned that her parents used to practice Falun Gong in China, but stopped after the meditation practice was banned by the communist government in 1999.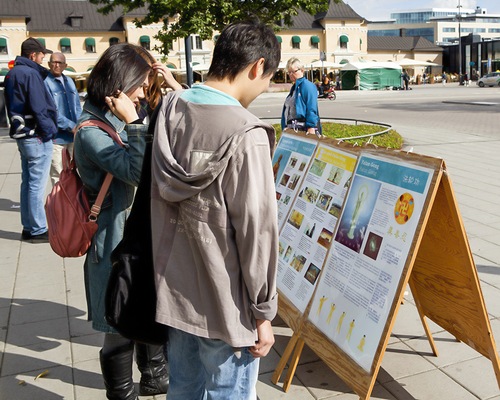 Two Chinese read about Falun Gong, information that's heavily censored in China after the suppression of the meditation practice began in 1999.
Tuula, a native Swede, said she would tell more people about the benefits of Falun Gong. "Helping people know the truth is important, and I will keep doing things like this," she said.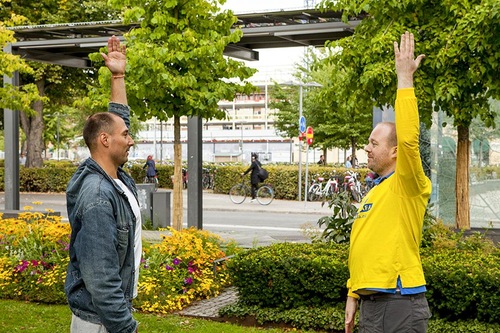 A man learns Falun Gong exercises.