Young Practitioners Demonstrate Falun Gong Exercises in Pacific Northwest
(Minghui.org) Located on the border between the United States and Canada, Peace Arch Park is shared by both countries. Young practitioners from Seattle and Vancouver gathered at the park on August 30 to demonstrate the Falun Gong exercises, piquing the interest of passersby.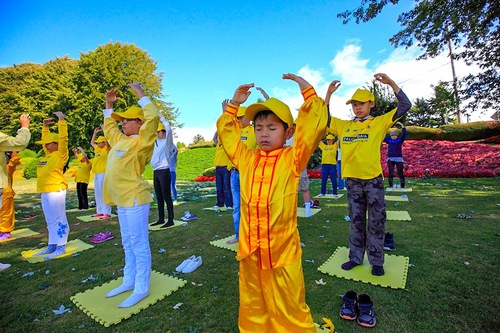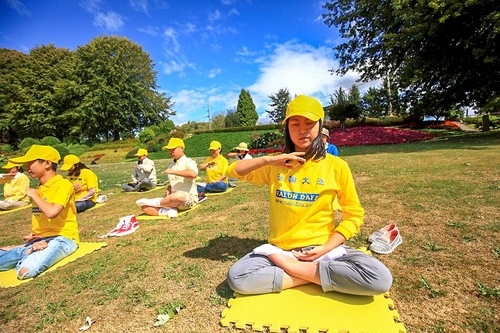 Young practitioners from Seattle and Vancouver did the exercises together at Peace Arch Park
The five sets of exercises last two hours. When Alice, the principal of Vancouver Minghui School, told a five-year-old practitioner to do half an hour of sitting meditation instead of one hour, the practitioner replied that he would be fine, "I like doing the exercise with others. I should do my best."
Many pedestrians stopped to ask about the meditation. Among them was one couple from the United States. Upon hearing about the benefits of Falun Gong on physical health, the husband said he had lower back pain and would like to give it a try.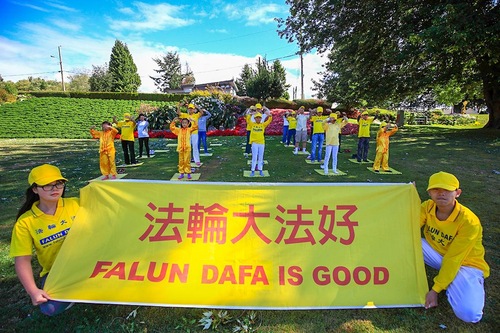 Banner at the group exercise
Several games were organized in the afternoon, including tug of war. Eva from Seattle said she learned from the games, "The Vancouver team is younger than us, but they won the tug of war. I learned something about supporting each other so that we can succeed as a team."
Alice said that the practice of Falun Gong not only improved one's physical health, but also teaches one to be compassionate and considerate of others.
Xiao Jiao from Seattle held a banner for several hours. She said it was a great event because, "It makes me feel great to share something so good with other people."