Paris, France: Visitors to Eiffel Tower Support Suing Former Chinese Dictator Jiang Zemin
September 16, 2015 | By Minghui correspondent Zhou Wenying in Paris
(Minghui.org) Tourists passing by Human Rights Square under the Eiffel Tower in Paris on September 7, 2015 were drawn to a peaceful exercise demonstration by Falun Gong practitioners, along with informative display boards that depicted the brutal persecution of the practice in China.
Practitioners demonstrate the Falun Gong exercises under the Eiffel Tower.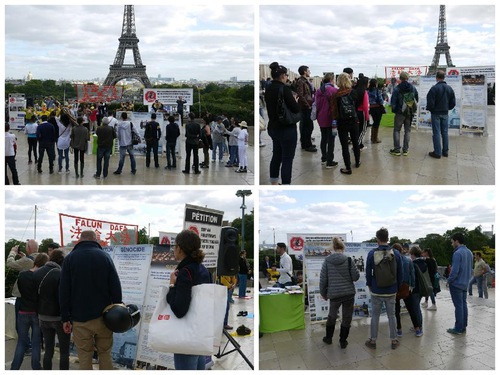 Tourists read information about Falun Gong and the persecution on display boards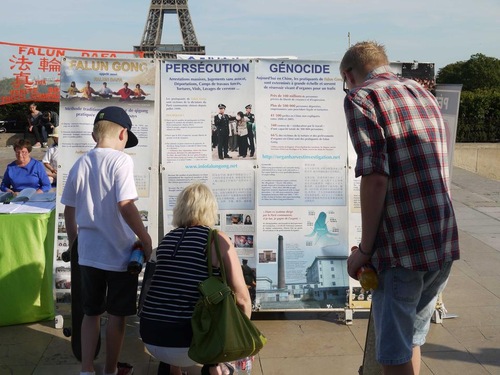 A family from the Netherlands views the display boards.
Many tourists were shocked upon learning that something as horrible as forced organ harvesting was taking place in the 21st century. "It's a shame!" said one French tourist.
Many passersby signed the petition calling for an end to the atrocities and support for the filing of lawsuits against Chinese former dictator Jiang Zemin, who launched and directed the persecution of Falun Gong in China.
Some of the tourists encouraged Falun Gong practitioners to keep up the good effort to raise awareness, and expressed their solidarity with the practitioners, "We are together with you!" many people said.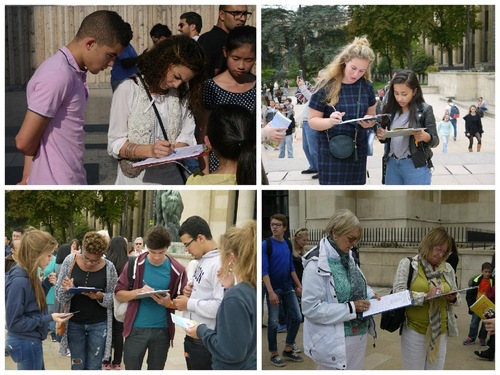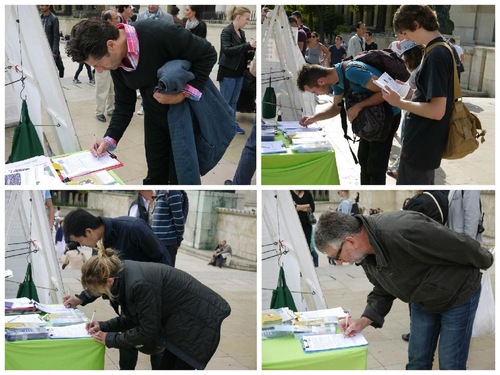 Many people sign a petition calling for an end to the forced organ harvesting from living Falun Gong practitioners in China.
One Chinese couple from Cambodia said that they understood the brutality of the Chinese Communist Party (CCP), because they had gone through the persecution in Cambodia. They expressed their support for bringing Jiang Zemin to justice.
A retired French lady spent a long time viewing the display boards before she signed the petition. She expressed her admiration for the practitioners' courage, and thanked them for the information.
A yoga teacher from the United States did not understand why the Chinese regime persecutes Falun Gong. A practitioner explained Falun Gong to her, an ancient spiritual practice that has benefited millions of people around the world, and the persecution launched by Jiang Zemin that has persisted for 16 years. In particular the Communist Party has gone so far as harvesting organs from living Falun Gong practitioners for profit. The lady solemnly signed the petition.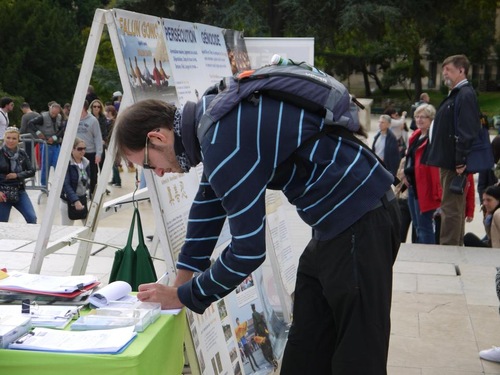 A young student from Spain signs a petition.
Seeing banners bearing words "Falun Dafa Is Good," and "Global Effort to Bring Jiang Zemin to Justice," one of the Chinese tourists in a group commented, "This is truly a free country!" Some of the Chinese tourists renounced their memberships in the CCP and its affiliated organizations.