Sydney Resident: "The Perpetrators Should Be Brought to Justice"
September 14, 2015 | By a Minghui correspondent
(Minghui.org) "Live organ harvesting is inhumane. The perpetrators should be brought to justice." one passer-by in Sydney, Australia said after listening to a practitioner's explanation on September 4, 2015. Falun Gong practitioners in Australia held a large rally and march in Sydney, taking the opportunity to tell many they encountered that day about the persecution in China.
They collected signatures condemning organ harvesting atrocities and supporting the lawsuits against Jiang Zemin, former head of the CCP, who initiated the persecution.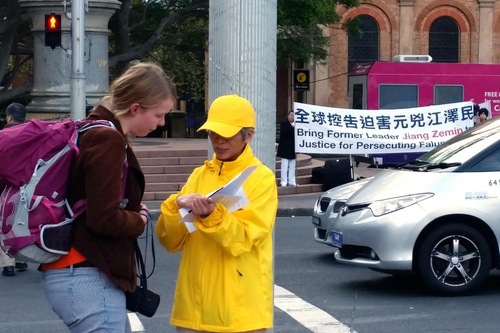 Talking to people about Falun Gong and the persecution
Linda, a practitioner who lives in South Australia, was arrested many times in China for her belief in Falun Gong. She was incarcerated in a labor camp for one year and imprisoned for three years. She suffered countless tortures including beating, "tied with ropes", electric shock, force-feeding. She was even forced to terminate her pregnancy, undergoing a forced abortion against her will.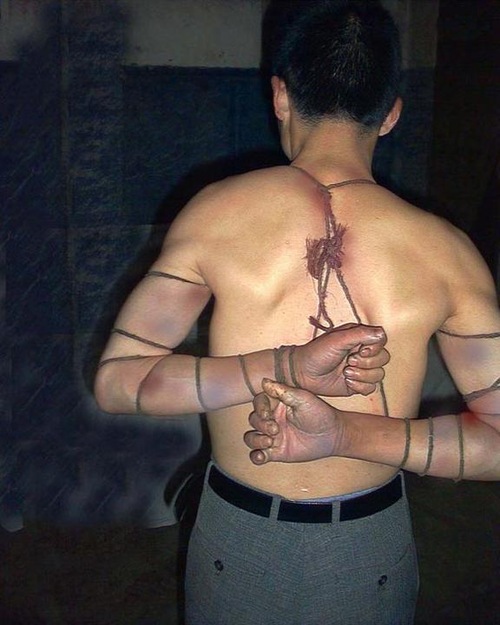 Torture reenactment: "Tied with ropes"
Linda said, "In labor camps, one would be beaten and tortured. They "tied us with ropes" if we did not yield to the guards outrageous demands. Camp guards frequently yelled that they had death quota, and bore no responsibility for those beaten to death. Once I was locked in a room. Camp guards "tied me with ropes". The pain in my hands was unbearable. My hands were numb even many days later."
"Today I participate in this event to tell people what happened and to speak out for my fellow practitioners being persecuted in China. I have filed a criminal complaint against Jiang Zemin. The perpetrator must be brought to justice."
More than 600 people signed the petition against the persecution this day.
A local resident named John said, "I have heard about the persecution of Falun Gong before, but I wasn't aware of the live organ harvesting." He signed the petition and said that this was an important issue that everyone should help to stop.