Australia's Courier Mail: Queensland Resident Sues Jiang Zemin for Torture and Forced Labor
August 08, 2015 | By Zhou Shan
(Minghui.org) More than 100,000 criminal complaints have so far been filed against former Chinese communist leader Jiang Zemin for persecuting Falun Gong. The Courier Mail, an Australian newspaper based in Brisbane, published an article on July 21 explaining why one local resident joined the effort.
David Yu, who lives with his wife and daughter, sued Jiang for torture and forced labor, according to the article titled "Ipswich man tortured and tested for live organ donation because of his spiritual beliefs."
Shocked with Electric Batons
Prior to coming to Australia in 2013, Mr. Yu was imprisoned in China for his belief in Falun Gong.
"During his time in prison, Mr. Yu and other practitioners had their blood tested for what he thinks may have been screening for live organ donation. He said thousands of Chinese people were allegedly tortured, raped, and forced into labor camps through mass arrests, because they refused to stop practicing the spiritual movement."
Mr. Yu and his wife, Annie Zhao, were arrested and beaten in front of their 17-month-old daughter Julia on April 13, 2008. "After his arrest, Mr. Yu claims he was held down and shocked with electric batons. He spent 4 ½ years in prison, and 2 ½ years in a forced labor camp."
Mr. Yu said they shocked him everywhere except his face for almost an hour, causing blisters the size of tennis balls. "They shocked one side first, and then they turned me over and shocked my back. They called this 'making a pancake.'"
His wife endured 2 ½ years in prison, and the same length of time doing forced labor.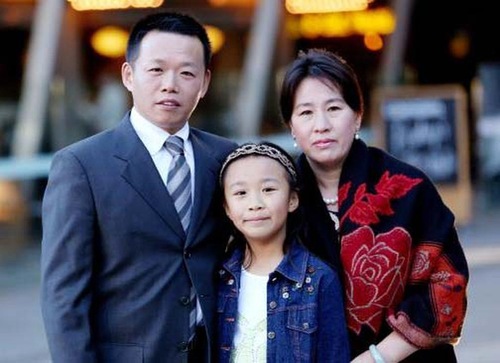 The Courier Mail reported that David Yu and his family had filed criminal complaints against Jiang
Amnesty International: Severe and Widespread Human Rights Violations
The Supreme People's Court of China announced on May 1 that it would guarantee the investigation of any criminal complaints. That prompted Mr. Yu and many other Chinese to file lawsuits for the suffering they endured during the persecution.
"KG Law legal executive Wendy Cao said complainants in the case against Zemin were seeking more than $4 million in compensation, with some seeking as much as $9.5 million. She said KG Law barrister Kerry Gore was providing legal assistance to 35 complainants, and damages were sought for physical suffering endured and injuries sustained."
The article said Amnesty International spokeswoman Amelia Freelander confirmed the organization was aware of the persecution of Falun Gong practitioners: "Amnesty International has done extensive research and advocacy work on the severe and widespread human rights violations against Falun Gong practitioners in China, including discrimination, violation of the rights to freedom of belief and of expression, torture, and deaths in custody."
The article ended by explaining that Falun Gong is a spiritual practice rooted in ancient Chinese culture: "It includes meditative exercises and a moral philosophy centered on honesty, compassion, and tolerance. Over 70 million people took up the practice in the '90s."
In 1999, Jiang launched a campaign to eradicate Falun Gong, using extensive propaganda, mass imprisonment, torture, and organ harvesting.