182 Falun Gong Practitioners in Beijing Arrested in First Half of 2015
August 08, 2015 | By a Minghui correspondent in Beijing
(Minghui.org) According to data compiled by Minghui, 182 Falun Gong practitioners were arrested in Beijing between January and June 2015. In addition, 12 were harassed at home (resulting in no arrest) and 5 are reported missing. It is suspected that those who are missing were arrested.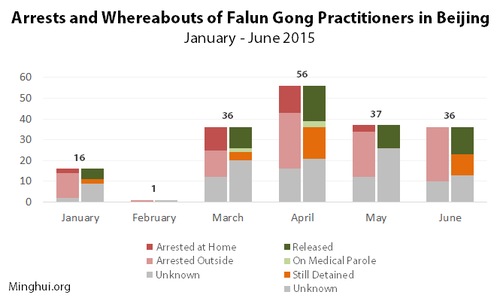 The number of arrests peaked at 56 in April, averaging two per day. This coincides with April 25–the 16th anniversary of a large peaceful protest in Beijing, a date deemed sensitive by the Chinese communist regime. May saw the second highest number of arrests at 37, coinciding with May 13, the anniversary of Falun Gong's public introduction–another date deemed sensitive by the authorities.
Among the 36 arrested in June, 6 were seized in post offices while trying to mail their criminal complaints against Jiang Zemin, former head of the Chinese Communist Party, for orchestrating the violent persecution of Falun Gong. One practitioner was arrested in a printing shop while copying lawsuit materials.
Since May, more than 103,000 people, including 1,926 Beijing practitioners, have filed lawsuits against Jiang. The authorities in many places, however, responded by ordering post offices to stop processing lawsuit mailings or outright arresting practitioners.
Among the practitioner arrests, 55% took place while practitioners were outside talking to people about the persecution of Falun Gong or trying to mail their criminal complaints against Jiang. Another 16% took place at practitioners' homes, an indication that the police had the practitioners on their radar already. The remaining 29% of arrests remains to be investigated in terms of the exact arrest location. After their arrests, police ransacked many practitioners' homes and seized personal items.
Of the 182 arrested, 5 were released on medical parole, 56 were released unconditionally, and 31 are detained at the time of writing. The whereabouts of the remaining 90 practitioners following their arrest are unknown.
The first half of 2015 also saw 10 Beijing practitioners tried and 15 sentenced to prison terms ranging from 3 to 4 years. These include practitioners arrested in both 2015 and years prior.