Edmonton Sun: Rally Calls for End to Persecution
(Minghui.org) The Edmonton Sun, a major newspaper in the capital city of Alberta Province, Canada, published an article on July 25, 2015, reporting on a rally by Falun Gong practitioners that day. Titled "Falun Gong followers call for an end to persecution at rally in Edmonton," the article said that practitioners hope that public pressure will help bring charges against Jiang Zemin, the former leader of the Chinese Communist Party, for leading human rights abuses against practitioners.
"These rights abuses include the killing of thousands, the imprisonment of millions in labour camps, the tortures, the rapes of tens of thousands, the destruction of tens of millions of families, and the reports of over 60,000 murdered by state officials so their vital organs could be sold through state-run hospitals," wrote the report, quoting from from practitioner Chi Teh.
"The communist regime controls people by way of brainwashing, lies, and violence, so they don't like anything that can teach people to be mentally independent," said another practitioner, Chunyan Huang.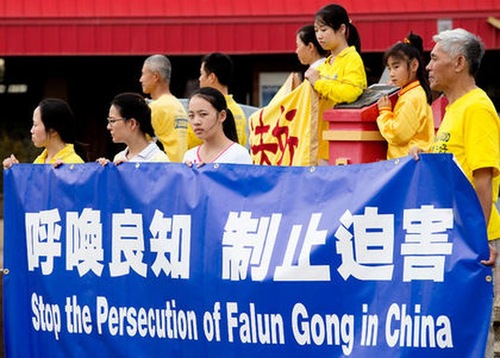 Edmonton Sun reported on a rally led by Falun Gong practitioners in Edmonton on July 25, 2015.
Jiang started the persecution on July 20, 1999. Many practitioners have since been harassed, assaulted, imprisoned and sent to forced labor camps, or even become victims of live organ harvesting.
Huilan Chen, who became practitioner when she was 21, was detained for seven days and forced to denounce her belief in Falun Gong. Many practitioners who were determined in their faith were subjected to harsher persecution, including brainwashing, financial punishment, or forced live organ harvesting.
"Since May, over 80,000 legal complaints against Zemin have been filed by followers of Falun Gong with China's supreme court, actions that even a year ago would have been greeted with severe retaliation."
According to the article, many news media did not report the persecution because of Chinese communist's influence and bribery. "These are reprehensible practices, but not all that well known among Canadian society, and even among Canadian parliament and government decision makers," said Brent Rathgerber, MP for Edmonton-St. Albert.