French Lawyer: Global Collaboration in Lawsuits against Jiang Feasible
August 06, 2015 | By a Falun Gong practitioner in France
(Minghui.org) Renowned French human rights lawyer William Bourdon gave an interview on the subject of the recent wave of Chinese Falun Gong practitioners' lawsuits against Jiang Zemin, the former head of the Chinese Communist Party (CCP) who singlehandedly launched the persecution of Falun Gong. He called it a very special new development. He said that he and his team were ready to engage in global collaboration, and work together with lawyers in Ottawa, Montreal, London and other places to bring Jiang to justice.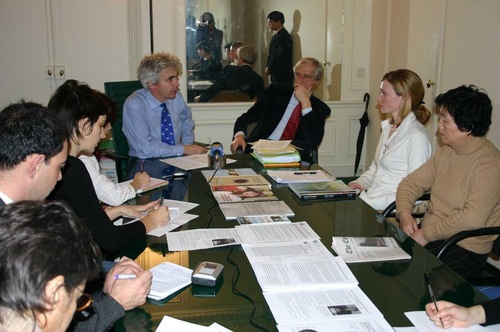 At a press conference in December 2004, William Bourdon (at end of table, on left) and Belgian Attorney Georges-Henri Beauthier (at end of table, on right) introduce a lawsuit against Li Lanqing, former head of the 610 Office, on behalf of Falun Gong practitioners.
Within the past two months, more than 120,000 Falun Gong practitioners and their families, including 1,078 in 24 countries, have filed lawsuits against Jiang. The number is increasing by about 2,000 a day. The focus is now on whether the Chinese legal system will be able to handle these cases properly.
Mr. Bourdon told the reporter that he has been helping Falun Gong practitioners for years. With regards to the current lawsuits against Jiang, he will definitely help if there is anything he can do. He explained that in some countries, which don't require plaintiffs to be of the country's nationality, Chinese Falun Gong practitioners who have suffered persecution can take legal action against Jiang based on the country of residence's laws and on international law.
Mr. Bourdon said that the wave of lawsuits against Jiang will probably continue to spread vigorously, involving many countries. He is positive that the Chinese government wishes to be part of the multi-nation legal system, so that it will be able to request international collaboration without hesitation, especially in cases involving large sums of money or large business. He believes that today, the Chinese government needs to show its ability and willingness to conduct corresponding legal collaboration. He feels that we can expect further international development regarding the lawsuits against Jiang.
Mr. Bourdon repeated that it was feasible to have international collaboration in some format, and that he is prepared for such collaboration. Lawyers in different countries can share information, evidence, and research findings to make legal action more efficient, and maximize the possibility of bringing Jiang to justice. He believes that Jiang, who has stepped down from his former position, doesn't have immunity from the law.
Mr. Bourdon stressed during the interview that the persecution against Falun Gong and the Chinese people was unacceptable. He believes that all people who support human rights in Europe and throughout the world should take action to safeguard Chinese people's freedom and human rights. He praised the bravery of the Chinese lawyers who have been seeking to safeguard Falun Gong practitioner's rights in China, and expressed hope for the European Lawyers' Association to voice support for their counterparts in China. Mr. Bourdon commented that some European leaders have downplayed the CCP's violation of human rights.