New York: Divine Land Marching Band Celebrates Its Tenth Anniversary
August 05, 2015 | By a Falun Gong practitioner in New York
(Minghui.org) To celebrate the tenth anniversary of the founding of New York's Divine Land Marching Band, its members held an experience-sharing conference on August 1, 2015. Twenty-four members shared cultivation stories and insights gained while training and showcasing Falun Gong through performances in parades and other community events. During the conference, they received a congratulatory poem from Mr. Li Hongzhi, the founder of Falun Gong.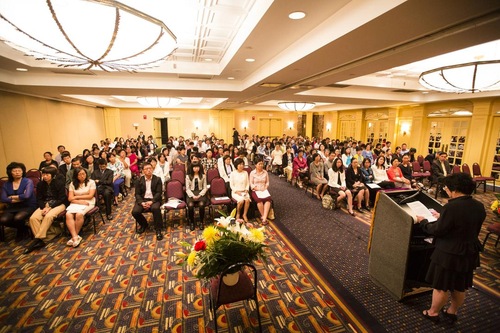 Members of the Divine Land Marching Band participate in an experience-sharing conference to celebrate tenth anniversary of the Band's founding.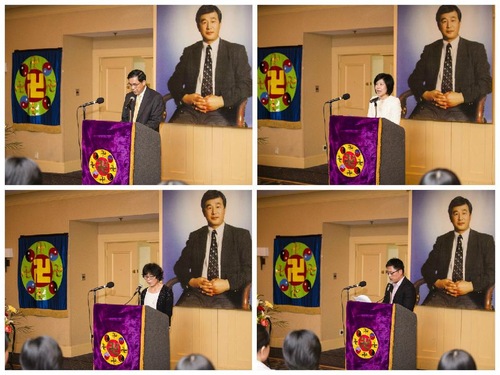 Members of the Band speak at the conference.
Currently there are about 170 members in the New York Divine Land Marching Band. Close to half of the speakers at the sharing have spent all ten years with the band. They remembered how Master Li established this band in November 2005.
"I still vividly remember Master Li's instructions and demonstration."
"Every weekend Master Li would lead everyone at the practice. It normally started around 2:00 p.m. and ended around 10:00 p.m. Nobody complained about being tired."
For many of them, the first step to improve their skills was to learn how to read sheet music.
"I only knew how to read the numbered notations. When I was given some sheet music, I didn't know what to do. It was quite a challenge for me as I was already in my 50s."
The majority of the members live in apartments. They face the problem of not having a place to practice without disturbing their neighbors.
"It was winter time and I went to an empty park across the street from my apartment to practice. By the time I finished, my feet were numb."
"I went to school in upstate New York. Every day I had to walk a mile on campus carrying a trumpet. I went to the music room after each class and practiced. I then took it to the next class. After a year of doing this, my arms got quite strong from carrying the trumpet around."
"Some bus stations have heating lamps for the passengers in winter. I would go to the bus station to practice after work. Sometimes people would try to give me spare change. Some teased me. One time a homeless person stood next to me while I was playing and stuck his hat out asking the passengers for money."
Many members of the band have very busy schedules. They tried hard to squeeze in time to practice.
"Even now I still practice the proper mouth position for playing while cooking, memorize the notes and practice breathing when I shower, and listen to the songs and practice my finger skills when I drive."
Sometimes the members were unable to attend group practice sessions or participate in parades because of time conflicts. Each time it was a test for them and they learned to let attachments go in the process.
There were all kinds of challenges that tested their determination to take part in the band's performances.
"I was struggling with a terrible headache before a parade. I sent forth righteous thoughts and was determined not be deterred by the interference. The parade started and as soon as I took the first step and played the first note of "Falun Dafa Is Good," I felt a stream of electric current discharging from the middle of my brain. The pain was gone in an instant. My heart once again welled up with gratitude to Master Li!"