Taiwan: Exhibition Depicts Goodness of Falun Gong, Horror of Persecution
August 29, 2015 | By Xia Yun, Minghui Correspondent in Taichun
(Minghui.org) The Art of Truthfulness, Compassion, Forbearance International Exhibition was held in Taichung, Taiwan for 12 days, beginning on August 19, 2015.
Well-known people from cultural, academic, art, and political circles attended the opening ceremony on August 19.
The honored visitors included Mr. Shih Chun-fu, Director-General of the Taichung City Cultural Affairs Bureau, Mr. Lin Hui-tang, Councilor at the Cultural Affairs Bureau, artists Hou Shou-feng and Gao Lian-yong, Professor Lin Qin-xian, Taichung Councilors Chiu Su-chen and Ho Ming-jie. They were invited to unveil the paintings at the opening of the exhibition.
More than 900 people visited the exhibition within the first 3 days. They were fascinated by the beauty of the artwork and touched by the Falun Gong practitioners' peaceful appeals despite a brutal and unprecedented persecution.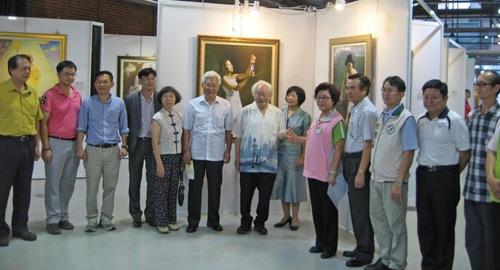 Participants in the opening ceremony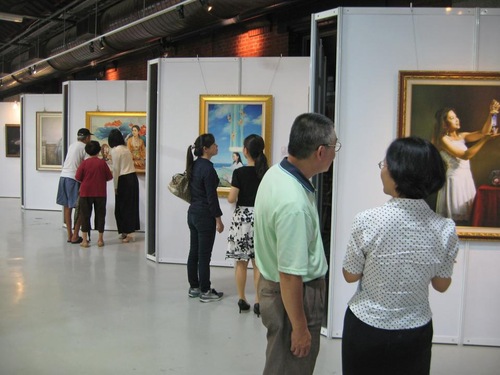 Exhibition visitors
Artists Praise the Artwork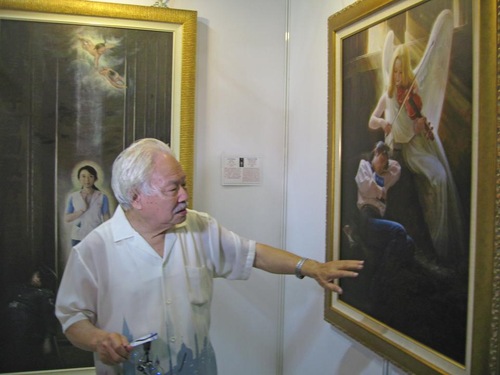 Mr. Hou Shou-feng, renowned artist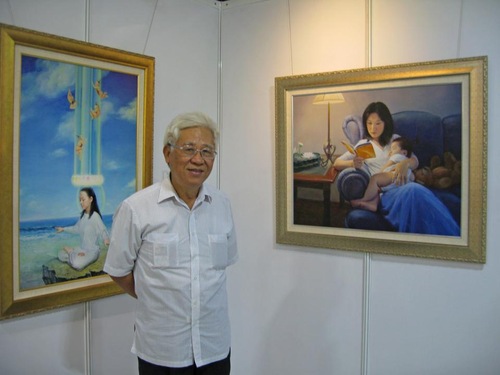 Mr. Gao Lian-yong, calligrapher, in front of his favorite painting, Illumination.
"It's sad that a regime persecutes its citizens," said Mr. Gao Lian-yong. "The Chinese Communist Party uses the same method it used during the Tiananmen Massacre. This regime sacrifices its people to show its power. Such a regime shouldn't exist."
Professor Lin Qin-xian from the National Taichung University of Education took his students to the art exhibition. "Artists from all circles can learn from the power emanated by these paintings," he praised.
Mr. Huang Kuo-shu: Practitioners Resist Through a Rational Information Campaign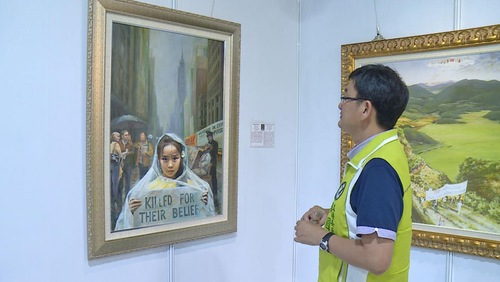 Mr. Huang Kuo-shu
Mr. Huang Kuo-shu, a member of Taiwan's Legislative Yuan, said, "The theme depicted by this exhibition is very touching. Falun Gong practitioners around the world peacefully resist this persecution through a rational information campaign. Their calmness, courage and steadfastness is very touching. As politicians, we should support such an exhibition and call for more support."
City Councilor Speaks Up Against The Persecution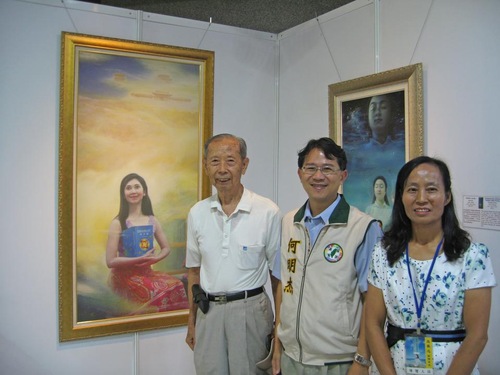 Taichung City Councilor Ho Ming-jie
Taichung City Councilor Ho Ming-jie said, "Justice, righteousness, and truth will eventually win, and the evil will be eliminated. We are saddened by the persecution of Falun Gong practitioners. I'm willing to speak up against such brutality."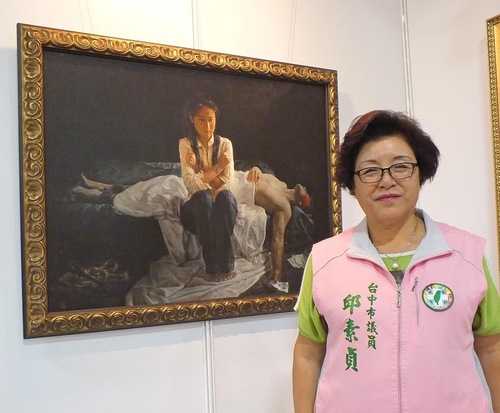 Taichung City Councilor Chiu Su-chen
Ms. Chiu Su-chen, Taichung City Councilor, said she definitely did not want to miss this art exhibition. In her mind, this exhibition displayed an uplifting power and purified one's heart. She says she cannot believe that the Chinese regime persecutes innocent people.
Many local residents visited the exhibition. Some of the visitors had known that the Chinese Communist Party had banned Falun Gong, but did not know why. They learned about the Party's propaganda, benefits experienced by those who practice Falun Gong, and the brutality of the persecution. Visitors especially paid attention to the paintings depicting the regime's harvesting of organs from living practitioners.