Toronto: Persecution Survivors Bring the Lawsuits Against Jiang Zemin into the Spotlight
(Minghui.org) Since 2005, Falun Gong practitioners from Toronto, Canada have set up a "Great Wall of Truth" one weekday a month to draw attention to the brutal persecution of Falun Gong in China and ask for help to stop it.
The theme this month was "Bringing Jiang Zemin to Justice." On Monday, August 24, from 4 to 5:30 p.m. practitioners held up all kinds of banners at the intersection of Bloor and St. George Streets, near the Chinese consulate, informing the public about the wave of lawsuits being filed against former Chinese leader Jiang Zemin for initiating the persecution of Falun Gong.
Since the end of May, 157,000 practitioners in China and all over the world and their family members have filed criminal complaints with the Chinese Supreme Procuratorate against Jiang, and the number is still climbing. Almost 100 residents in Toronto have filed.
At the "Great Wall of Truth" this month, more than 250 passersby have signed the petition to support the lawsuits, and 14 Chinese quit the communist party with practitioners' help.



The "Great Wall of Truth" tells people about the lawsuits against Jiang Zemin.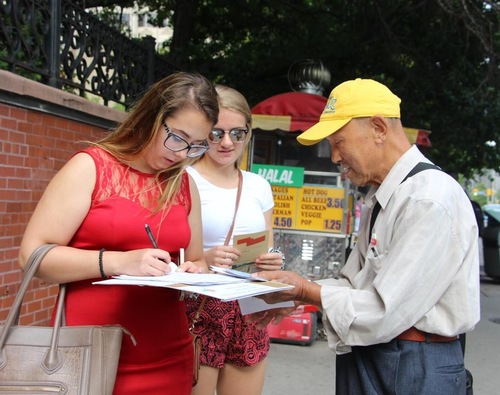 People sign a petition to support Falun Gong's peaceful resistance.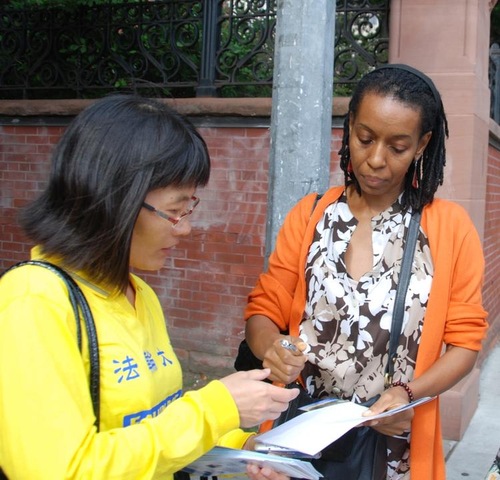 Desree Francois (right), a local children's book author, signs the petition. She said that harvesting organs from living Falun Gong practitioners was inhuman and it was time to stop the persecution.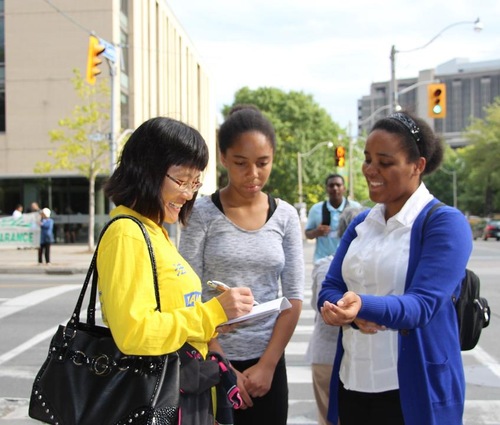 Samy Delva and Nyhenflore Delva, two sisters from Florida, believe that everybody should have freedom of belief, and nobody should be persecuted for doing peaceful exercises.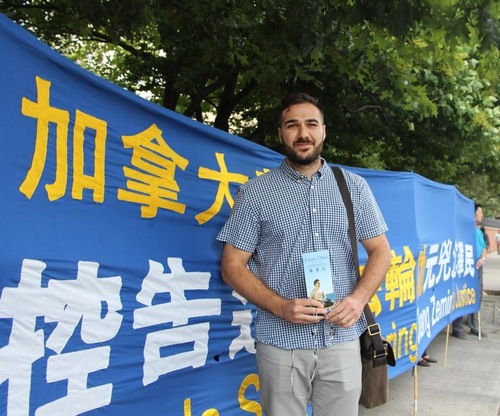 Anthony Yannos, a local computer engineer, said that Jiang Zemin is a dictator, and it is great that people have filed lawsuits against him. "You should let more people know about the lawsuits," he said.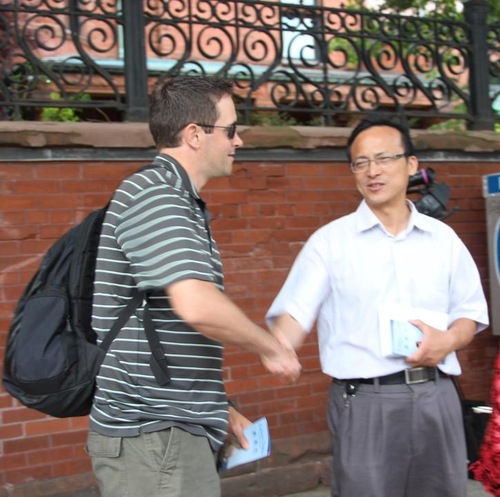 Dwight (left), talked to a practitioner for 20 minutes, took a flyer, and said he would learn more about the persecution on the Internet. "The communist party has killed so many people, including Christians. I believe what you said is true, and I thank you for telling me all this," he said.
Two Local Practitioners Brutally Tortured
Two local practitioners, both of whom have filed their lawsuits against Jiang, joined the activity and related what happened to them in China.
Mr. Zhan Xinyu, an engineer, just received confirmation that his lawsuit was received by the Chinese Procuratorate. Both he and his wife practice Falun Gong. In May 2011, 70 police officers and government officials broke into his house in Shenzhen City, searching for Falun Gong materials.
"They locked up my wife and our babysitter. They beat my wife until she passed out, leaving her with bruises on her back and arms. I was detained."
Ms. Yuan Xiuhua from Qiqihar, Heilongjiang Province, started to practice Falun Gong in August 1993. After the persecution began, she was arrested and detained three times, in July 1999, December 2000, and January 2008.
"In 2000, I went to Beijing to appeal for Falun Gong and was detained for two months. In the detention center, the policemen put handcuffs on my hands and feet, and then tied my hands and feet together behind my back with wire. I was not allowed to eat, drink, or use the bathroom. I was not even allowed to sleep.
"I was trussed up like that and left on the ground for three days. Then they forced me to walk on my knees with my hands and feet still tied together behind my back. The policemen and criminals detained there cursed me. I was restrained like that for five days, and didn't eat or drink anything during that time.
"The torture not only hurt me, it also put a great deal of stress on my family. My husband often had nightmares, and my daughter lived in constant fear."