Australian Legislator Proposes Legislative Amendment to Stop Unethical Organ Trade
August 26, 2015
|
By Minghui correspondent Li Zheng in Sydney
(Minghui.org) Australian Greens Party politician David Shoebridge, who serves in the NSW (New South Wales) Parliament, hosted a forum on human organ trafficking at the NSW Parliament on August 11, 2015. Attendees discussed the practice of unethical organ trade in the world and its impact on NSW. The consensus was that Australia should amend its legislation to stop such unethical organ transplants.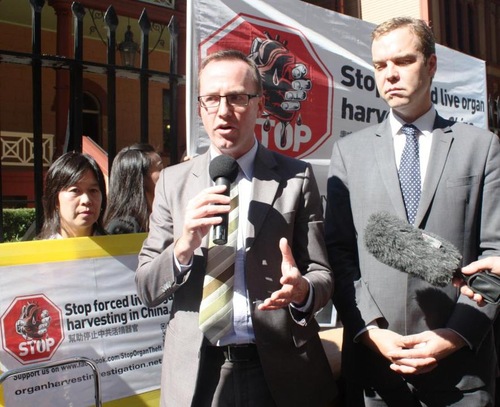 David Shoebridge, NSW Greens Party member
On the same afternoon, Mr. Shoebridge presented to the parliament of New South Wales the 2015 Human Tissue Amendment (Human Organ Trafficking) Bill, along with a petition that supports legislative change in NSW to stop residents traveling overseas to receive unethically sourced organs.
Proposed Legislative Amendment to Stop Unethical Organ Trade
Mr. Shoebridge explained his proposed legislative amendment aims to bring harsher punishment to unethical transplant tourism.
He said that in early 2013, his office received a complaint report claiming a NSW resident had initially planned to travel abroad to obtain an organ, but the friend found out the organ was unethically sourced.
His friend's doctor told him that a patient decided against getting an organ transplant, because the patient received confirmation from a Chinese doctor on the phone that the kidney they sourced for him was from an executed prisoner, which would be available next week for him for transplant.
He also learned that the research of two Canadians human rights lawyers, David Matas, and David Kilgour, concluded that live organ harvesting is rampant in China. Moreover, the Chinese regime and military have been involved in forced organ harvesting of living Falun Gong practitioners.
Mr. Shoebridge gathered different opinions, and collected signatures online to support an amendment of the Australian legislation. As of today, he has received support from many residents in NSW. They hope to work together to stop the unethical organ transplants, and make laws to criminalize it.
240,000 Signatures in Support of Proposed Bill
In addition to the 170,000 signatures received by parliament two years ago, Mr. Shoebridge added an extra 70,000 signatures to the petition, bringing the total number to 240,000 signatures, making it the largest petition in the history of the NSW Parliament.
Mr. Shoebridge said that this represents the powerful wish of NSW residents. They hope and request the NSW government to act to stop the unethical human organ trade.
NSW Parliament should amend the law to criminalize unethical organ transplants, and therefore perfect the Australian law to curb international illegal organ trade. Pressure also needs to be put on the Chinese regime to stop their unethical practice of forced organ harvesting.
Mr. Shoebridge also presented to the NSW Parliament, the Human Tissue Amendment (Trafficking in Human Organs) Bill 2015. Once the bill is passed, the law will criminalize unethical trafficking of vital organs, and the law will charge such offenders with manslaughter.
Sydney Liberal Party Member: "I Really Hope that all Members of all Parties See it as a Human Rights Issue and Support it"
Human rights lawyer Andrea Tokaji, spoke at the forum and said the new legislation will ensure that Australia severs all links to unethical organ transplant tourism. Chinese organ transplant doctors should also be denied visas if they apply to come to Australia to receive organ transplant training. Tokaji also addressed the issue of China's illegal imprisonment of thousands of prisoners of conscience. She hopes the Australian government can urge China to open all prisons and other facilities to allow international human rights organizations to conduct independent investigations.
Sydney Liberal Party member Andrew Bush commented: "The issue is absolutely vital. The issue of forced live organ harvesting should be above Party politics." He said, "I really hope that all members of all parties see it as a human rights issue and support it."