1,187 Falun Gong Practitioners Arrested in July Alone, Nearly Half the Number of Arrests in First Six Months of 2015
(Minghui.org) According to information received by Minghui.org, Chinese police arrested 1,187 Falun Gong practitioners in July alone. This number is close to half of the 2,539 practitioners arrested in the first half of 2015.
In addition, 126 practitioners were sent to brainwashing centers and 55 were sentenced to prison in July.
Arrests, Brainwashing, and Imprisonment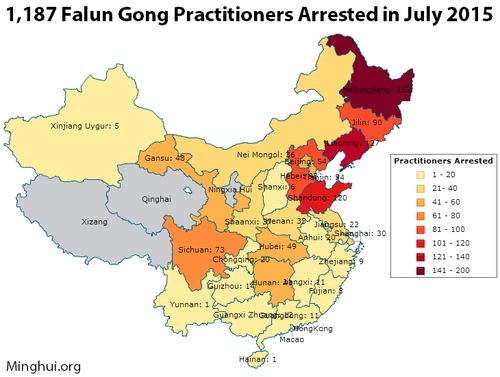 The ten cities with the highest number of practitioner arrests in July are:
Harbin, Heilongjiang Province (124)Changchun, Jilin Province (36)Dalian, Liaoning Province (34)Chengdu, Sichuan Province (31)Chifeng, Inner Mongolia (29)Yantai, Shandong Province (28)Zhangjiakou, Hebei Province (28)Shenyang, Liaoning Province (26)Baoji, Shaanxi Province (22)Liaoyuan, Jilin Province (18)Lanzhou, Gansu Province (18)
Police sent 126 practitioners to brainwashing centers in July. The five provinces with the most brainwashing detentions are:
Shangdong (29)Beijing (12)Hubei (12)Guangdong (12)Zhejiang (11)
Among the 55 practitioners sentenced to imprisonment in July, 15 were from Liaoning Province, 9 from Shandong, and 9 from Zhejiang.
In addition, 64 practitioners were tried in July, with 17 from Hebei, 15 from Shandong, and 7 from Guizhou.
Over 400 Harassed or Arrested for Lawsuits Against Jiang Zemin
In July, 405 practitioners were arrested or harassed by police after they filed criminal complaints against former Communist Party leader Jiang Zemin, who ordered the suppression of Falun Gong in 1999.
Most were detained, and 13 of them were sent to brainwashing centers. In Harbin, Heilongjiang Province alone, 100 practitioners were arrested or harassed.
Mr. Zhang Fuchun and Mr. Deng Yuqing, two practitioners in Fushun, Liaoning Province, went to a post office in Tonghua County to mail their lawsuits on June 26 and were arrested. Mr. Deng's lawyer met him at the Tonghua Detention Center on July 9. Both are still detained at the time of writing.
In total, more than 157,000 criminal complaints have been filed against Jiang Zemin as of August 20. The plaintiffs are from all 34 provincial administrative regions in China.