Düsseldorf, Germany: Plaintiffs Call for Support in Suing Jiang Zemin
August 23, 2015 | By Falun Gong practitioners in Germany
(Minghui.org) Düsseldorf, the capital city of the most populous German state, North Rhine-Westphalia, is well-known for its fashion and trade fairs. During a rally in downtown Schadowplatz on August 8, 2015, Falun Gong practitioners held banners and gave passersby information about the recent lawsuits against Jiang Zemin for persecution Falun Gong. Several plaintiffs spoke at the events, explaining the mistreatments they had experienced for their belief.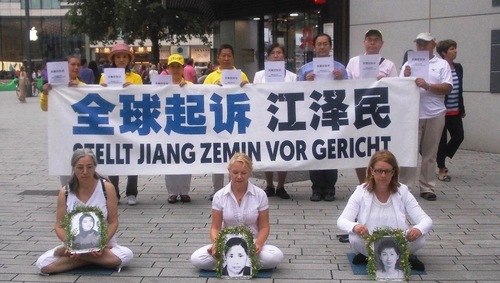 Practitioners held a rally on August 8, 2015 in Düsseldorf, Germany, to raise awareness of the lawsuits against Jiang Zemin.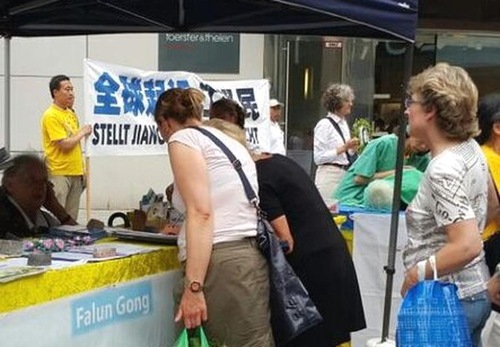 Passersby ask for more information about the persecution, and sign petitions to support practitioners.
Many people stopped to listen or read materials. Some asked questions to learn more, and signed petitions to help.
Tortured for 15 Consecutive Days Without Sleep
"Over 146,000 criminal complaints have been filed against Jiang, and mine is one of them," said Li Jun. Because she practiced Falun Gong, she was arrested four times, sent to the notorious Masanjia Forced Labor Camp twice, and was once tortured for 15 consecutive days while being denied sleep.
"After being sent to the Dalian Forced Labor Camp in August 2003, guards forced me to stand still for a long time, without moving or sleeping. The first time was for three days, second time seven days, and third time was fifteen days in solitary confinement." During those days, she had to eat in the metal cage where she was being tortured, and use of the toilet was restricted. "Guards asked inmates to watch me, and ordered them to beat me at will whenever I closed my eyes."
Ms. Li's legs became severely swollen and her face turned purplish-black from the torture. Seeing her unable to stand any longer, the guards handcuffed her hands to the top corners of the cage to prop her up. "After they saw me disfigured, the guards finally allowed me to sleep two hours a day." Sun Lulu, a 20-year-old officer, then handcuffed her onto a heating pipe near the ceiling. "I was hung up high for a long time, with both feet off the floor. The handcuffs ate into my flesh, and it was extremely painful."
Even at times when not undergoing such torture, Ms. Sun had to perform forced labor, for at least 13 to 14 hours per day. "Jiang brings sorrow to tens of millions of innocent practitioners and their families. He has to be held responsible."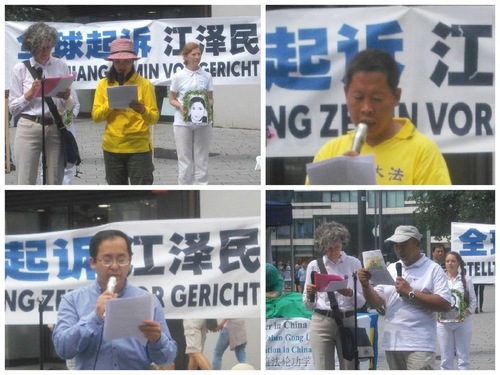 Practitioners testify as to why they filed criminal complaints against Jiang.
"More than 20 Practitioners I Know Lost Their Lives Because of Torture"
Gu Jufeng, another practitioner who gave testimony at the rally, has been arrested four times. "I was detained for over 450 days in total. One time I was shocked with electric batons for five hours. Other times I had to do forced labor, assemble diodes, carry rocks, harvest vegetables, or transport tiles, you name it." Because he supported other detained practitioners, he was handcuffed for 100 days, force-fed with beer, and held in solitary confinement for more than 40 days.
"Over the past 16 years, more than 20 practitioners I know lost of their lives due to being tortured while in detention," said Gu.
Cao Junliang, went with his wife to Beijing in December 1999, appealing for Falun Gong. He was arrested and detained for one month. "During those days, I experienced both physical torture and mental abuse." Guards once removed all his clothes, and poured four buckets of freezing water on him, one bucket after another. The temperate at that time was about -30 Celsius (-22 Fahrenheit) in Northern China. He lost consciousness during this torture.
Even after returning home after one month, the police continued harassing him at home and at work. "Jiang harmed innocent practitioners, brainwashed a large number of Chinese people with hate-propaganda, conducted genocide, and sanctioned live organ harvesting. He should be punished," said Cao.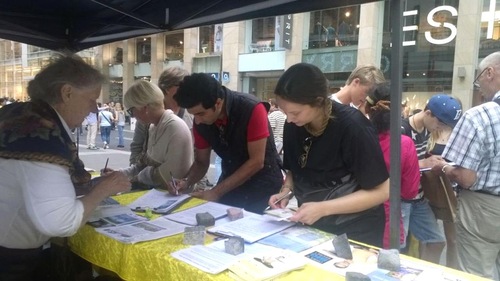 Passerby sign petitions to support practitioners.