Sydney: Wide Support for Falun Gong Lawsuits against Jiang Zemin
August 21, 2015 | By Hua Qing, Minghui correspondent in Sydney
(Minghui.org) Australian Falun Gong practitioners, elected officials and people from a variety of backgrounds held a rally at Centenary Square, in front of Parramatta City Council, on August 8, 2015, to show support for the recent wave of lawsuits against Jiang Zemin. Jiang, former head of the Chinese Communist regime, has had nearly 150,000 criminal complaint filed against him for launching the persecution of Falun Gong.
Elected officials, attorneys, and representatives for Falun Gong and the local Chinese community gave speeches at the rally, condemning the Chinese Communist Party's (CCP) persecution of Falun Gong and supporting the lawsuits against Jiang.
Lucy Zhao: "Important Moment in History"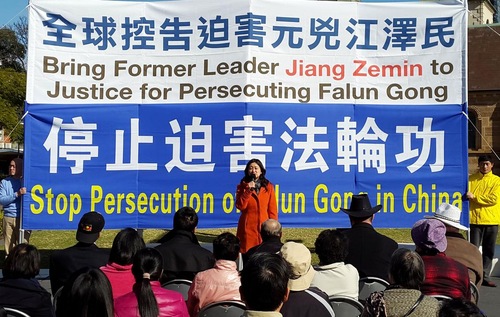 Lucy Zhao
Lucy Zhao, president of the Australian Falun Dafa Association, gave a speech at the rally.
"Today is an important moment in history," she said, "which we are fortunate to witness. More than 122,000 people filed a lawsuit against Jiang Zemin, the former Communist Party leader, for his crimes against humanity and torture.
"Over the past 16 years, hundreds of millions of people were persecuted. They are innocent people who practice the peaceful Falun Gong meditation practice. They follow the principles Truthfulness, Compassion, Forbearance.
"It has been verified that more than 3,000 people died from the persecution. Hundreds of thousands were taken to labor camps, prisons and mental hospitals. Millions of families were broken up.
"The most shocking crime is the organ harvesting from living people. Kidneys, livers, hearts and corneas were taken from prisoners of conscience, and sold for profit. How can we keep silent about such a crime? That's why these people, including some in Parramatta, are filing a criminal complaint against Jiang Zemin.
"These people [persecuted in China] need support, help and encouragement from people who live in a free society.
"Innocent people are suffering and dying. A little help from every one of us can help save lives. Only on the day when the former dictator Jiang is brought to justice will the abuses against Falun Gong and other innocent people in China come to an end. From then on, the Chinese people will enjoy freedom of belief and expression, mirroring what we enjoy in Australia."
Phil Bradley: Announces Amendment Against Organ Harvesting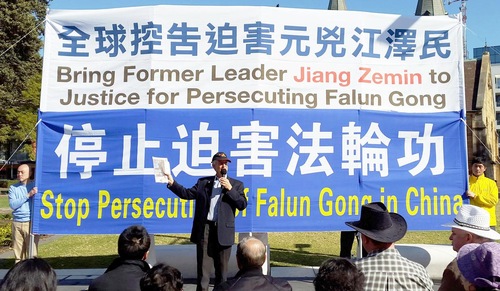 Phil Bradley
Phil Bradley, representative of the Green Party, also spoke at the rally.
"The Greens have been very strong supporters of human rights," said Mr. Bradley. "We strongly support multiculturalism, oppose human rights violation and discrimination, wherever it happens. Today we concentrate specifically on organ harvesting, which is an appalling illegal practice. We need to keep up with international pressure to end the organ trade.
"We are in the process of proposing new laws. I'm proud to announce that David Shoebridge, a member of the Greens, as well as a member of the Legislative Council, will roll out the New South Wales Human Tissue Amendment (Trafficking in Human Organs) Bill 2015 next Tuesday in the New South Wales Parliament. This amendment would make it an offense for using unethically harvested or trafficked organs in New South Wales."
Andrew Wilson: "You are on the winning team"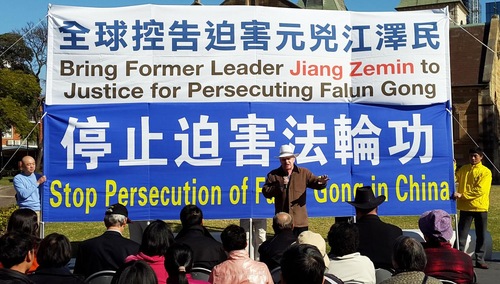 Andrew Wilson
Andrew Wilson, Parramatta City Councillor, gave a speech at the rally.
"Enjoy your democratic right in a free country," said Mr. Wilson. "I hope one day, we will go to China, have a rally, and you will be able to do the same without being arrested."
Wilson commented that the Chinese Communist regime is telling its people and the entire world that a group of people that follows the principles Truthfulness Compassion, Forbearance are bad people, while on the other hand, those who resort to persecution are good people. Mr. Wilson questioned the morality and logic of this reasoning.
"I honestly hope we quickly see in China that not just Jiang Zemin," said Wilson, "but everyone who is involved in evil practices, everyone who uses the rule of law to persecute people, is brought to justice. I believe you are on the winning team. I believe I will be proven right."
John Hugh: "Nobody should be above the law"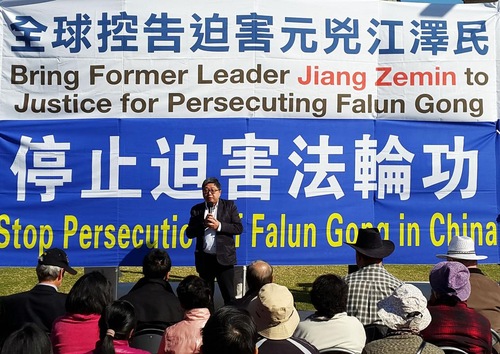 John Hugh
John Hugh, Parramatta City Councillor, said in his speech at the rally: "I'm glad I'm here with my colleagues to support the democracy in this country and our common values, because everyone needs freedom of speech and freedom of opinion. It's a common value worldwide. I don't believe that this means that we are against the Chinese government, as a lot of people have accused us.
"This rally means that we are against any crime that is perpetrated against humanity. Anyone who committed this crime should be brought to justice, no matter if this person was in charge of a government or a normal civilian. Nobody should be above the law."
Mr. Hugh wrapped up his speech by saying, "Although I face enormous pressure, I still want to stand here today and tell everyone, 'This is our right.' No matter who puts pressure on you, don't fear. Just stand up for your principles."
James Shaw: "You are a fantastic part of our community"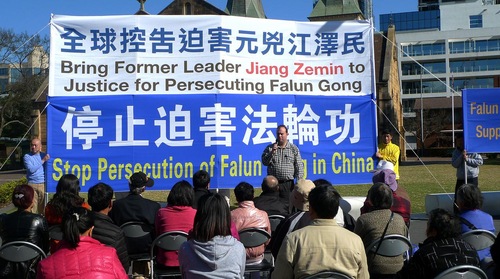 James Shaw
James Shaw, Parramatta City Councillor, expressed his support and praised Falun Gong practitioners.
" Parramatta is a very multicultural area with many different religions and party beliefs, as well as many points of view," said Councillor Shaw. "That's a good thing. No matter what your religion or your culture, you should know, 'I can practice my belief.' You can do whatever you want to do as long as you don't harm anyone.
"We want to live in a world where we respect each other and where human rights are a given. Human rights are fundamentally what we are here about."
"As a Parramatta City Councillor, I'm happy to support you. You are a fantastic part of our community. Like Councillor Wilson and Councillor Hugh, I'm more than happy to support you and show it during this rally. I would like to thank you for having me. You have my support in pushing for human rights in China and that you are able to practice your belief, free of persecution."
Than Nguyen: China Commits Breach of Its Human Rights Obligations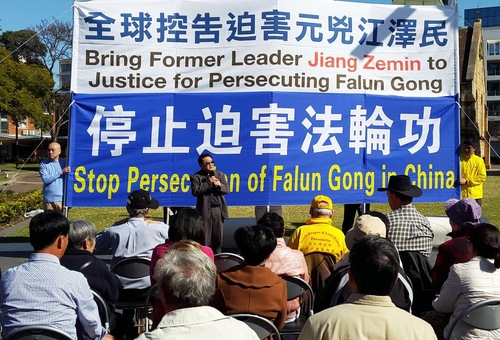 Than Nguyen
Than Nguyen, Director of Australia's Human Rights Relief Foundation, a lawyer at the Supreme Court of New South Wales, and former President of the Vietnamese Community in New South Wales, gave a speech at the rally.
"All Falun Gong practitioners do is a few gentle meditation exercise," Mr. Nguyen said. "This meditation was practiced in China for thousands of years, and follows the principles Truthfulness, Compassion, Forbearance.
"For that reason, they are arrested and imprisoned. Clearly they are prisoners of conscience. China has signed and ratified a number of international human rights instruments, including the international covenants on economics, social and cultural rights, international covenant on civil and political rights, and more importantly, on the convention against torture. The fact that the regime arbitrarily arrests and imprisons its people for meditating is a breach of those human rights obligations.
"The fact that the regime allows Falun Gong practitioners to be tortured and imprisoned, and have their organs up for sale, deserves condemnation. But in a civilized world, condemnation is not enough. What we need is that the rule of law prevails. Those who committed crimes against humanity and against their own citizens must be brought to justice.
"I understand that the Falun Gong movement has asked people for their support, and the court to prosecute Mr. Jiang Zemin, the ex-leader of China, for the terrible crimes he committed while in power. Personally, I fully support this. I come from a legal background. I believe what defines us as human beings is not how strong or how weak we are, but how just and how respectful we can be of one another.
"In a society, we have a social contract, and nobody can rise above the law. Anyone who commits a breach of the law must be brought to justice. So I'm here tonight to say to you that the Human Rights Relief Foundation and the Vietnamese community are with you. We are one, whether it's a group of people, whether it's an ethnic or minority group, or a group of people that calls for a conscientious genuine self-belief, and is non-violent.
"The Falun Gong teachings are based on tradition and have spread way beyond China's borders... The traditions of Buddhism, Taoism call for compassion and justice. These are the fundamental values that underline human rights and dignity. We must implement them. And the ways to implement them is to undertake activities like this, to make sure the members of the community are aware of the human rights violations taking place throughout the world, and to ensure that anyone that committed crimes against humanity and committed human rights violations, be they current or ex-leaders of the Communist regime in China or North Korea, understands that they won't be allowed to escape the day when they are brought to justice."
Dr. William He: CCP is of Anti-human Nature
Dr. William He
Dr. William He, a leader of the Chinese community, recipient of several honorable citizen awards and doctor of Chinese medicine, gave a speech and exposed the Chinese Communist Party's persecution he and his family experienced in China. He mentioned that the CCP's persecution of the Chinese people occurred because of the party's anti-human nature.
"It's time for all people who have experienced the CCP's persecution to step forward and have their voice heard," said Dr. He. "My friends and I have established an organization. We are collecting information about the persecution from the Chinese people. Please feel free to contact me. One day, we will send all documented cases to the Chinese Supreme Court and International Court, and charge the CCP for its brutal crimes against humanity."
Several Falun Gong practitioners also gave speeches and shared their personal experience of being persecuted in China.
Many people signed a petition calling for an end to the Chinese regime's forced organ harvesting from living Falun Gong practitioners. Local residents were happy to see City Councillors come forward and show their support.