Senior Member of European Parliament Urges Chinese Regime to Release Human Rights Lawyer
August 17, 2015 | By a Falun Dafa practitioner in Germany
(Minghui.org) Member of European Parliament Dr. Klaus Buchner issued a statement on July 15, 2015 criticizing human rights violations in China after well-known Chinese human rights lawyer Wang Yu was arrested.
Titled "The Human Rights Situation in China Intolerable," his statement started with the most recent human rights violation in China where more than 100 Chinese human rights lawyers and advocates were arrested or summoned by public security agents the week before. Among them was well-known human rights lawyer Ms. Wang Yu, and so far her family does not know her whereabouts.
Ms. Wang was arrested after she and other Chinese lawyers publicly called for support for the recent nationwide wave of legal complaints filed against Jiang Zemin, the former leader of the Communist Party of China. The complaints have been filed by Falun Gong practitioners.
Screenshot of Prof. Dr. Klaus Buchner's blog post.
In Dr. Buchner's statement, he brought up an incident that happened one week before Wang Yu's arrest. Simply for pleading "not-guilty" on behalf of several Falun Gong practitioners, she was violently expelled from the court of Sanhe City Hebei Province.
"One of the most well-known Falun Gong human rights cases where Ms. Wang and many other Chinese lawyers were persecuted during the defense of their clients, took place in the city of Jiansanjiang in Heilongjiang Province in Northeast China and it attracted the attention of international human rights organizations like Amnesty International and Human Rights Watch," added Dr. Buchner.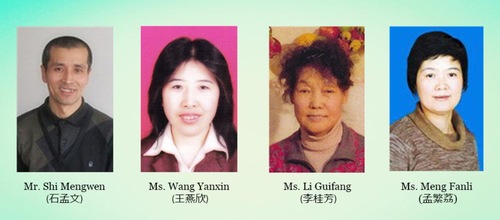 Four Falun Gong practitioners being tried in Jiansanjiang Court are still in custody.
"We see the commitment of the lawyers for the persecuted Falun Gong practitioners in China. That's why in February of this year, more than 20 MEPs from several European countries signed a letter to the Chinese Ambassador to Germany and local Chinese authorities, in support of the lawyers pursuing the release of their clients," wrote Buchner.
Lawyer Wang Yu protested and urged the authorities to grant the defendants' their legal rights during the trial in Jiansanjiang.
Beijing authorities have not revealed the whereabouts of Ms. Wang, her husband and her underaged son. "I am very concerned about the lives and safety of Ms. Wang and her family," wrote Dr. Buchner. "I urge the Chinese government to release Ms. Wang and her family members immediately and unconditionally, and her colleagues from the law firm Beijing Fengrui and to direct the security forces in accordance with Chinese laws on legal responsibility."
Dr. Buchner's statement concluded, "The European Commission and the German Government should also use economic dealings with China to help these Chinese lawyers and all those persecuted because of their religion. This is to be addressed as a major focus in the coming EU-China human rights dialogue in October in Brussels."
He stated that the German Economics Minister Sigmar Gabriel should urge the Chinese government to release Ms. Wang and her family immediately and unconditionally during his state visit to China.