Over 146,000 Falun Gong Practitioners and Their Families Have Filed Criminal Complaints Against Former Chinese Dictator
August 16, 2015 | By a Minghui correspondent
(Minghui.org) From the end of May to August 13, 2015, Minghui has received copies of a total of 122,417 criminal complaints that were filed against former Chinese dictator Jiang Zemin, who launched the persecution of Falun Gong in 1999.
146,783 Falun Gong practitioners and their families in China and overseas submitted their lawsuit documents to China's judicial departments, urging that Jiang's crimes over the past 16 years of persecution be investigated. In the week of August 7 and August 13 alone, over 12,397 people submitted such 10,820 lawsuits.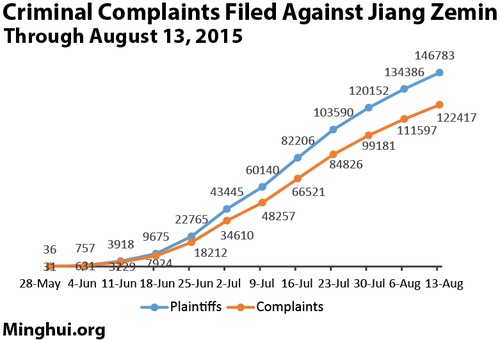 The number of lawsuits filed against Jiang Zemin has grown significantly since the end of May 2015.
Among the plaintiffs are 1,648 Falun Gong practitioners who left China to avoid the persecution and are currently living in 25 different countries. They also filed complaints against Jiang with the Supreme People's Procuratorate.
Number of criminal complaints confirmed delivered each week
Based on the postal receipts and sign-off messages, the Supreme People's Procuratorate, the Supreme People's Court, the Ministry of Public Security, and Central Commission for Discipline Inspection have received 67,425 lawsuit documents from 82,662 people. The number accounts for 55% of the total number of complaints mailed.
Authorities Direct Police to Intimidate Practitioners
The police in Fushun City, Liaoning Province, called Mr. Liu Yue and asked if he had submitted a complaint. Mr. Liu replied, "Have you any idea the damage Jiang caused my family?" The police officer said that he had the complaint in his hand and just wanted to make sure.
He then told Mr. Liu, "I am impressed by you [Falun Gong practitioners]. I have made so many phone calls and no one has denied mailing their complaint."
Police in Shenyang, Liaoning Province went to a practitioner's home late one night to summon him to give a deposition the next morning. At the police station, the practitioner told the officers about Falun Gong and the persecution, and stated that it was his constitutional right to file such a complaint. One officer said that they were only acting on orders from their superiors, and asked the practitioner to help him quit the Chinese Communist Party (CCP) and its youth organizations.
Several 610 Office agents went to Mr. Sui Shouzhong's home in Pingdu Ciy, Shandong Province and asked whether he had filed a suit against Jiang. Mr. Sui admitted that he had.
An agent picked up the Falun Gong literature he saw in Mr. Sui's home to use as evidence against him. Mr. Sui warned him, "If you touch or take anything in my house, it's illegal. I can sue Jiang and I can sue anyone else who commits a crime." The agents left.
Continuing to Clarify the Truth of the Persecution
Police arrested Ms. Dang Xianxia and Ms. Zhang Dongqing from Handan, Hebei Province for telling the public about the persecution of Falun Gong. Nine practitioners went to pick them up after they were illegally detained for 15 days. Ms. Dang and Ms. Zhang were all smiles because about 50 people, including two police officers, in the detention center heard the facts about Falun Gong from them and agreed to quit the Party.
Mr. Yang Jianbo from Sanhe City, Hebei Province, went to Sanhe Court to protest the show trial of four other practitioners. Beicheng Police officers arrested him and detained him for two days. When Mr. Yang was released, he warned the police, "It was wrong for you to arrest me." They apologized repeatedly.
Voices of Support from Around the World
People from around the world, including government officials, have spoken out in support of the lawsuits being filed against Jiang Zemin. Among them was Canadian Member of Parliament Peter Kent, who finds the the movement encouraging and hopes that China's top court will hold hearing on these complaints.
Rev. Majed El Shafie, founder of One Free World International, an international human rights organization based in Toronto, says that suing Jiang Zemin is a very important first step in achieving justice. He stressed that the future of China is in the hands of Chinese.
Robert Dubler SC, a renowned lawyer in Sydney, Australia, commented, "It's a wonderful step that the Chinese people are trying to do more in their country. It's really where the action should be occurring. They [Falun Gong practitioners] built up walls of cases just to show that, even if you are the former leader of a powerful country, it doesn't mean you should be above the law."
Complaint Statistics
According to the Minghui website, as of August 13, 2015, the number of Falun Gong practitioners who have filed criminal complaints against Jiang hasa exceeded 1,000 in 38 cities in China.
They include Tianjin, Beijing and Chongqing, 10 cities in Hebei Province, 5 in Shandong Province, 2 in Jilin Province, 6 in Heilongjiang Province, and 7 in Liaoning Province.
Below are the ten Chinese cities with the most lawsuits against Jiang Zemin filed:
Changchun, Jilin ProvinceHarbin, Heilongjiang ProvinceBaoding, Hebei ProvinceYantai, Shandong ProvinceChengdu, Sichuan ProvinceDalian, Liaoning ProvinceWuhan, Hubei ProvinceChifeng, Inner MongoliaZhoukou, Henan ProvinceNanchang, Jiangxi Province
Background
In 1999, Jiang Zemin, as head of the Chinese Communist Party, overrode other Politburo standing committee members and launched the violent suppression of Falun Gong.
The persecution has led to the deaths of many Falun Gong practitioners during the past 16 years. More have been tortured for their belief and even killed for their organs. Jiang Zemin is directly responsible for the inception and continuation of the brutal persecution.
Under his personal direction, the Chinese Communist Party established an extralegal security organ, the 610 Office, on June 10, 1999. The organization overrides police forces and the judicial system in carrying out Jiang's directive regarding Falun Gong: to ruin their reputations, cut off their financial resources, and destroy them physically.
Chinese law allows for citizens to be plaintiffs in criminal cases, and many practitioners are now exercising that right to file criminal complaints against the former dictator.