Australia: Falun Gong's Peaceful Resistance Widely Supported in Sydney
(Minghui.org) Falun Gong practitioners in the Sydney area held a series of activities last month to expose the 16-year persecution in China, especially the state-sanctioned organ harvesting of prisoners of conscience, and to call for public support to help stop the brutality.
The activities were covered by two local newspapers. An article titled "Signatures Sought for Anti-live Organ Harvesting Petition" in the Coast Community News told the detailed story of Zhang Fengying, the mother of a local resident, who was arrested and jailed five times because of her belief in Falun Gong. The Central Coast Express Advocate published a story titled "End harvesting of organs", drawing attention to the Chinese regime's harvesting organs from prisoners of conscience, the majority of whom are Falun Gong practitioners.
Signature Drive in Gosford
On July 22, practitioners held a signature drive in Gosford, 50 miles from Sydney. In the span five hours, about 400 local citizens signed the petition to condemn the persecution. Most of them came out as a result of the media coverage.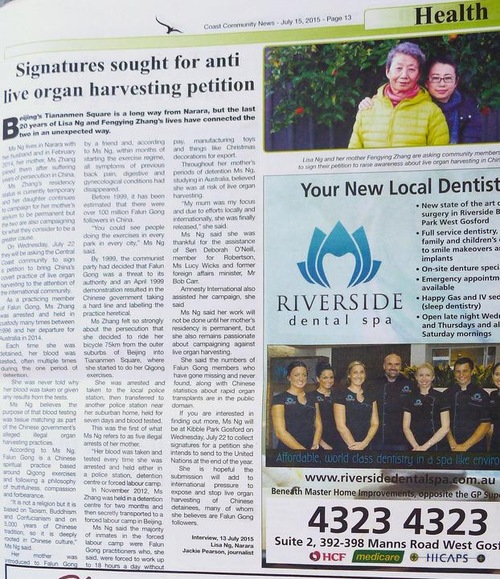 The Coast Community News published a story about the signature drive.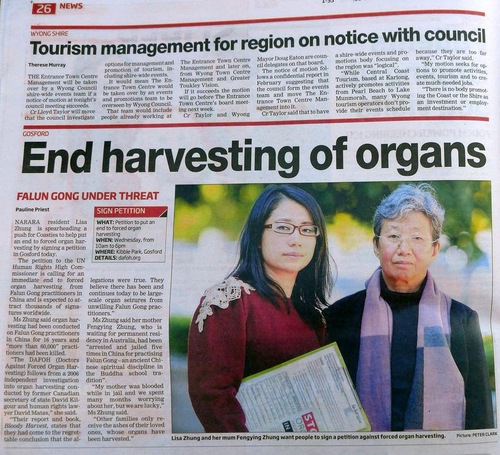 Article in the Central Coast Express Advocate focuses on the Chinese regime's harvesting organs of prisoners of conscience.
June Hull, a local resident, told practitioners that she read the article in the Coast Community News, and decided to come out and express her support. She said that live organ harvesting is incredibly cruel and completely unacceptable, and the Australian government should take action to stop it.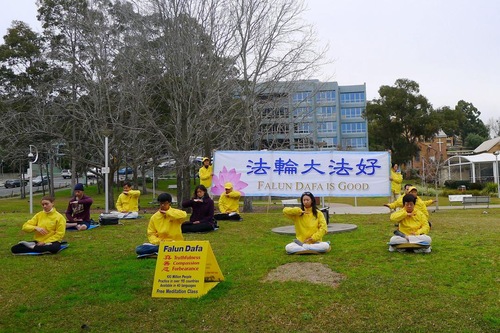 Practitioners demonstrate the exercises in Kibble Park in Gosford.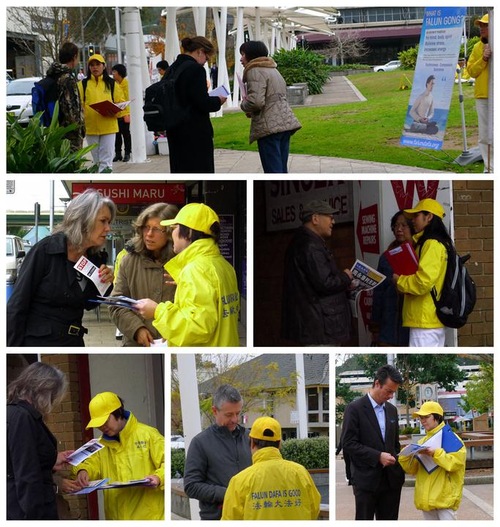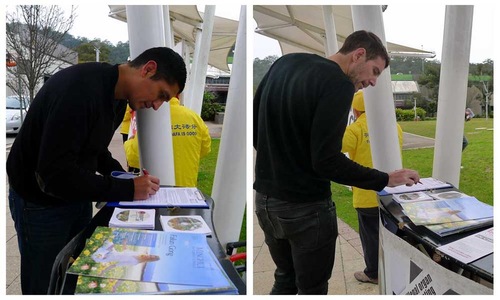 Signature drive in Kibble Park in Gosford on July 22.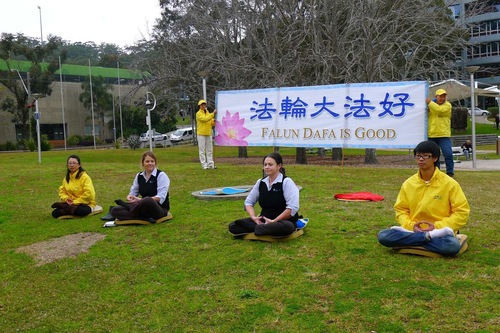 Two local residents (in the middle) are learning the Falun Gong exercises.
Chinese Student Respects Falun Gong Practitioners for Their Persistence
On July 26, practitioners held an event in Hurstville, a town with a large Chinese population, to introduce Falun Gong and expose the ongoing persecution in China.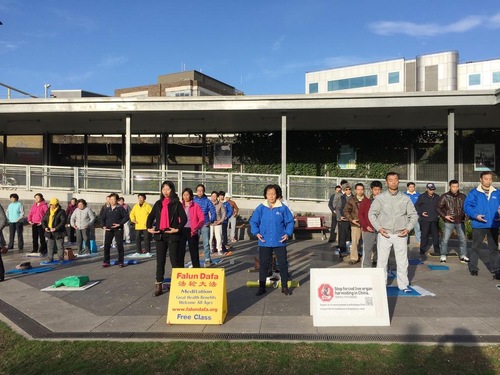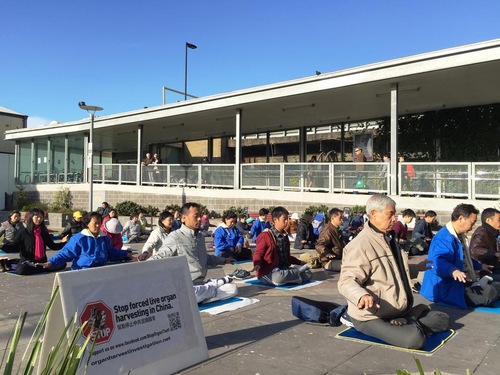 Demonstrating the exercises in Hurstville.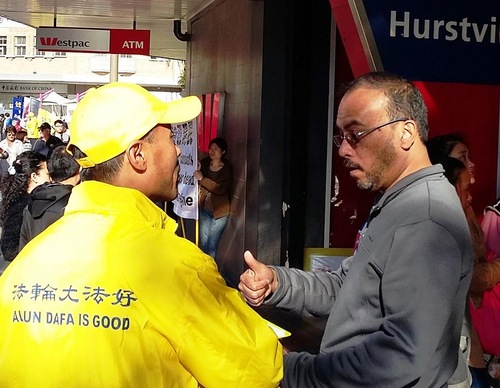 A local resident commends practitioners for their peaceful resistance to the persecution.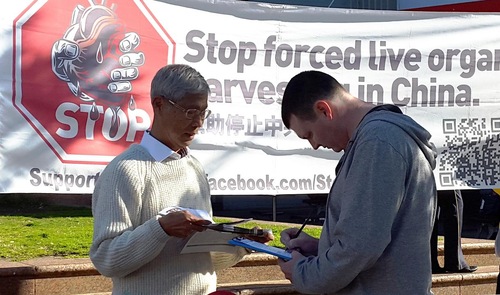 Signing the petition to condemn the persecution.
Unlike how things were some ten years ago, many Chinese people nowadays recognize the evil nature of the Chinese Communist Party (CCP), and refuse to listen to the CCP's slanderous propaganda about Falun Gong.
Jerry, a Chinese student majoring in accounting, came to Australia a year ago. After signing the petition, he talked to a practitioner for a long time.
"I have talked to a few Falun Gong practitioners before, who escaped China after being persecuted. They are all highly educated. I support their spirit," Jerry said.
"The persecution is unfair. That is why so many Falun Gong practitioners have been trying to expose it. I think it is wrong and unfair that the communist party forces people to give up their belief. It shows that the party is a tyrant power.
"The party has been trying to hide a lot of things from us. Since we were very young, we have been told that the party is good. But nowadays, many people can think independently, and we have more access to the truth. For example, I learned about the organ harvesting from YouTube. I tend to believe that it is true—there is so much evidence."
Jerry told the practitioner that many young Chinese people around him hold similar opinions.
"Many of my friends are concerned about the persecution of Falun Gong, especially those who study overseas, because we have free information channels. Even those in China can sometimes break through the party's censors," Jerry said.
He told the practitioners that he admires Falun Gong's persistence. "It has been so many years. You are a group of people who have courage and independent thoughts. That is why I respect you so much."
A practitioner told a Minghui correspondent that many Asian people in this area, including some Chinese people, have started to learn the exercises and many are regularly coming to the exercise sites.